In this review, we show you how you can use Action1's free platform to patch Windows and third-party applications. See how it works here.
What is Action1 and why do I need it?
Action1 is a class-leading patch management software with a robust feature set that automates the deployment of security updates and patches to your endpoints. IT professionals know that new security vulnerabilities are discovered daily, so it is vital to stay on top of patching to keep your devices and data secure.
The move to a hybrid work environment for many organizations has created an additional layer of complexity. Patching devices that aren't directly connected to your corporate intranet can be challenging. Action1 provides a solution.
How does Action1 work?
Action1 offers a comprehensive suite of remote patch management functionality in a single cloud-native platform. Internal IT teams and MSPs can efficiently support the modern in-office, remote, and hybrid workforce infrastructures prevalent today.
Through a fully cloud-based management interface, you can deploy the agent to your endpoints regardless of their location. You can then use the core features of Action1 to keep endpoints secure, up-to-date, and protected from today's dynamically changing vulnerability landscape.
What is cloud-native patch management?
Action1 is a cloud-native platform, so you don't need any servers or infrastructure in your on-premises environment. And, regardless of endpoint location, you can manage them from anywhere.
No virtual private networks (VPNs) and no on-premises local area network (LAN) access is needed. You simply log into Action1's management web interface, deploy the agent to your endpoints, and create your policies and schedules. Then you watch, through compliance and real-time reports, a successful rollout of secure endpoints. You can also refer to interactive dashboards and real-time reports to check the status of your endpoints. Plus, you can gain insight into pending patches, update rollout results, and general overview of your managed infrastructure.
Action1 vs Windows Server Update Services (WSUS)
As an on-premises solution, WSUS is poorly placed to serve remote workforces and dynamic IT environments. It is isolated, doesn't scale well, and it can't deal with remote endpoint management and security natively.
With a cloud-native platform for automated patch management, IT staff can install Windows updates remotely on thousands of endpoints simultaneously. It doesn't matter where your employees' devices are located or how many endpoints need to be protected.
While WSUS offers a central location to check updates and patches, it lacks flexibility, agility, and control across environments and projects. Action1 allows users to create different patch policies for different clients, servers, and workstations.
Action1 provides an unmatched level of flexibility and control, including custom security, specified reboot options, and the ability to run pre– or post-patch scripts based on need.
Securing Windows endpoints with Action1
Action1 excels by including features any endpoint security platform should include to keep your endpoints secure. Action1 helps you step away from expensive legacy solutions. And it offers a fresh new solution, encompassing precise control over your entire patch management requirements and all the required features for remote monitoring and assistance.
The overall experience is streamlined, and it provides you peace of mind when determining if all your endpoints are secure.
Let's go through each patch management feature so you get a better idea of how Action1 works.
Deploying Windows patches to endpoints
Simplifying patch management through automation – that is one of Action1's mantras of sorts. Their automated patch deployment system brings value to your company in several ways.
Enterprises today are facing pressure to keep data and information safe. Defending against attacks takes a measured and automated process to stay secure. Incorporating Action1's patch management for Windows into your IT strategy gets you one step closer to meeting your established security baselines.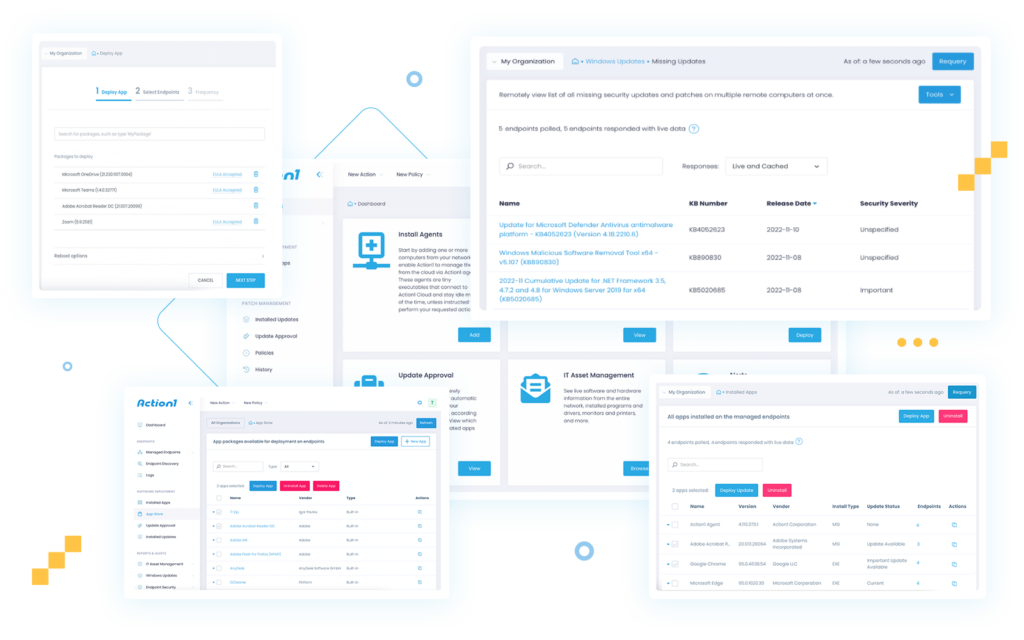 You get a centralized cloud dashboard, flexible automation and scheduling, and complete visibility with alerts and reports.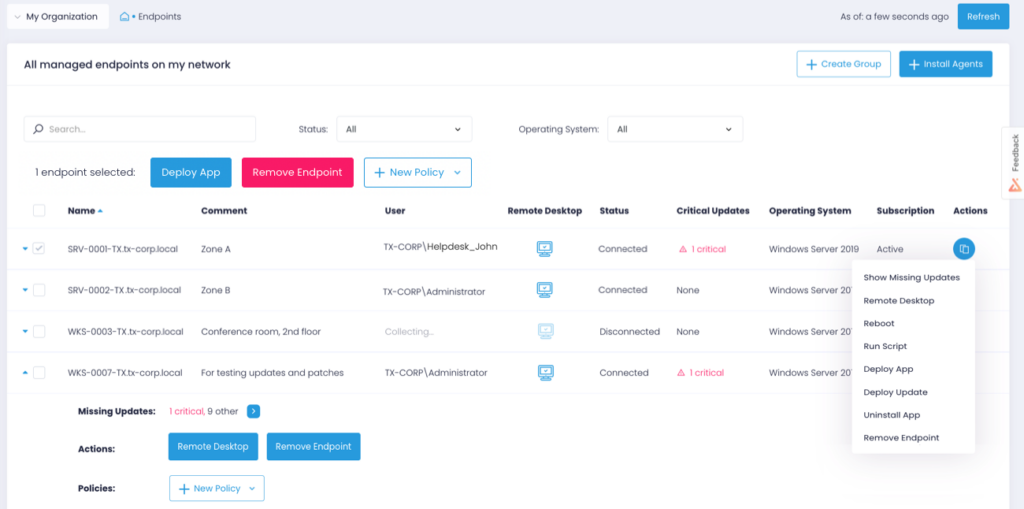 Updating third-party software
The deployment of apps can be consuming and tiring, much less keeping them up-to-date and secure. Bringing software deployment and third-party patching under a single-solution umbrella is efficient for IT. Action1 makes it even easier for you by offering the following features:
Access to the Action1 App Store with the most used apps
Ability to add custom apps through manual configuration
Centralized and automated distribution
Update versioning
Ability to rollback changes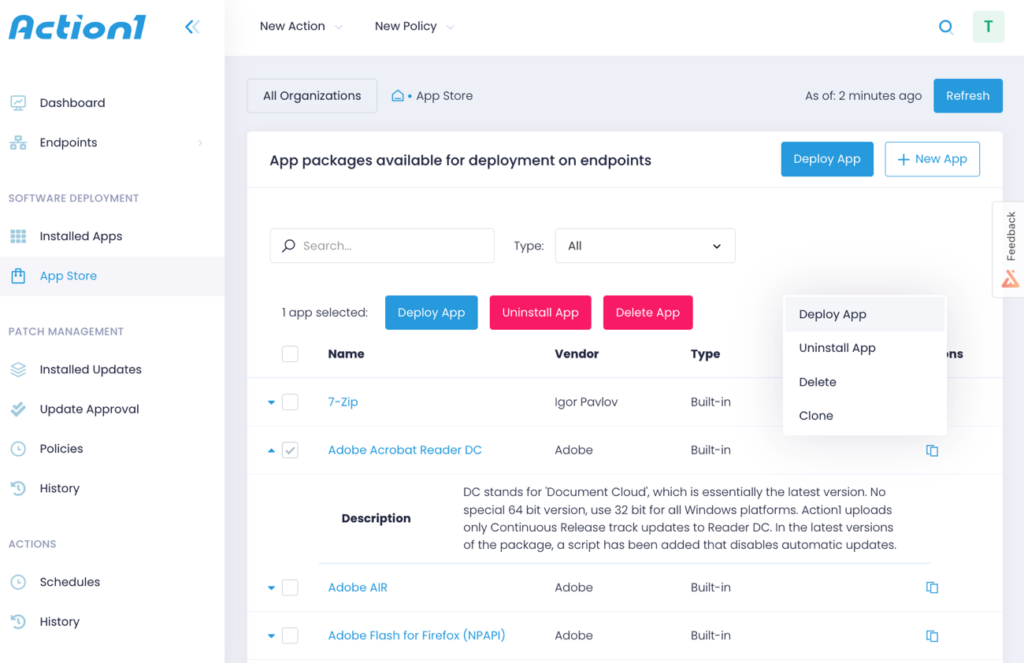 In addition to the apps you have access to out-of-the-box, you can always upload as many apps as you need to your private storage within Action1. You can keep multiple versions of an app to avoid app compatibility issues and adjust the rollout and scheduling of updates to endpoints.
Simply pick an app and select Deploy Update, choose the endpoints you want to target, then set a scheduled rollout that works for you and your end users.
Generating patch compliance reports
Action1 includes an extensive list of built-in reports. These give you full insight into the status of your endpoints, including installed software, Windows Updates status, and hardware specifications.
These reports help to:
Bring clarity into the IT inventory management
Make informed decisions about your infrastructure
Assess your system health state
Prove compliance with security standards and regulations
Here are some examples of the reports you'll find beneficial in your environment:
Update Statistic report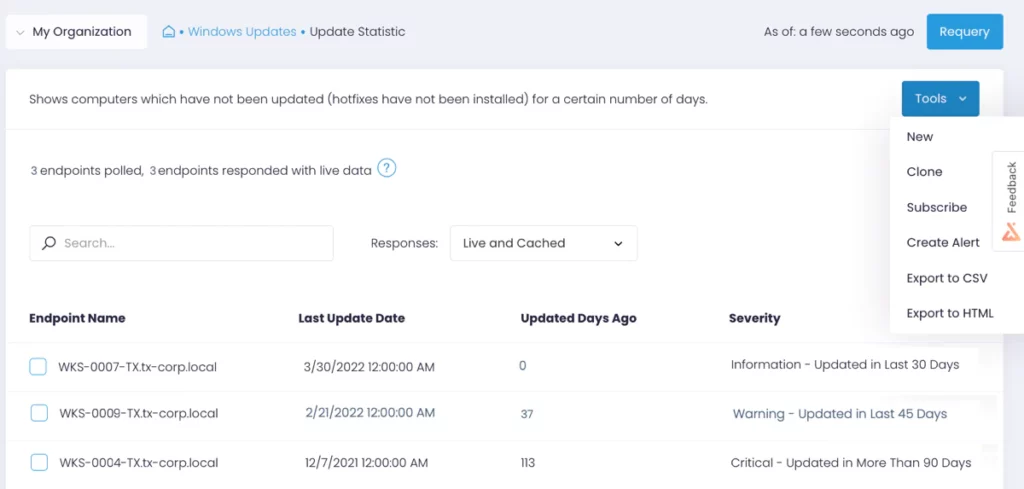 Update History report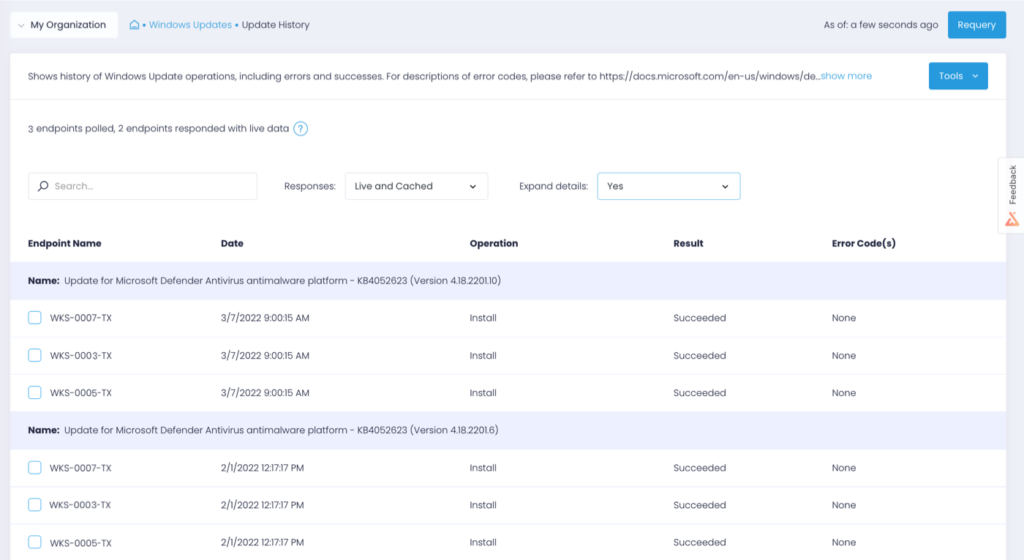 Missing Updates report
What other tools does Action1 include?
There are a good number of additional features and tools included in Action1's portfolio to assist your IT department with efficiency and productivity across the board.
Built-in secure remote desktop access
Action1 provides a secure, low-latency built-in remote desktop solution that is compliant with many modern data privacy standards and regulations. It offers remote assistance functionality and remote desktop capability to all your endpoints.
Remote desktop lets you see exactly what's happening on remote endpoints. And you can take over remote sessions to solve many of your remote workers' support issues.
From Action1's App Store, you can deploy packages to all or a subset of your endpoints. After selecting the application that you want to deploy, click on Deploy App. You have the option of manually selecting the endpoints or rolling an app out to an entire group.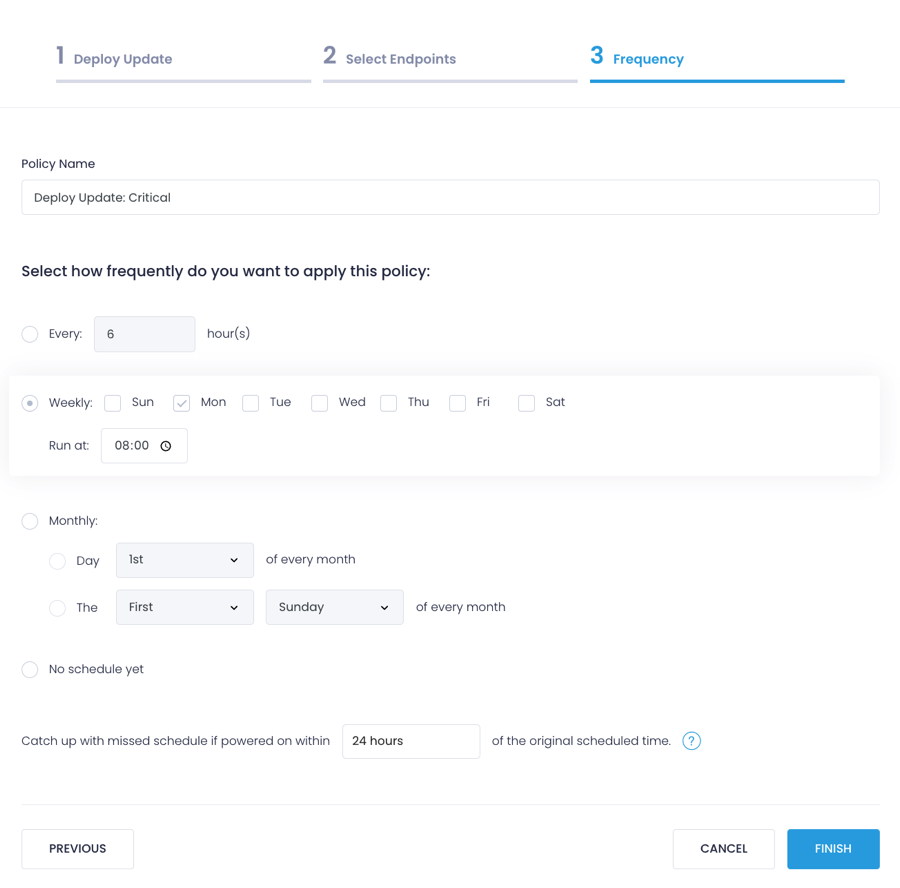 Deployments can be run immediately or scheduled for a specific date and time. Even if an endpoint is offline, the software will retry deployment within 24 hours. For monthly schedules, the retry window is set at 7 days.
Even if your endpoint is offline for longer, you'll always be able to get status updates using the built-in compliance reports. Moreover, you'll be able to set up a time frame to catch up on the missed schedule when your endpoint is online again.
Software and hardware inventory
Action1 streamlines IT software inventory management with many helpful reports. Overview data, such as "Installed Software", as well as reports that focus on specific assets, are available in Action1's central console.
The Installed Software report shows you a list of software on each remote workstation and the software version. You can get basic, quick at-a-glance dashboard perspectives. And you can drill down to get more detail about a specific application or endpoint.
There are many additional detailed reports available.
Cloud Storage Apps
Instant Messages
Web Browsers
Windows Drivers
MS Outlook Versions
Hardware inventory management is robust and detailed with Action1. The system inventory tool discovers and catalogs your devices. And it also includes printers, sound and display adapters, and various other hardware components.
Hardware Summary is a comprehensive report that provides a nice overview of your endpoints. You'll discover the operating system, CPU architecture and performance, memory, hard drive storage details, and more.
Both features are a boon for keeping your IT asset inventory compliant and accurate. And if the built-in reports don't meet your needs, then there is also the option to create your own custom reports using Action1's data sources as templates.
Get the first 100 endpoints free forever
Action1 makes it easy to get started with their free tier. You are free to use it on up to 100 registered endpoints. After that, you will need to purchase a minimum of 50 endpoints beyond your initial 100 free licenses.
Large enterprises can get a fully functional 15-day trial on an unlimited number of endpoints.
Action1 summary – ease of use and low total cost of ownership
It is easy to get started with Action1. In as little as 5 minutes, you can have your first endpoints deployed with data already pulled into a dashboard. It's an elegant solution that helps organizations manage Windows and third-party software patching quickly and without the complexity associated with WSUS and other enterprise-level solutions.
Creating your own software packages will certainly take some time and effort. However, as you grow, the solution scales with you. And when you incorporate your endpoint-deployment policies in Active Directory, newly provisioned devices will automatically get the Action1 agent deployed to them.
Action1 includes free access for up to 100 endpoints, secure remote desktop capabilities, and excellent reporting and compliance capabilities, so you can try it out risk free. IT administrators will also appreciate the simple and intuitive interface when rolling out patches, helping to lower the total cost of ownership of endpoint devices. Plus, with new features being added via Action1's roadmap, you'll get access to updated toolsets regularly.