Windows Mobile 10: The Story So Far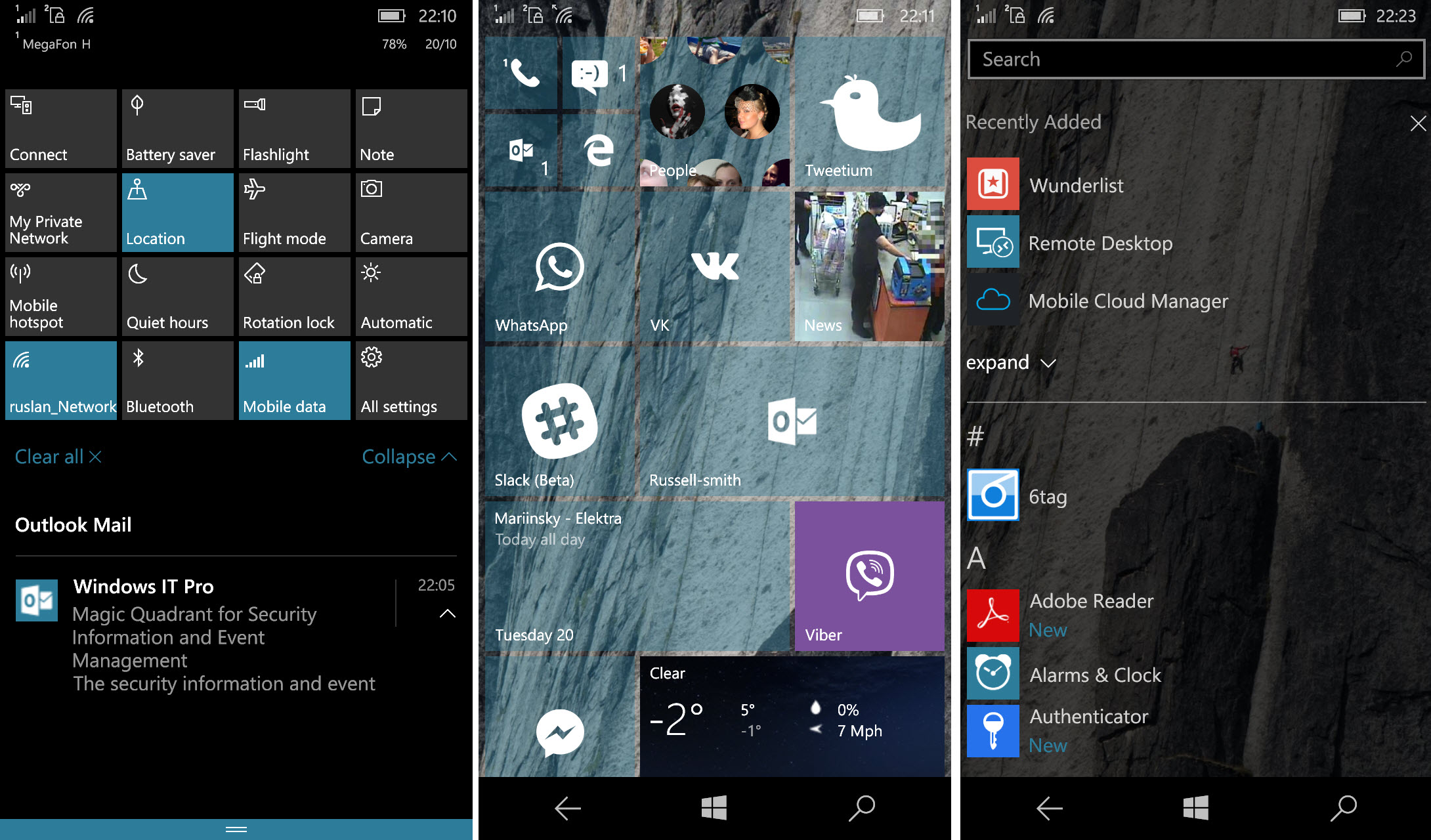 Following the release of build 10549 to Fast Ring Insiders, and since then the more recent 10572, I decided to take the plunge and install Windows Mobile 10 on my Lumia 640, with the aim of finding out how WM10 is shaping up and whether it's stable enough to use as a daily driver. But considering the frosty reception build 10549 received, I was expecting the worse. What follows isn't a hands-on review, but more an overview of the good, the bad, and the ugly.
The Basics: Action Center, Notifications, Apps Menu and Lock Screen
One of the most dramatic changes in Windows Mobile 10 is in the Action Center, which has been expanded to include four rows of icons with a Flashlight button — so no need to download a standalone app — and a Note button for quickly creating new notes in OneNote. Now only one click is required to connect the default VPN connection and disable WIFI. I can hear many of you cry that this isn't a big deal, but it was a usability annoyance that highlighted the immaturity of the OS.
Notifications can be dismissed individually or by app group, include previews, and notification banners are larger and more attractive than their Windows Phone 8.1 counterparts. The All apps menu is transparent to match the Start screen, prettier — as is most of the rest of WM10 — includes a search dialog box, and recently installed apps are pinned at the top. It's also worth mentioning here that as part of the aesthetic changes, the Start screen expands right to the edges of the display.
Despite all this much needed progress, Windows Mobile 10 demonstrates how primitive it can still feel by failing to provide alternatives to a PIN for unlocking the device, unless that is you intend to purchase a Lumia 950 or 950 XL, which will include an infrared camera for Windows Hello authentication. But dear Microsoft, it's 2015 and Windows Mobile users with basic handsets want to be able to unlock their devices using a pattern.
On the Edge of Glory
Let's not beat around the bush, IE in Windows Phone 8.1 isn't a great experience, unless you're a fan of slow and at times darn right awful page rendering. The good news is that while buggy, Windows Mobile 10 is still in preview remember, pages in Edge render faster, and as you'd expect the designer intended, which is especially important as you're more likely to use the mobile version of a site in WM10 because Acme.com doesn't have an app in the Windows Store.
As of build 10572 there are search suggestions in the address bar, and autocomplete; and the only available search engine is…. you've guessed it, Bing. Although it looks like Microsoft is preparing to allow you to choose an alternative search provider with changes to the Advanced settings screen in the latest build.
The Hub provides Reading List, History, Favorites and Downloads as in the desktop version of Edge. Tab previews don't always render, there are some odd quirks when typing or selecting text, and I was disappointed to see that items added to the Reading List don't synchronize with the desktop.
Windows Maps vs. HERE Maps vs. Google Maps
HERE Maps has always been the premier mapping application on Windows Phone, and as my Petri colleague Paul Thurrott points out, every mapping solution out there is inferior to Google's, which has never been available on Windows Phone.
The new Windows Maps app lacks in places compared to HERE. I searched for a landmark near my current location and was taken to a local business nearly 1000 kilometers away in London, so it's clear Maps doesn't take into account your current location when searching, which is not a great start. Information about nearby places is a joke, if you're in Finland, the closest bank might well be in neighboring Sweden. Just think, in less than a month's time this software is due to find its way on to Microsoft's new flagship Lumia handsets!
Plenty of European languages don't use Latin script and that's not a problem for HERE Maps, but you'll have to transliterate into Latin script if you want to find a street in Windows Maps, which is real pain considering there are often multiple ways to transliterate a word from, let's say, Cyrillic. But unlike HERE, Windows Maps does provide local traffic information, multiple transit routes and in some cities Streetside, the equivalent of Google's Street View. But I do miss the ability to group favorites into Collections, making it easier to find saved places when I'm a particular location.
Windows Store, Messaging, Outlook Mail and Calendar
There's a much improved store, which requires an update out-of-the-box, as do most of the other pre-installed apps. Download history has gone, and it's not currently possible to see the version number and publication date of store apps, a key indicator of whether the developer maintains regular updates. On the plus side, it's possible to add downloads to a queue if a check for updates is initiated manually, which is useful when you're updating your device after a hard reset or new build is released.
Outlook Mail doesn't provide anything revolutionary, although the visual overhaul and ability to flag or delete messages by swiping left or right respectively is a nice productivity improvement. Annoyingly it's still not possible to pin individual messages to the Start screen or set reminders on messages.
Outlook Calendar is again somewhat of an evolution compared to its predecessor, but makes poor use of the live tile, only displaying the next appointment rather than a whole week like some third-party apps. However, I do like the ability to view the whole working week on the screen and expand details about individual days. Overall, I could live with this solution, unlike the Calendar app in Windows Phone 8.1.
The new Messaging app consolidates SMS and Skype messages into conversation views, plus there's an equivalent app for the desktop, although without synchronization between mobile and PC at present. Assumedly the idea is that any app will be able to integrate with Messenger, so that all communications are available in one place. Unlike the with Outlook Mail messages and notifications, you can't swipe to the left to delete conversations in Messaging, giving the app an inconsistent feel with the rest of the platform.
Windows Camera and Photos
Lumia Camera has been replaced by Windows Camera, and it looks almost identical, although I was a bit confused about how to 'choose the best lighting' when Rich Capture is turned on, potentially a problem I created for myself by removing the now redundant Lumia Camera app.
Photos allows you to add pictures from your OneDrive albums, rather than just those on internal storage, but the available editing options are basic, and could do with the ability to straighten and retouch photos as is found in the desktop equivalent. I don't want to go looking for a third-party app for these rudimentary functions. In build 10572, it's not possible to share pictures with third-party apps.
Cortana
Remember all that cool stuff that your friends have shown you on their Android devices? Such as locking onto your current location and advising you when the last bus home is, finding the nearest 24-hour drugstore, or voice recognition in Polish or Lithuanian?
The extensive local knowledge that puts Google at the top of the pile needs to be integrated into Cortana to make it a truly useful personal assistant. Sadly, the upshot is that Cortana isn't likely at any point in the near future to track flights, packages, provide automated transit routes and other local information until it's officially supported in your region.
And Microsoft doesn't appear to be in a hurry to rush out Cortana in Europe, where Windows Phone enjoys a much higher market share than in the US. Currently Cortana support is limited to China, France, Germany, Italy, Spain, the United Kingdom, and United States. If you live outside those regions, you can still enable Cortana by changing your language and regional settings, but you'll likely find that Cortana is of limited use because of the lack of local knowledge, especially that built-in to Windows Maps.
In build 10572 a bug seems to have crept in that prevents downloading additional speech packs and keyboard text suggestions, so this might be a show-stopper if you want to enable Cortana outside of a supported region. An additional issue I've come across is that the keyboard no longer works with Word Flow, so be prepared to live without that until the next build is released, promised ETA being October 27th.
Microsoft Office Universal Apps
If you want to use the new, and actually quite good, Universal Office Apps, then you'll need to upgrade to Windows Mobile 10. The apps take some getting used to because there's lots of functionality packed into a relatively small screen estate, but from what I've seen so far, I'm impressed. It just makes you wonder why Microsoft can't make the same high-quality apps across the rest of the platform.
Performance and Hardware Compatibility
Apps in general take a little longer to load and resume than in Windows Phone 8.1, but that situation is likely to improve as we head towards RTM. Nevertheless, performance is more than acceptable and shouldn't pose any problems as your daily driver. I was able to connect to my Sony Bluetooth speaker, and to a Windows 10 PC, connect to a PPTP VPN and set up and use the handset as a mobile hotspot. Battery life in this build 10572 seems to be more or less on a par with Windows Phone 8.1, and with moderate use should be enough to see you through the whole day.
Windows 10 Mobile Coming Soon
If you're anticipating a wow moment after upgrading from Windows Phone 8.1, you might be somewhat underwhelmed with Windows Mobile 10, nonetheless after six days of use I'm getting over my initial disappointment and starting to appreciate the evolutionary changes, including those that have caused an outcry in the Windows Phone user community, such as the controversial introduction of the Android-esque hamburger menu.
While there are quirks that need to be ironed out before general availability, any problems I encountered were temporary and easily resolved by a reboot; and in general, I would deem Windows Mobile 10 in a good enough state to use as a daily driver, but you may have a different experience and this is unsupported preview software.
Microsoft's Last Chance
Concerns still remain, especially with the lack of high-quality apps, in particular Windows Maps and the US-centric Cortana. I don't know how well Cortana works in supported regions, such as the UK and Germany, but in Eastern Europe, where Windows Phone 8.1 enjoys a reasonably high market penetration compared to the US, even if speech recognition is not supported, Windows Maps and Cortana need to be useful if Windows Mobile 10 is ever to be more than a second-class citizen.
Despite the negatives, and the feeling that Microsoft has started again with Windows Mobile 10, there is a lot of potential. But how many years have pundits been saying Windows Phone has potential? Windows Mobile 10 will provide Microsoft with its last opportunity to crack the mobile market, and will need to develop rapidly after RTM if it's to stand any chance of surviving.