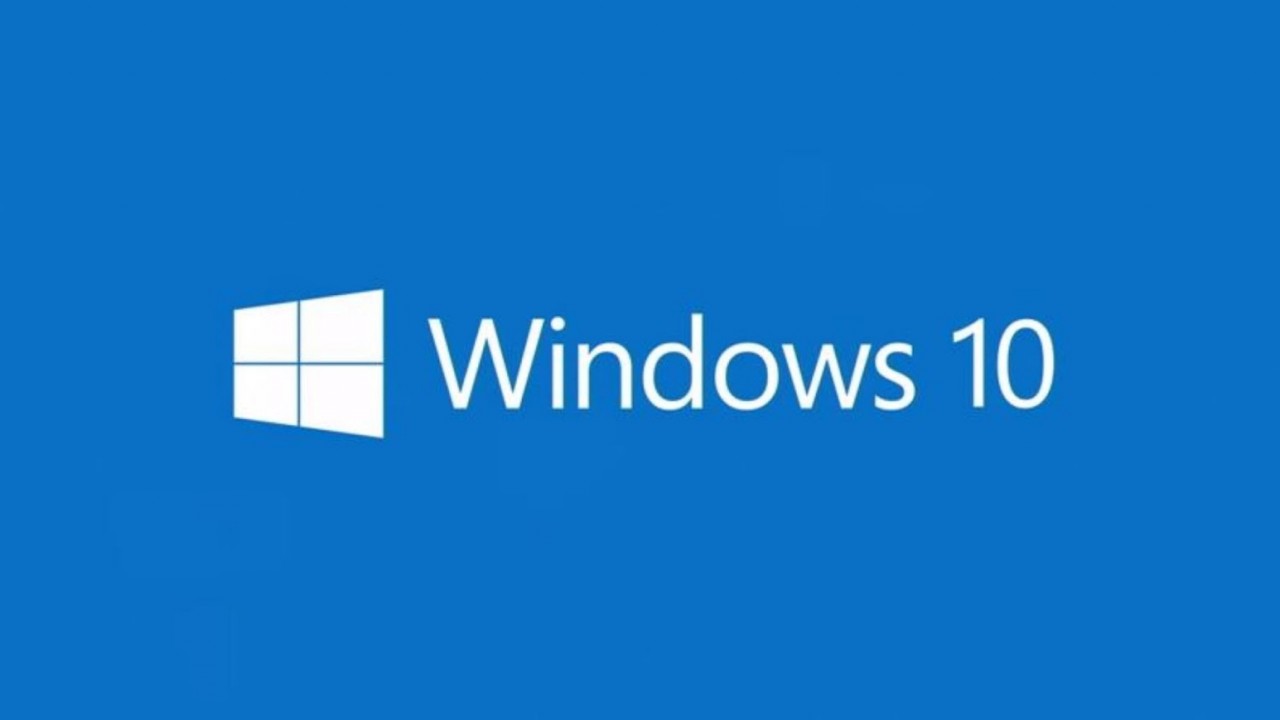 16th November 2021, Microsoft made the Windows 10 November 2021 Update (21H2) generally available. In this article, I'm going to tell you about all the new features for IT pros.
As with previous Windows 10 feature updates, Microsoft is taking a measured approach to the rollout, throttling availability via Windows Update to make sure users have a smooth experience.
How to get the Windows 10 November 2021 Update
Consumers can install the Windows 10 November 2021 Update before their current version of Windows 10 reaches end of support by opening Windows Update and selecting Check for updates. To open Windows Update, press WIN+I together to start the Settings app. Then select Update & Security > Windows Update.
Windows Update will now check for available updates. If your device is eligible, click Download and install to start the installation. You'll be prompted when your device is ready to be restarted.
Windows 10 November 2021 Update availability for commercial customers
The Windows 10 November 2021 Update is available for commercial customers through Windows Server Update Services (WSUS), Configuration Manager (ConfigMgr), Windows Update for Business (WUfB), and the Volume Licensing Service Center (VLSC).
Windows 10 November 2021 Update is also the build being used for Windows 10 Enterprise LTSC 2021, which Microsoft provides for customers that need a longer period of support for special-purpose devices, like those used in manufacturing and healthcare. This LTSC version of Windows 10 gets 5 years' support.
New features in the Windows 10 November 2021 Update (21H2)
Microsoft is focusing development efforts on Windows 11. But there some new features in Windows 10 21H2 that should make life easier for IT pros continuing to support the OS.
A more secure version of Windows 10
Windows 10 21H2 brings updates for the following features to make Windows 10 more secure:
Windows AI Platform,
Windows App Platform and Frameworks
Windows Apps
Windows Cryptography
Windows Fundamentals
Windows Input and Composition
Windows Kernel
Windows Media
Windows Office Media
Windows Virtualization
Mobile Device Management policies
There are also new features to make Windows 10 easier for IT pros to manage and deploy. Windows 10 21H2 brings more than 1400 new Mobile Device Management (MDM) settings from Group Policy.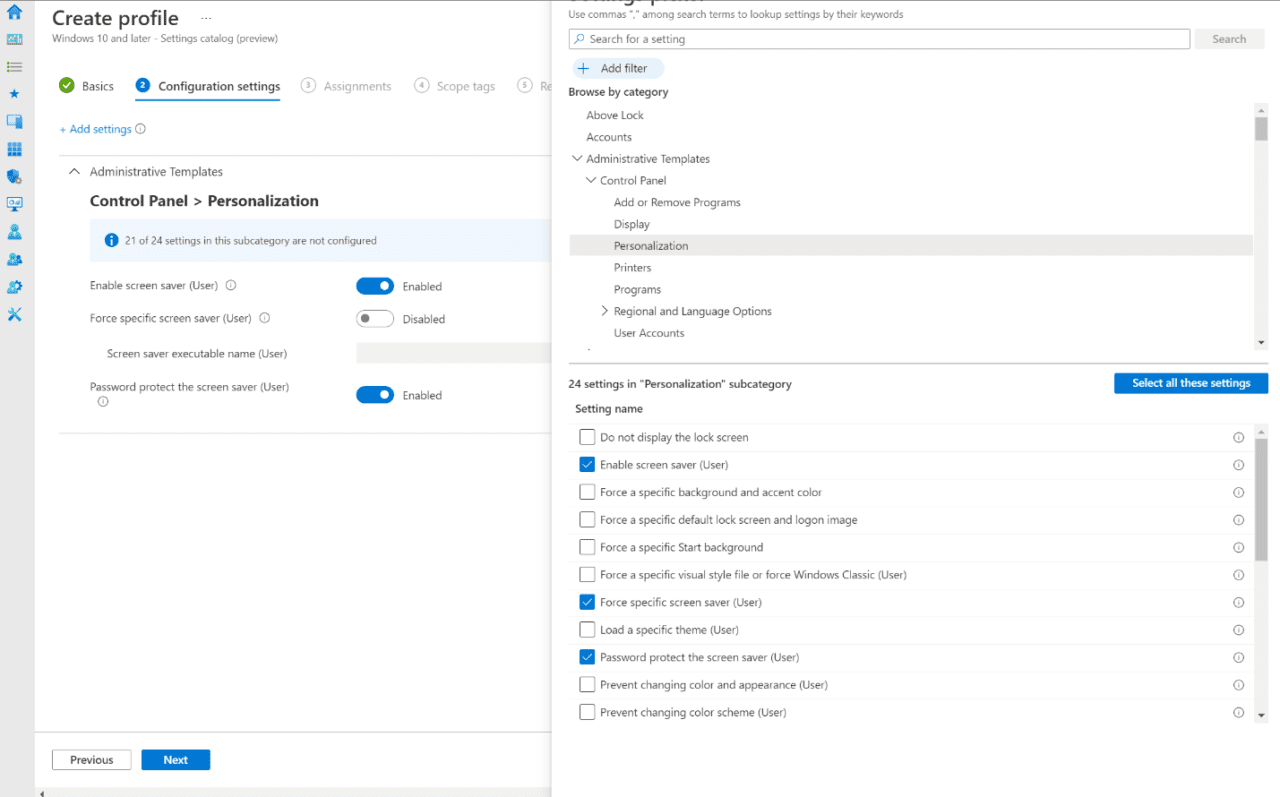 The new MDM policies come with administrative template (ADMX) policies, like App Compat, Event Forwarding, and Task Scheduler, leveling up the policy management experience with Windows 11.
Universal Print
For Windows 10 Enterprise customers, Universal Print gets support for print jobs up to 1 GB. Or a series of jobs from a single user that can amount to 1 GB in a 15-minute period.
Microsoft 365 Universal Print is a cloud solution designed to enable endpoints to print anywhere without the need for a print server. Universal Print doesn't need any on-premises infrastructure if you have Universal Print-compatible printers.
Azure Virtual Desktop integration
For customers using Azure Virtual Desktop, IT will be able to automatically provision apps to Windows 10 desktops. The 21H2 update lets apps run in Azure Virtual Desktop just like local apps, along with the option to copy and paste between local and remote apps. This integration with Azure Virtual Desktop is also available in Windows 11.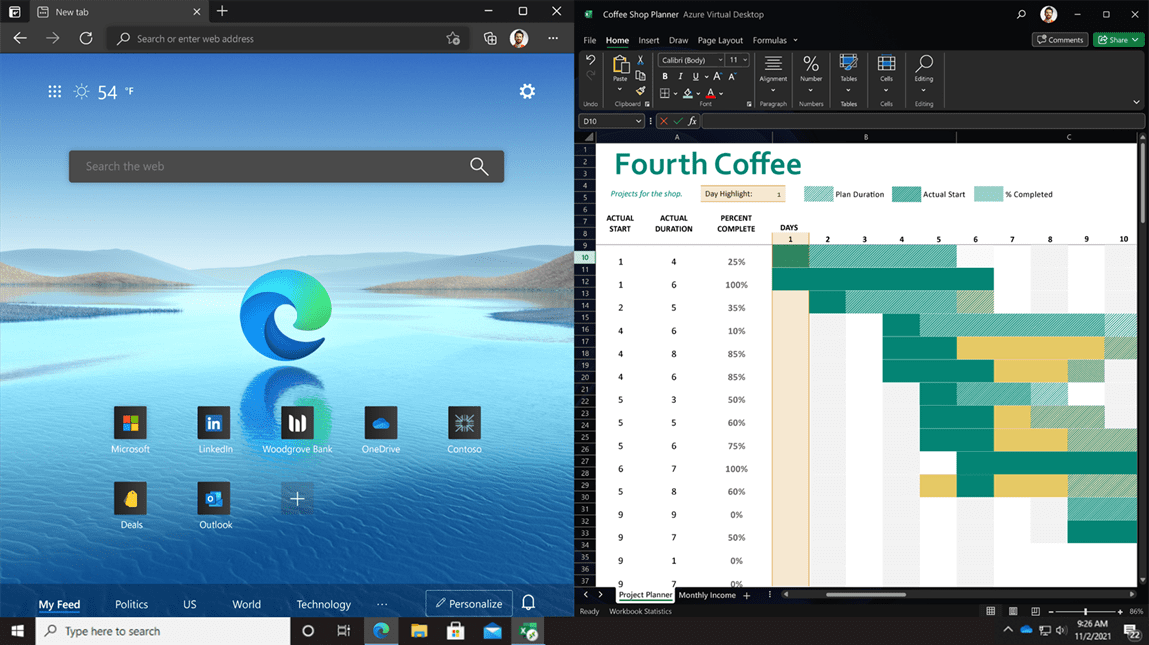 Tooling for Windows 10 21H2
Devices running Windows 10 version 2004, 20H2, or 21H1 can all be updated to 21H2 using a simple enablement package that is installed like a monthly cumulative update (CU). The enablement package can be installed quickly, and it requires a single restart. Devices running older versions of Windows 10 will receive 21H2 as a complete feature update package.
Organizations looking to evaluate Windows 10 21H2 can download Windows 10 Enterprise Evaluation from Microsoft's website. The Group Policy administrative template (.ADMX) files and Group Policy reference spreadsheet for Windows 10 21H2 are also available from Microsoft.
Microsoft has also made available a release health hub for Windows, where you can check to see if there are any known issues, announcements, and best practices surrounding the latest Windows 10 feature update. And for information on all Windows 10 releases, Microsoft has a list of servicing options with release dates and build numbers available, including end of service dates.
Because Windows 10 21H2 shares the same kernel and common system files as Windows 10 version 2004, 20H2, and 21H1, you can continue using the Windows Assessment and Deployment Kit (Windows ADK) for Windows 10, version 2004 and the Windows PE add-on for the Windows ADK, version 2004.
Other new features in Windows 10 21H2
While Windows 10 21H2 doesn't contain any major new features, there are some productivity and security enhancements worth mentioning:
WPA3 Hash-to-Element (H2E) protocol standards support for enhanced Wi-Fi security and protection against side-channel attacks
Windows Hello for Business introduces a new deployment method called cloud trust to support simplified passwordless deployments and achieve a deploy-to-run state within a few minutes
GPU compute support in the Windows Subsystem for Linux (WSL) and Azure IoT Edge for Linux on Windows (EFLOW) deployments for machine learning and other compute intensive workflows
Deploying Windows 10 version 21H2 in your organization
Microsoft recommends rolling out Windows 10 21H2 to a select number of devices to validate that apps, devices, and your wider IT infrastructure work properly with the updated OS. Once you have validated line-of-business apps work as expected, you can target the rollout to a large pool of devices.
It's also worth noting that Windows 10 21H2 marks the transition of Windows 10 to an annual release cadence, which aligns with Windows 11. Microsoft says:
"We will transition to a new Windows 10 release cadence to align with the Windows 11 cadence, targeting annual feature update releases.
We are now renaming the servicing option for releases to the General Availability Channel starting with the November 2021 Update (Note: this replaces the previous "Semi-Annual Channel" term for the servicing option)."