How to Upgrade to Windows 8.1 Without Using the Windows Store

If you've been updating your Windows 8 devices this week to Windows 8.1, you may have noticed that using the Windows Store is Microsoft's preferred method. But as I've discovered, the Windows Store doesn't provide a reliable experience, and can be frustrating if you need to upgrade multiple devices. In this Ask the Admin, I'll show you how to download the Windows 8.1 ISO with a Windows 8 product key so that you can bypass the Windows Store.
Get the Windows 8.1 ISO
Follow the instructions below carefully to download the Windows 8.1 RTM ISO with a Windows 8 product key.
Microsoft will allow you to download the 32-bit version if you click the link from an OS running 32-bit Windows, and similarly the 64-bit ISO if the OS is 64-bit Windows.

Scroll down the web page to the section When you're ready, tap or click Install Windows 8.1 or Install Windows 8.
Click Install Windows 8.
Even though we want the bits for Windows 8.1, we need to start setup for Windows 8 first to provide a valid product key.
Click Run at the bottom of Internet Explorer.
In the setup dialog, enter your Windows 8 product key.
Follow the wizard through the next step until Windows 8 starts downloading.
When the download starts – and only at this point – close setup.
Now go back to the Upgrade Windows with only a product key web page.
Click Install Windows 8.1 and run setup. This time, you won't be prompted for a product key and you can download the Windows 8.1 ISO.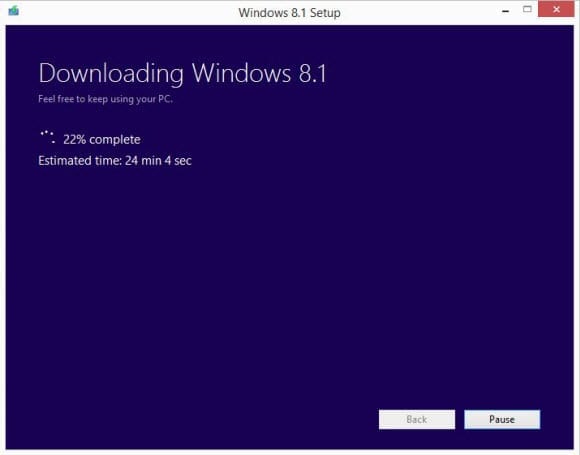 Once the download is complete, you will be given the option to create a bootable USB drive or save the ISO file to disk.