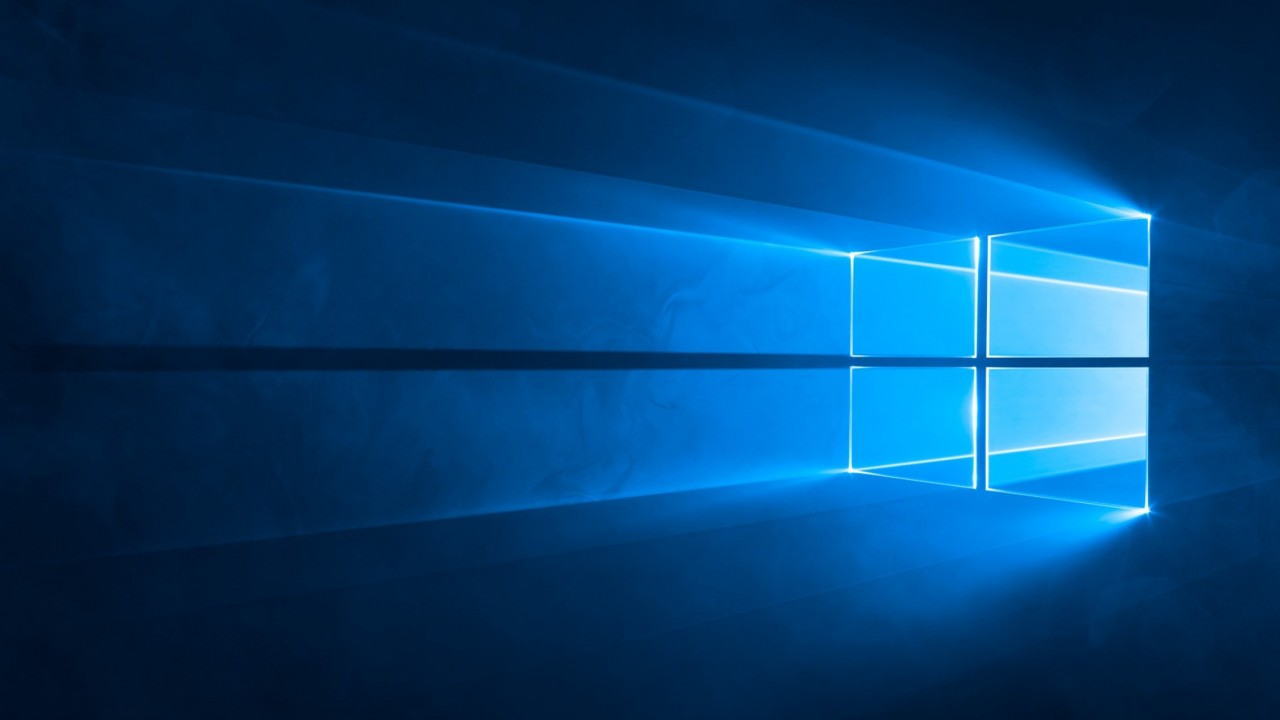 The Your Phone app debuted in Windows 10 version 1809, which was released in October 2018. To be honest, I couldn't muster any enthusiasm to look at it because this isn't Microsoft's first attempt at integrating SMS messaging with Windows and I'm tired of half-baked new features for the sake of a marketing win.
As a reminder, Cortana can read and reply to SMS messages on Android providing that Cortana is installed on your phone. It also works with Windows 10 Mobile but is unreliable. Not that it matters because nobody is using that platform anymore. But the main issue is that Cortana is only available in some regions, meaning that half the planet is excluded. There's no such limitation with Your Phone.
Microsoft claims that Your Phone will allow you to leave your device in your pocket. That will rather depend on how much you use your phone for actual calling. But if you are mainly accessing Internet messaging services, the chances are there is an app you can use on your PC. For instance, WhatsApp and Facebook messenger both have apps or can be used in a browser. Your Phone bridges the gap for SMS messaging.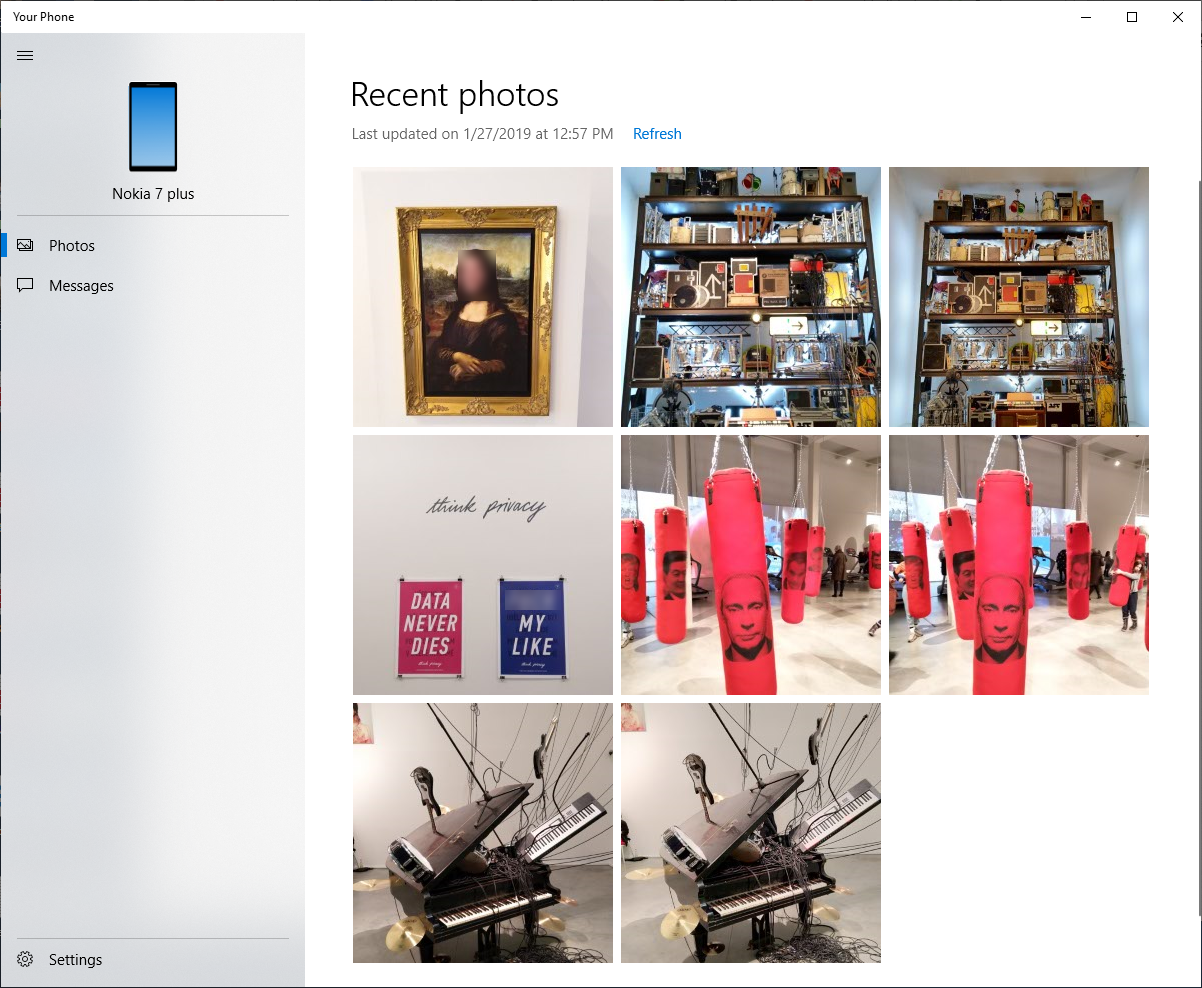 The ability to access recent photos is interesting because most users will have their phones set to synchronize to Google Drive or OneDrive. You could argue that grabbing photos from cloud storage should mitigate the need for any other mechanism. But in my experience, some people just don't get that cloud storage can provide access to files without manually transferring them between devices. And then there are those who don't want to upload photos to the cloud. While I don't see it as essential, the ability to access recent photos can be handy if you don't want to wait around for files to sync to the cloud.
Hands On with Your Phone
Your Phone is installed out-of-the in Windows 10 1809 and the Your Phone Companion app can be installed on Android using the Google Play Store. Once the app is on both devices, you can start the linking process by providing your cell number in the app on the PC. All you need to do then is follow the instructions. You will need to sign in to the app using a Microsoft Account (MSA) and both your PC and phone must be connected to the same Wi-Fi network.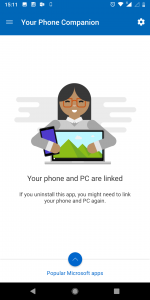 Your Phone Companion on Android provides links to Microsoft apps in the Google Play Store and allows you to manage the account you use to sign in to the app. There's nothing else to see on the phone side. Your Phone on Windows 10 is where all the functionality resides. Open the app and you are shown a list of SMS messages on your phone. You can select a message and reply to it. You can't delete messages or manage them in any other way.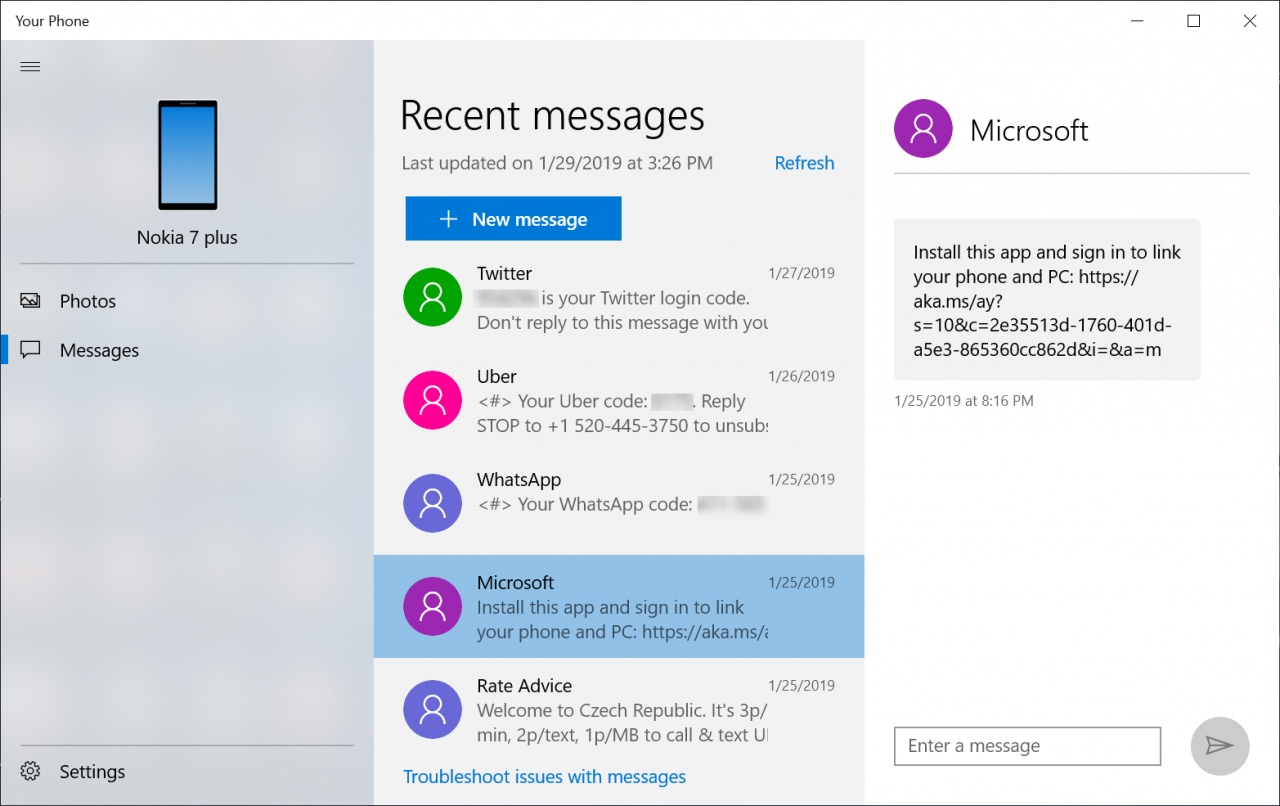 Switching to Photos displays the last 25 camera and screenshots on your phone. Clicking on a photo opens it in the Windows 10 Photos editor, from where you can save, edit, print, or share it. Alternatively, you can right click photos in Your Phone and you get the option to Copy or Share from the context menu.
Your Phone does what it says on the tin. And unlike some other recent Windows 10 features – Timeline I'm looking at you – it seems to work reliably. But the app is rather underwhelming, there's nothing particularly exciting or revolutionary to see. Microsoft is however promising in a future update that users will be able to mirror Android apps on their PCs. And while that sounds interesting, I'm not sure how useful it would be in practice. A lot would depend on whether apps scale for full-screen use. Otherwise accessing services in the browser would seem like a better bet.