Petri's Top 10 Windows Server 2012 Articles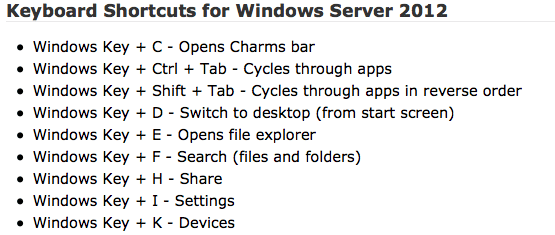 Windows Server 2012 has been available for several months now, and many IT departments are considering making the switch to Microsoft latest (and arguably greatest) server OS ever. We've written a fair amount about Windows Server 2012 over the last year, so I thought it would be useful to round up our most popular articles here on the Petri IT Knowledgebase and present them in one blog post for ease of bookmarking, emailing, and sharing with your colleagues.
These articles were picked mainly as being those that received the most web traffic, but we've also included some that received an impressive number of likes, shares, and retweets. If you have a favorite Windows Server 2012 article on the Petri IT Knowledgebase — or on other sites as well — feel free to share the wealth by adding a comment to the end of this blog post.
Have you just finishing installing Windows Server 2012? Our own Jeff Hicks shows you the first five things you should do with that fresh install to optimize it for your work environment. In this article, Hicks shows you how to enable PowerShell remoting, run best practice analyzers, and perform other PowerShell-friendly tasks.
Server Core is a fantastic feature of Windows Server 2012, allowing you to only install only the OS features you need to minimize resource usage and reduce your security footprint. The Windows Server GUI is optional in Server 2012, allowing you to switch between server core and the GUI with ease. Again, Jeff Hicks shows you how in this handy how-to article.
Windows Server 2012 has dozens of new features and hundreds of other updates and improvements. If you're curious about which server features may be most worth a look, this article presents ten of the most noteworthy, from Hyper-V 3.0 to the massive number of new cmdlets added to PowerShell.
If you're an end-user, you can rely on your mouse to accomplish just about everything you might need with your Windows client OS. Not so with system administrators, who have learned that keyboard shortcuts can save minutes out of every day, hours in every week, and days out of every year by using shortcuts and keyboard commands. Here's our list of most of the more useful ones in Windows Server 2012.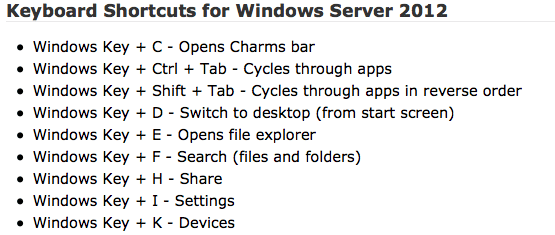 Just a handful of the handy Windows 2012 keyboard shortcuts we featured.
PowerShell has emerged as one of the powerful tools in the Windows Server administrator's toolbox. Did you know that you can scan, diagnose, detect, and fix disks using a handful of PowerShell commands? Microsoft MVP (and PowerShell guru) Jeff Hicks shows you how.
Microsoft's Small Business Server has been replaced by Windows Server 2012 Essentials, which includes many of the features and server apps that small businesses need. Windows Server ninja Peter De Tender shows you how to configure Windows Server 2012 Essentials in this handy how-to article.
PowerShell is a powerful task automation framework, and nowhere is that more evident than in Windows Server 2012. Scheduling recurring tasks can be the bane of many system administrator's existence, so this this article shows you how to automate those time sinks using PowerShell, both in Windows Server 2012 and Windows 8.
You may have already read about how to detect and fix disk errors using PowerShell, but did you also know that you can use Microsoft's favorite server scripting language to defragment drives as well? We shows you how.
Two of the most powerful new features in Windows Serveer 2012 are Storage Pool and Spaces, both of which make it easy to aggregate and abstract your network storage in new and powerful ways. We'll show you how to create a Storage Pool in this how-to article by Flash Denning.
As the heir to the groundwork laid by the IPv4 networking protocol, IPv6 offers a host of improvements over its predecessor. Sean Wilkins walks you through all the new IPv6 goodness in both Windows 8 and Windows Server 2012 and points out the highlights in this short article.
Have any favorite Windows Server 2012 articles of your own to share? Drop me an email with your thoughts.