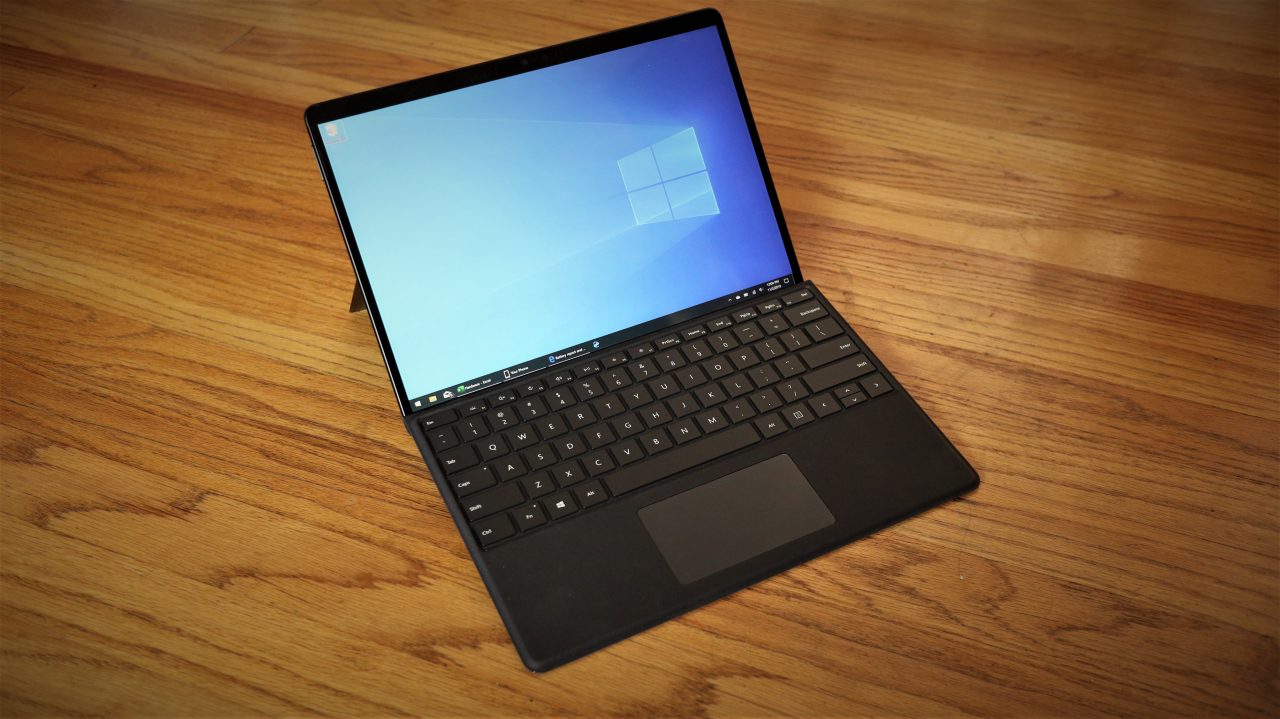 In the world of Microsoft, the third time is usually the charm. With the Surface brand, the Pro 3 is what established the product-line and opened the door to the hardware that we see and use today. With the evolution of Windows, the third attempt at creating a new experience that looks like classic Windows but is fundamentally different behind the scenes may be the iteration that finally sticks.
If you take a look back, we had the Surface RT that ran on an ARM processor and we also had Windows 10 S mode that tried to push a locked-down version of Windows that was safer and faster, but neither of this versions of Windows caught on in any meaningful way. But launching this week is the brand-new Surface Pro X and for the mobile workforce, the future may finally be ARM.
The Pro x is a new device with a new CPU (an ARM chip made by Qualcomm known as the SQ1) and it is packaged inside a refreshed Surface Pro form-factor that may look like a Surface Pro 6 in spirit, but it is all new hardware from the internals out.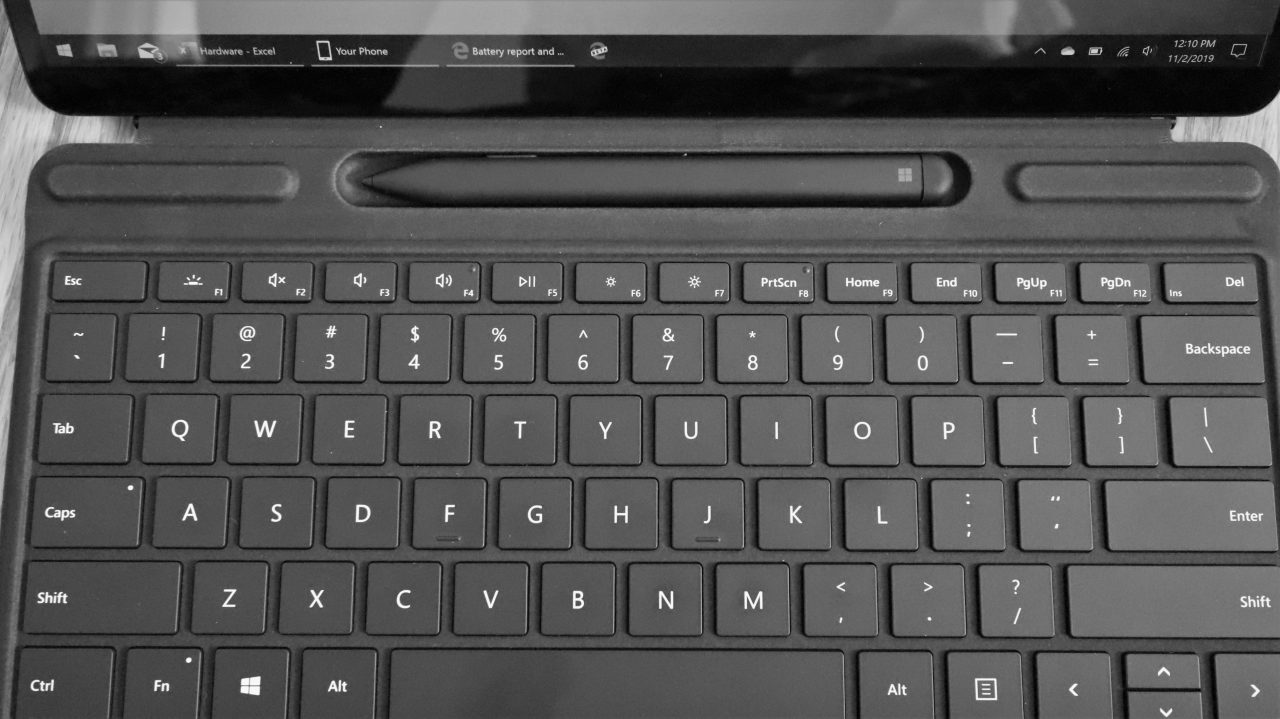 If the actual PC wasn't new enough, the Type cover has a new design, there is a new pen, and this is a mobile PC at heart with LTE from day one. With previous Surface hardware, we had to wait up to six months to get an LTE version but the Pro X has the functionality built-in with each device.
There are going to be a lot of comparisons made about the ideal end-user. Is this an iPad Pro competitor, the ultimate Surface Pro, or something else? For this review and for my personal use of the device, the perspective is if this machine is good for the field worker. The person at the front of the line when it comes to customer contact, the engineer standing out in the field trying to triage why a substation is offline, or an insurance adjuster at the scene of an accident.
Why this scenario? Because that's who I think has the most to gain from this device in its current configuration. Microsoft has maximized the screen real-estate, stepped up the functionality with a dockable pen, improved connectivity with LTE-Advanced, and included an ARM chip that is known to be friendly to batteries without a big hit to performance when compared to other chips from Intel and AMD.
The Pro X only comes with one CPU option, the SQ1, which is a customized version of the 8CX built by Qualcomm. The device is clocked at 3GHz and has 8 cores. Typically, I am not a huge fan of synthetic benchmarks because they don't provide real-world usage but there are times that they do highlight general themes of a processor.
This is one of those times that I feel that it is necessary but it's not quite as easy as you might think.
The challenge with the Pro X is that it runs what looks like traditional Windows 10, it acts like Windows 10, but it's not entirely Windows 10. As of today, you can only run 32bit applications, if your app is non-ARM64bit, it won't run. Microsoft has found a way to bring 32bit apps to the Pro X through virtualization technology and even though it's an ARM chip, I am here to tell you that the results are mostly impressive.
What this means is that finding a benchmark app that works across a wide variety of devices is a bit more challenging. For testing, GeekBench 4 works, Geekbench 5, does not run. Here's the takeaway from the tests, if you have ever used a Surface Go or a Surface Laptop, first-generation, and you didn't have a problem with the performance, the Pro X will fit your needs. What surprised me with the tests is that the Pro X is roughly matching the performance of the Surface 15in Ryzen 5 model.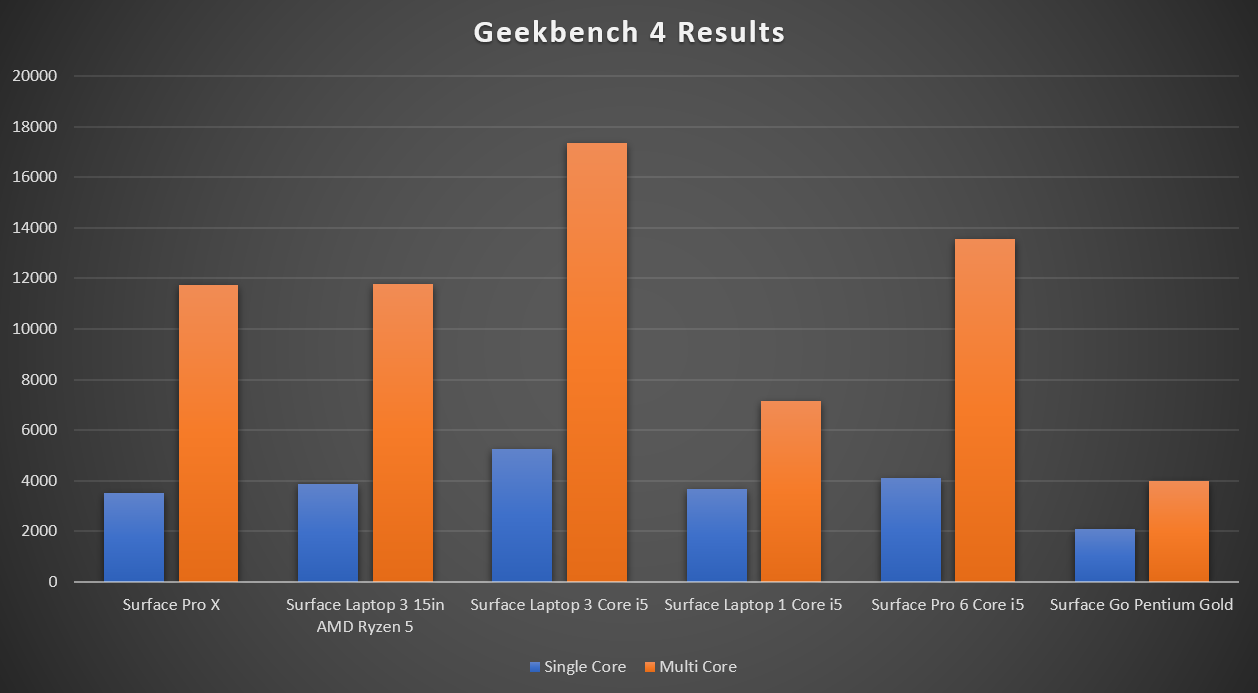 If you are hoping to run high-intensity applications on this hardware, you would be better off choosing another device for your needs. But for Office apps, browsing the web, using web-apps or entering info into a CRM platform, the Pro X will fit the bill.
While using the device, I ran a 1080P YouTube clip in the background, had email, Spotify, Word, and an Excel document open that had a few pages of content, and performance wasn't an issue. Tabbing between apps, writing emails, and of course, writing this review in seat 12A on my flight to Ignite, it has been a good experience for these basic tasks.
For corporate customers, there is also a big win on the back of this device. Using a SIM eject tool, there is a small door on the Pro X that gives you access to two things: the spot to insert your SIM and the solid-state drive.
Yes, you read that correctly, the solid-state drive on these machines can be accessed in less than thirty seconds which means that if you need to retire the hardware for any reason, you can remove the storage medium and have it properly destroyed. Gone are the days of needing special tools or heat guns to access the drive, it can now be serviced by the internal IT shop.
And there are two other features that you may not realize are included until you buy a device that does not have them: Instant On and Quick Charge…and they both work quite well.
Instant On, as the name suggests, means that when you open the cover, it logs you in nearly instantly with Windows Hello and there is no wake-up period to start using the hardware. And when the battery is flat, plug it in for about an hour and you will have a charge of 80%.
Both of these features are mostly incognito to the user but that's how it should be. These are little things that make the overall experience better but you likely won't explicitly know that they are features at all.
There are also two big changes to the Type Cover with the Pro X versus the model that ships for the traditional Surface Pro. First is that it uses a new, and much smaller connector and the second is that it neatly hides a dock for the pen.
The new connector is smaller in every way. It now fits on to a single blade that connects snugly up into the device but it still retains that 'easy to attach' mechanism that the first Surface devices introduced.
One of the issues with using a pen with the older Pro hardware is that you had to remember to bring it with you. There was no easy way to store it but that problem is now a thing of the past and it makes a big difference.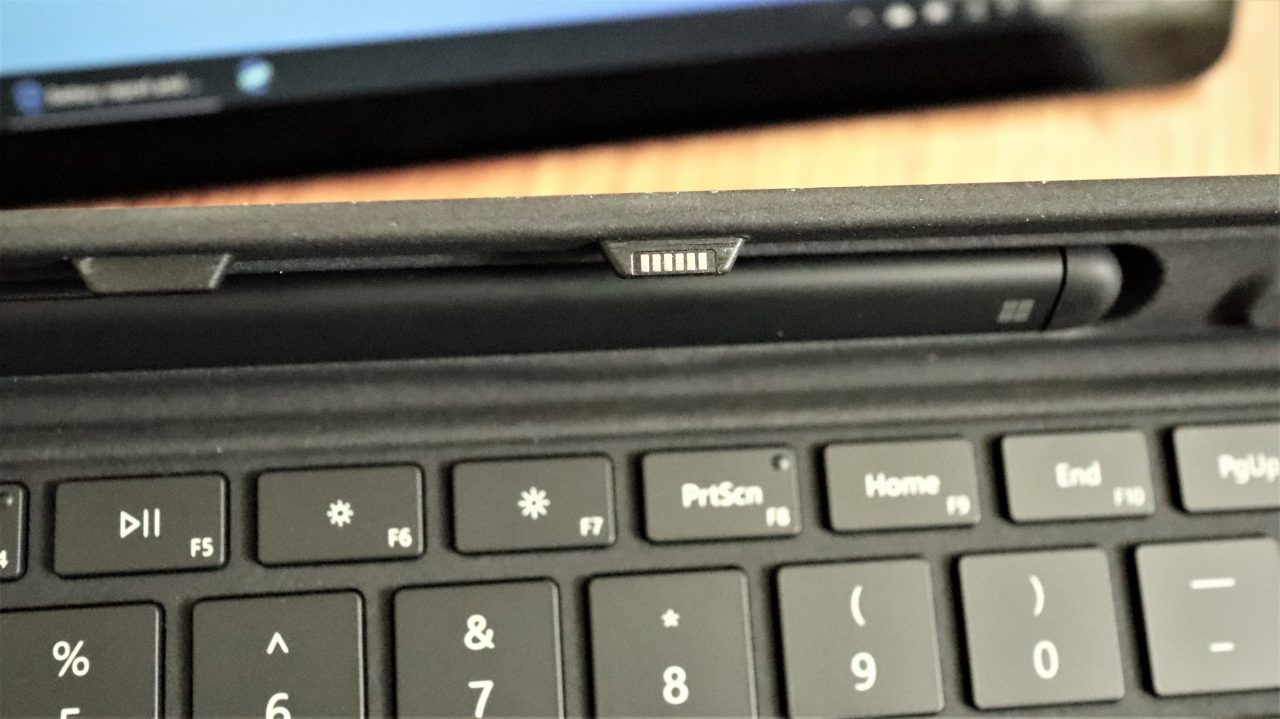 At the top of the Type cover is a cutout where the carpenter-style pencil can be stored, even when the cover is folded up against the display. Further, the pen charges in the Type cover and it doesn't matter how you place it in there either.
What I mean is that there are only two ways to put the pen back in its storage area and because of magnets, it's not possible to store it incorrectly. This is a small change to the Surface setup that I think will have a big impact for the users. I didn't always need a pen but when I did, I often couldn't find it.
Yes, the carpenter-style is slightly less ergonomic than a round pen but I'll take this arrangement any day over having to look in the bottom of my bag for a pen that may not even be in there.
But it's not a perfect device, unfortunately. The lack of support for 64bit apps can be a challenge and there is a questionable decision around a missing port.
Despite the 32bit app virtualization technology working well, using apps can be a frustrating exercise. I use Newton Mail, a 64bit app, that is in the Windows Store but If you go to the app in the store, the install button is greyed out but it doesn't say why. And if you download a 64bit app from the web, like GeekBench 5, the app will install and it appears that everything is working nominally.
That is, until you try to open the app. When you double click the app icon, it states that this app can't run on your device and doesn't offer any additional information. I know why it won't run, but for users who don't know that this device is a new breed of machine from Microsoft, it will most certainly leave them perplexed. Microsoft should strongly consider improving the messaging in the store and the error screen for 64bit apps to help new users adjust.
The Pro X also drops the headphone jack. While you do have two USB-C ports, the lack of a headphone jack means you are stuck using Bluetooth or a dongle. For making calls with Teams, you are going to need a headset and at this point, it's Bluetooth or bust.
And then there is Windows 10 that is presenting a few hiccups. One example is that, on occasion, the wallpaper after waking from sleep, is zoomed in to a very high level. The other oddity is, again, waking from sleep, opening the notification area will often freeze for a few seconds with all options greyed out.
One thing worth noting though, in my time with the device, it has already received an update that improved performance and stability. I fully expect that during the year ahead, Microsoft will be shipping frequent updates for the hardware that should continue to iron out the odd bugs I have experienced and possibly improve performance.
Also, the device is a fingerprint magnet and there is no way around it. If you buy a Pro x, you will want to keep a microfiber cloth nearby but it's a battle that you will never win.
The one key aspect that I have mixed reviews on is the battery. Initially, I was getting as low as 5hrs on a charge but after an update was installed, I'm now getting around 7hrs with mixed usage. I tend to keep my screen at max brightness and have the Office suite open, Spotify running in the background, and jumping in and out of LTE connectivity. You can certainly eke out more battery life if you desire but for my 'real world' usage while traveling at Ignite, 7hrs feels about right.
As I have done with many other Surface products, I will be reviewing this device for the long-haul and keeping an eye on how the battery performs will be watched closely.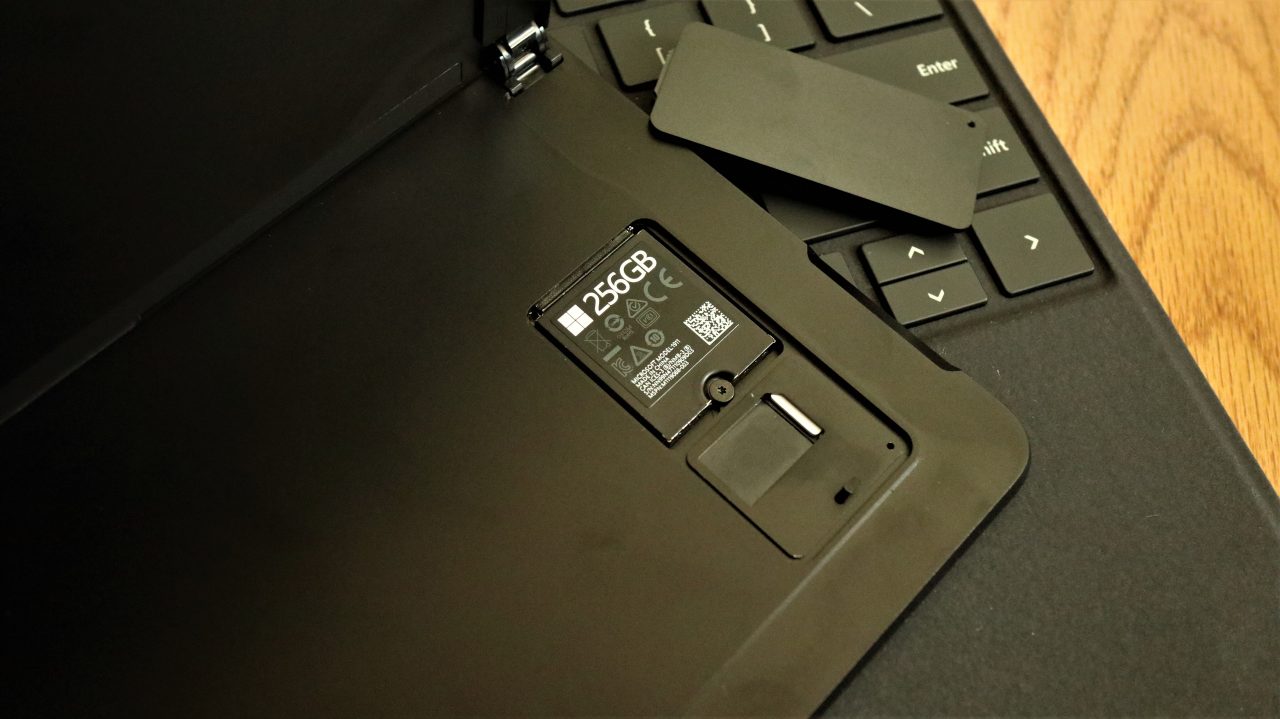 There's a lot to like about the Pro X: the design makes the Pro 7 look outdated, the updated Type cover has a few tricks up its Alcantara, and the serviceability makes the Pro X a solid machine on for paper corporate customers.
The Pro X is not for everyone, there are people who will be better off with a Laptop 3 or a Pro 7. Those are the employees who need to run heavier applications or type a lot which is better on a traditional laptop than it is on Type cover. And it's not cheap, with a starting price at $999, without the Type cover ($269 for the option with the pen), you have to love the device to pay the premium to take it to the office.
But for the person who is highly mobile, wants built-in connectivity options, and prefers to carry around a thin and light device, the Pro X might be for them. After all, it runs Windows which means it works with Active Directory, has the security of Windows Hello, Microsoft 365 functionality is baked in, and IT can easily manage all aspects of the device, remotely.
Sure, it could use a little more grunt from the SQ1 CPU or in a dream world, a 90hz display, but as I head out to the busiest event of the year for myself and Petri.com, I'm taking the Pro X and the Pro X only.