Paul Thurrott's Short Takes: Ignite 2019 Special Edition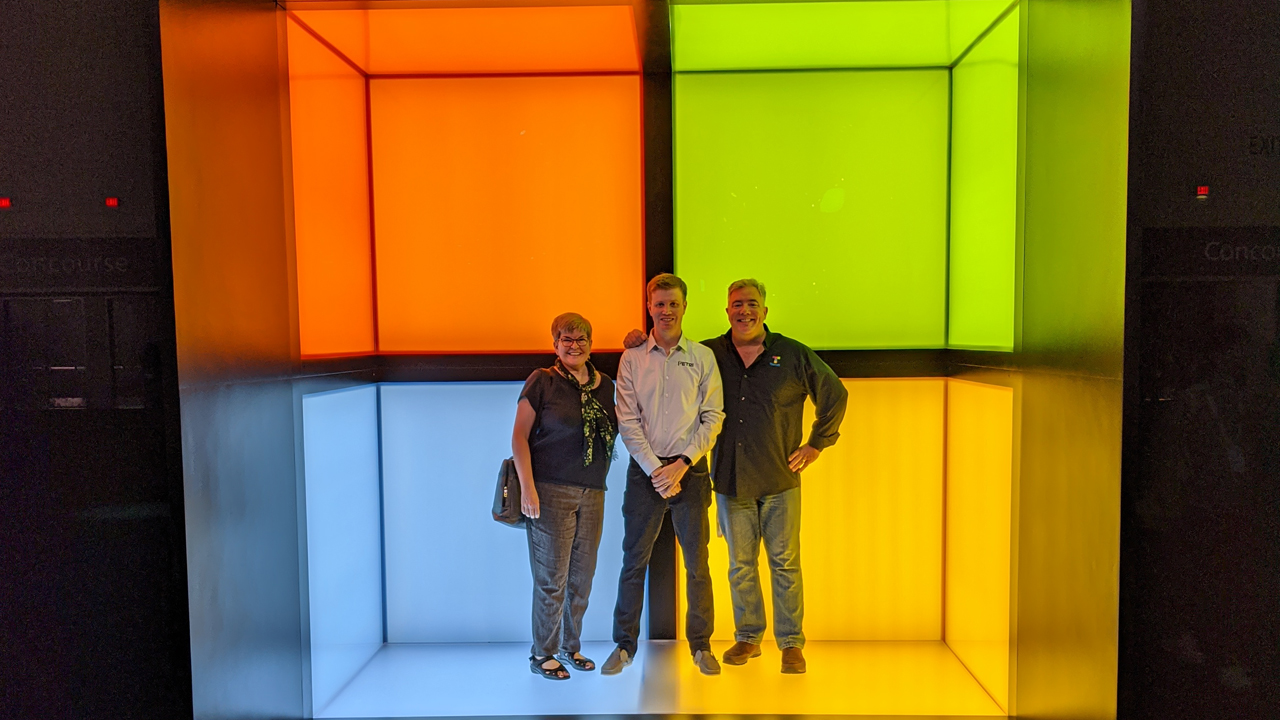 Because this is the best reason to go to Florida, this special edition of Short Takes looks at the biggest announcements from Microsoft Ignite 2019.
Note: This article is only a wrap-up. Be sure to check out the extensive coverage of Ignite 2019 here at Petri.com, at Mary Jo Foley's All About Microsoft, and at Thurrott.com. We had some serious boots on the ground action at this year's show and it was a real team effort. –Paul
Satya Nadella grows into the role
I've always had mixed feelings about Satya Nadella's speaking style, but it's clear to me now that Microsoft has finally adapted its event presentation style to match Nadella's strengths. And that his Ignite 2019 address—the unfortunately named "Vision Keynote"—was his best yet. Rather than just stand on a big stage in front of a big audience, Nadella addressed the show from the show itself: the stage was literally set at the end of the conference hall. And it wasn't so much a stage as it was a set of stages, each of which provided some experience that another Microsoft executive or partner could use to provide a deeper dive. Watching Nadella stride between these experiences, I was struck by how natural it all seemed, and that is not my impression of most previous speeches. It was really well done.
"How Microsoft is trying to become more innovative"
By … innovating more?
About that new hybrid strategy
As everyone probably knows, Microsoft's biggest advantage over the competition as the world transitions to the cloud is its ability to fully support hybrid deployments in which some workloads are on-premises and some are in the cloud. At Ignite 2019, Microsoft revealed the first step in the next phase of this transition, which it aptly calls Hybrid 2.0. There's a lot of rebranding here—see below—but the (high level) central piece, from what I can tell, is that Microsoft's customers will be able to manage all of their clouds, even third-party clouds like Amazon AWS, directly from Azure. This was perhaps predictable and obvious, in the sense that most enterprise customers, governments, and other large institutions will of course want to guarantee uptime and reliability by deploying to multiple clouds. But it's still breathtaking to see it actually happen.
"If you invested in Microsoft 10 years ago, here's how much you'd have now"
Cue picture of a private island.
Azure Arc will get us from here to there
Speaking of Hybrid 2.0 and new brands, Microsoft introduced something called Azure Arc at Ignite 2019 that it describes as "a set of technologies that extends Azure management and enables Azure services to run across on-premises, multi-cloud, and edge." Today, Arc consists of only two services—Kubernetes and Azure SQL Analytics—but I assume that will blossom, if not explode, to include many others in the near future. As Mary Jo explains, Arc is not an acronym; instead the name embodies the point of the product itself. Or is, in the words of Sid Nag, "mostly a bunch of industry buzzwords." OK, fair enough. But Microsoft has released preview versions of Azure Resource Manager (ARM) for both Windows and Linux. I mean, it must do something.
"Bill Gates says people would be using Windows Mobile if not for the Microsoft antitrust case"
Don't get too attached to Azure brands
I've always found the proliferation of Azure-based services to be confusing and overwhelming. But this week, Microsoft rebranded some of them, which should amp up my confusion even higher. For example, Azure Stack, the firm's hybrid Azure offering, has been renamed to Azure Stack Hub. And the Azure Data Box Edge data-transfer device family is being renamed to Azure Stack Edge. This is nothing new, of course. Windows Server Software Defined was basically renamed to Azure HyperConverged Infrastructure (Azure HCI) earlier. But keeping track of this stuff is next to impossible without a cheat sheet.
"Facebook reportedly 'heavily recruited' Microsoft cloud chief Scott Guthrie — to no avail"
Too much credibility?
Power Platform explodes. The good way.
I had expected for Microsoft's Power Platform to get a lot of attention at Ignite and wasn't disappointed. The firm announced a nice expansion of the product family at the same and, yes, another renaming: Flow is now called Power Automate. (At least that one makes sense.) Microsoft has been striving to create a low-code/no-code app development and automation platform for years, but it seems like the Power Platform, which also consists of Power BI and Power Apps, may finally get them there. Power Automate is basically "If This Then That (IFTTT) on steroids," I was told, and Microsoft is adding robotic process automation (RPA) capabilities to extend its no-code automation functionality. Microsoft also announced a new Power Virtual Agents technology, now in preview, that helps anyone build AI-based bots using what is basically a flowchart-like approach. (Imagine the first stage of any phone-based customer service call, where a bot is used to route you to the right person or department.) And that Power Apps will be integrated directly into core productivity apps like Teams. It's time to figure this stuff out, people. Power Platform is the real deal.
"Microsoft wants anyone to be a developer, whether they code or not"
YOU'RE a developer! And YOU'RE a developer!
Office 365 gets a new knowledge-management service
Azure isn't the only Microsoft offering with an ever-proliferating set of capabilities: Office 365 (and, by extension, Microsoft 365) have been trailblazing this path for years. And this week, we learned about yet another Office 365 service, currently codenamed Project Cortex, which adds knowledge-management capabilities. I think of Project Cortex as the modern, 21st century, cloud-based version of the smart tags functionality that debuted in Office back in the day. Basically, it interactive links to content that users are viewing so that they can learn more about words and terms using their company's internal knowledge repositories. Put another way, Project Cortex will help organizations create internal wikis whose content is exposed by topic cards that will show up in Teams, Outlook, and elsewhere in Office. It looks pretty cool, and it should help put an end to all those Google searches for acronym and term meaning.
"Microsoft brings its old OneNote app back from the dead"
Great. Now Windows phone holdouts will know this is possible.
The new Microsoft Edge will ship in January, but …
Get ready for a conspiracy theory. Windows news was sort of hard to come by at Ignite, which makes sense given the maturity of the product and the fact that most of Microsoft's efforts these days map to their customers' needs to migrate to the cloud. But among the tidbits of client news was word that Microsoft intends to ship the new Chromium-based version of Microsoft Edge—on Windows 7, 8.x, and 10, plus Mac—on January 15, 2020, and that a so-called "release candidate" was available in the Beta channel of the Edge Insider Preview immediately. And that it will immediately ship as part of Windows 10, replacing what Microsoft now calls Legacy Edge. The bad news? It won't be feature complete, and some key features, like extension and history sync, will not be available by then. So why rush out a "1.0" release on an arbitrary schedule? Why not wait until the product really is ready? Because it may not be that arbitrary: As you will recall, Windows 7 is ending its support life cycle just one day before that date, on January 14, 2020. So, Microsoft may be timing the release of the new Edge to match that milestone, since customers will still use it, but with a browser (Internet Explorer) that is no longer safe or, for many, supported. It's a theory.
"Confirmed! Microsoft Edge Will be Available on Linux"
Right. I confirmed that in May, but thanks for the update.
HoloLens 2 is now generally available
And finally, Microsoft's second-generation augmented reality (AR) headset is now available for customers to buy. HoloLens 2 is an impressive improvement over its predecessor, with a more comfortable fit, a more natural and training-less experience, and a much better field of view: Where the initial unit was limited by a small 16:9 field of view (FOV), HoloLens 2 improves the view by about 3X, I was told this week. And I was able to get a second hands-on demo at the show, revealing two new features: Some new gestures based on open and turned palms, including the placement of a hologram-based Start icon on your wrist that is really neat, and an incredible new feature where you can grab a Hologram and walk around with it, twisting it in space as you go. I've always been impressed by the central magic of HoloLens—it's ability to root holograms in the real world so believably that it fools your mind—but the improvements in HoloLens 2 push aside previous complaints (especially about the FOV) and really put this platform over the top. It's just incredible.
"One way Microsoft's Surface Pro X is better than the iPad"
Unfortunately, there are 99 ways the iPad is better.