Surface Book 3: A Workstation for a Specific Type of Worker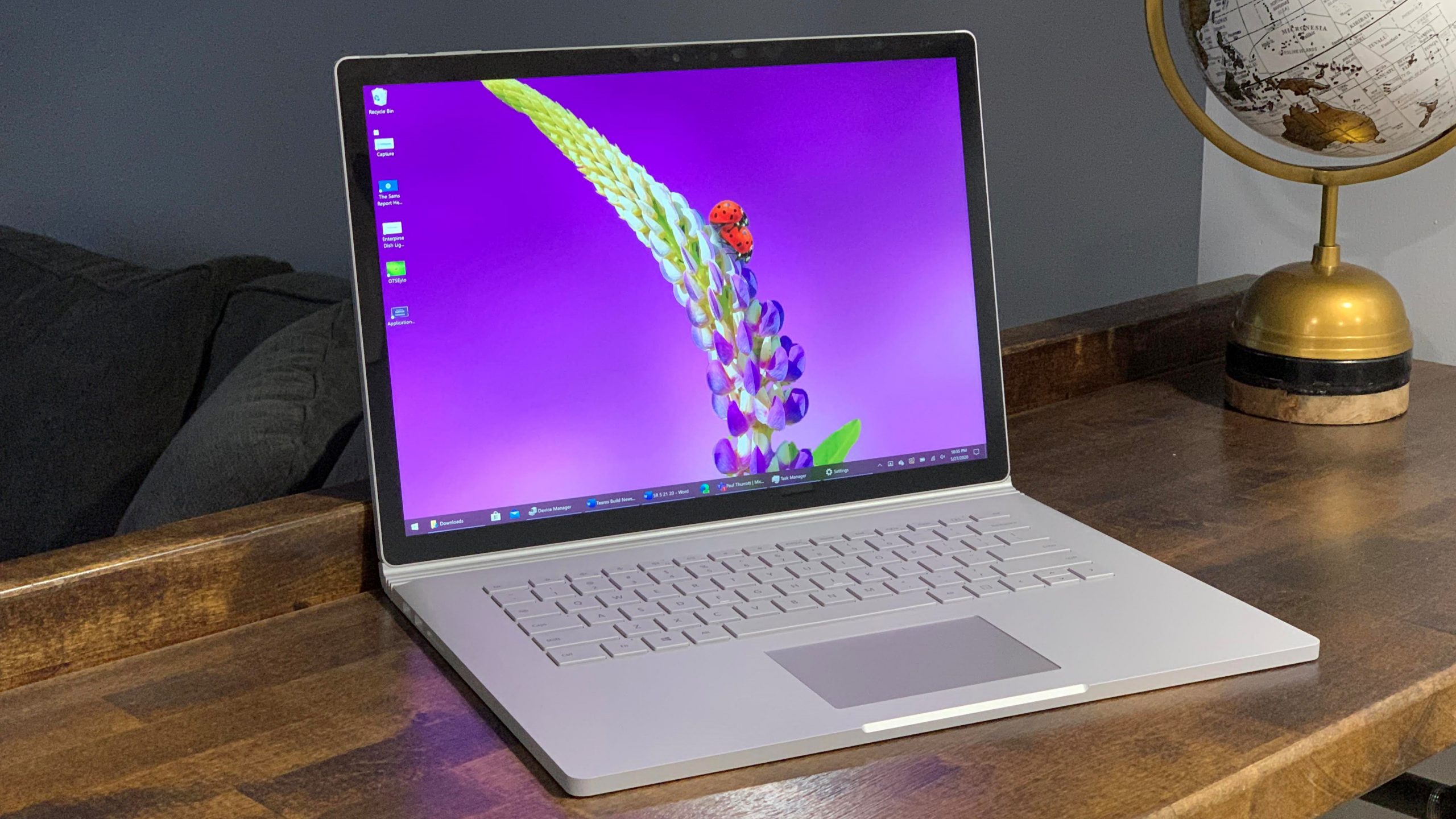 Microsoft's Surface Book 3 represents the 'best of the best' of the Surface family. It has the most powerful CPU/GPU combo, it can be a tablet or a laptop, supports up to 32GB of RAM and is a machine designed for work.
Technically, it's designed for work and play, with both consumer-grade and professional-grade GPU options but for this review, I am focusing on the working-professional as that's where I think this hardware shines. Yes, consumers can, and some should be looking at the Book 3, but for knowledge workers who need a high-end machine, the Book 3 fills the needs for some, but not all.
The hardware comes in two flavors, 13.5in or15in, and the device I have for review is the 15in with a 10th Gen Core i7-1065G7 chip with 32GB of RAM, 512GB SSD, with a 1660Ti. Pricing for Book 3 starts at $1699.99 for the entry-level 13.5in model for business customers and jumps all the way to 3799.99 if you opt for the Quadro graphics solution and larger display.
Image #1 Expand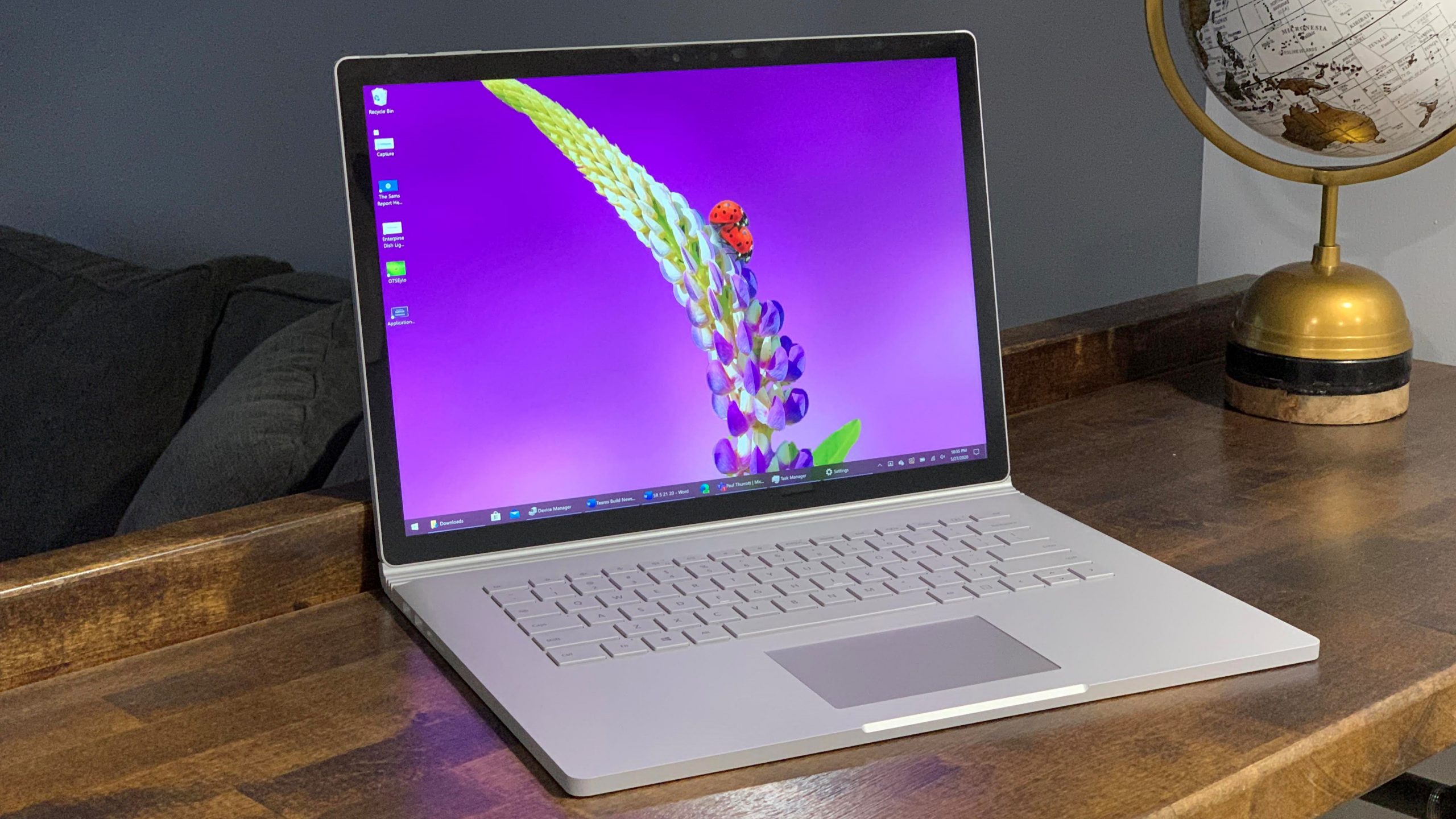 There are two ways to look at the design of the Surface Book 3 – either it is iconic and is easily recognizable or it is outdated. Microsoft has been using a nearly identical design since the product's inception about five years ago and to some, this is a good thing, while others can easily argue that maybe it's time to shrink the bezels or expand the trackpad.
The exterior has the same 3:2 display at 3240×2160 resolution as the Surface Book 2 and also has 2 USB-A 3.1 Gen 2 ports, 1x USB-C 3.1 gen port, full-size SDXC card reader, two Surface Connect ports (one is on the display, the other on the base), and a headphone jack.
While there is not a 5G or LTE version, the Book 3 does support Wi-Fi 6 and Bluetooth 5.0.
For IT Pros out there, this device still supports TPM 2.0, the same Surface connect peripherals you may already have deployed, Windows Hello for password-less authentication, and the business version ships with Windows 10 Pro. The charger has also been updated as well, to help it better power the device while under significant load, to a hefty 127W – an issue with the Book 2 was that while plugged in, in some scenarios, the battery could still drain as the power supply did not have sufficient capacity.
In isolation, the Book 3 looks like a solid update from the Book 2. It's faster, has better GPU options, improved powering and connectivity, and a tried and tested design.
But when compared to the broader market, the CPU choice is bit underwhelming as it is only a quad-core solution while many others, including Apple, are using chips with 6 or 8 cores. The reason Microsoft likely had to use this CPU is because the chip is behind the display and not under the keyboard like traditional laptops resulting in restricted cooling options.
And other devices, while they don't have a detachable display, have higher resolution screens or 120hz displays or thinner bezels, for less money.
But you could make the argument that by going with a less powerful chip, you should get improved battery life as a tradeoff, right? Well, not exactly. Like any laptop, if you hit it hard with intensive apps, the battery will run flat quickly. During my usage for the past couple of weeks, I am averaging 7-9hrs of runtime before I need to plugin and this device does not support fast-charging either; that's underwhelming given the premium status that the Book 3 aims to achieve.
Microsoft has also avoided Thunderbolt in all of its products, pushing its own Surface Connect port that allows you to use a Surface Dock and charge at the same time. If your office is heavily invested in Surface peripherals, this is a good thing, if your office is using Thunderbolt accessories, then you are out of luck with this hardware.
One thing worth pointing out is that even though this hardware is brand new, I had been using a Surface Book 2 nearly every day got two years and it has held up extremely well. No tarnish marks on the keys or the palm area and unless they changed the formula for the Book 3, the materials should stand up to the test of time.
The single feature that makes the Book 3 different than all the other devices on the market is that the screen is detachable. You get the stability of a traditional laptop when it is connected but have the option at any time to pop the screen off and go for a walk to show a co-worker an idea or sometimes or to clear your head and sketch outside, rather than at your desk.
And the Book 3 screen will detach significantly faster. Microsoft further optimized the release experience which makes turning the Book 3 into a tablet a more fluid experience.
While Apple has fumbled around with keyboards and has gone back in time to an older setup, the Surface Book 3 keyboard has remained steadfast with its excellence. You will have no issues typing, even long reports with the device. While I do wish the trackpad could grow in size as there is plenty of room for that to happen, the size is adequate but it's not going to win any awards.
Which brings us to the question, who should actually be using this device? It is a fair question because someone who needs the absolute most amount of power possible in a workstation is going to go the desktop route. A knowledge worker who is only working with Office apps, can use the Pro or Laptop and doesn't need the muscle of a dedicated GPU or the detachable display.
For those that need a good drawing experience that they can take anywhere, the Book 3 is a good choice. If you use a pen frequently and the Pro isn't your thing, a Book 3 fits the bill. Microsoft also pitches that the Quadro setup is great for AI/ML users as well and that's true, but the CPU isn't the best choice even if those computations primarily target the GPU.
My configuration of an i7 with 1660Ti for nearly $3000 is an interesting configuration as it is a good option for someone who needs excellent touch/pen input, good GPU power, and doesn't want to be tied down with a desktop. But if you don't care about using a pen, for the price, you have a lot of options that can net you more cores with the same or possibly better GPU.
The Book 3 has no issues at chewing through heavy spreadsheets and video editing works quite well. I edited six podcasts on the hardware and processing time was acceptable. It's not setting any records but there is no denying that the Book 3 does provide a higher level of performance than most laptops; this has the potential to be a good choice for editors on the road who want to process videos at conferences. That being said, in the video processing game, more cores will also be preferred and with only 4 here, there are better options. But, if you like the flexibility the Book 3 offers, you won't be upset by its performance.
It's not hard to imagine that for architects, designers, and others who need to run heavy 3D applications and need touch support/pen input, that the Book 3 is a great choice. For nearly everyone else, especially those that will never detach the display, the price is harder to justify.
But, if you do spend the money for the hardware, you will be happy with the third generation of the Book. It is a good laptop and one that should last for a long time, and in a few months, as I have done with most of the other Surface devices, I will do a longer-term follow-up.