Review: Microsoft Bluetooth Wedge Keyboard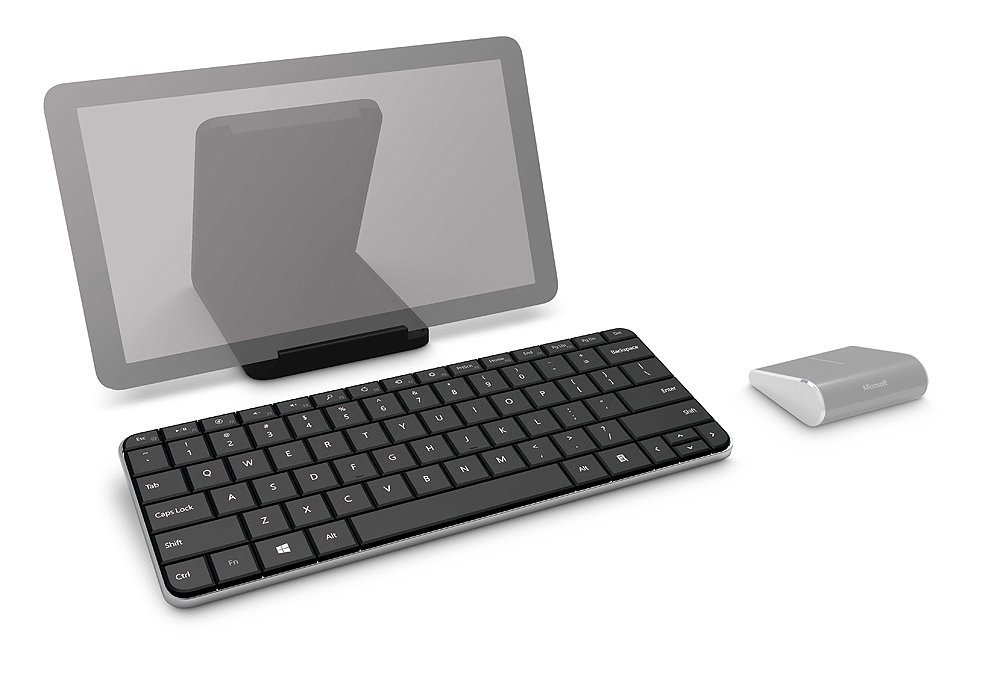 The Office mobile apps, with OneDrive integration, make it more realistic than ever to get work done using a smartphone or tablet. But while you'd think a small screen might be the limiting factor in this equation, in my experience, it's always been the lack of physical keyboard that prevents me from wanting do anything more than a bit of light editing on a smartphone, despite the presence of the excellent Word Flow keyboard in Windows 10 Mobile.
But portable keyboards can also be a hit and miss affair. The last wireless keyboard I bought, Microsoft's All-in-One Media Keyboard, didn't last more than a few days before deciding it was highly unpleasant to use. So in trepidation, I decided to give Microsoft's Bluetooth Wedge Keyboard (RRP $79.95) a try, in favor of a similarly priced Logitech keyboard (K480), which I rejected because it's just plain ugly — yes I can be vain too — and due to size and weight issues sighted in user reviews online.
Pairing the keyboard
Once you've inserted the two AAA batteries into the housing on the rear underside, which also serves as a raiser to position the keyboard at a convenient angle for typing, press and hold the Bluetooth button on the right side of the battery enclosure to make the device discoverable. Locate the device in your device's Bluetooth settings and press Pair. You'll then be shown a code on the screen that you must enter on the keyboard, followed by pressing ENTER. And that's it.
Using the Microsoft Wedge
The initial unboxing reveals a well-made device. Despite being of 2012 vintage, the keyboard not only looks the business, but is compact and not entirely dissimilar from a good notebook keyboard, with the one exception being that the keys don't have any space around them, which does lead to a slightly higher error rate. But nevertheless, typing is reasonably pleasant and for an hour or two. All the keys are placed where you'd expect them to be, with no odd surprises.
In practice, the Wedge keyboard hasn't presented any particular problems. Most importantly, it stays connected and doesn't exhibit input lag. It isn't quite as convenient as a good notebook keyboard, but it does allow me to raise the height of my notebook, so that I can align the screen in a more comfortable position when working for long periods of time away from my desk, which is important for avoiding back and neck aches.
Handily, the Wedge automatically switches itself off after a period of non-use, so you should never be faced with an accidently drained battery. And vice versa, when removing the cover, the keyboard automatically activates to search for previously connected devices.
The cover transforms into a tablet stand
The keyboard itself is light, but the cover is quite hefty. That's because it doubles up as a tablet stand, which might be useful but it's something I don't need right now. I wish Microsoft had provided an alternate lightweight cover in the box so that I could carry it knowing that it's protected, but without the extra weight.
The cover is made of rubber, a material which Microsoft seems to like and has used on the top of its original USB Arc mouse, and it picks up every molecule of dust and fabric it comes in contact with, quickly leaving it need of a good wipe down.
A good, reasonably priced portable Bluetooth keyboard
If you have a Surface tablet, I'd recommend looking first at the Surface Pro 4 Type Cover, which I haven't used myself, but as far as I understand, everybody who has raves about. But otherwise, if you're in the market for a good, compact Bluetooth keyboard for occasional use, the Microsoft Wedge definitely comes recommended, especially considering that it's available on Amazon for as little as $26.95.