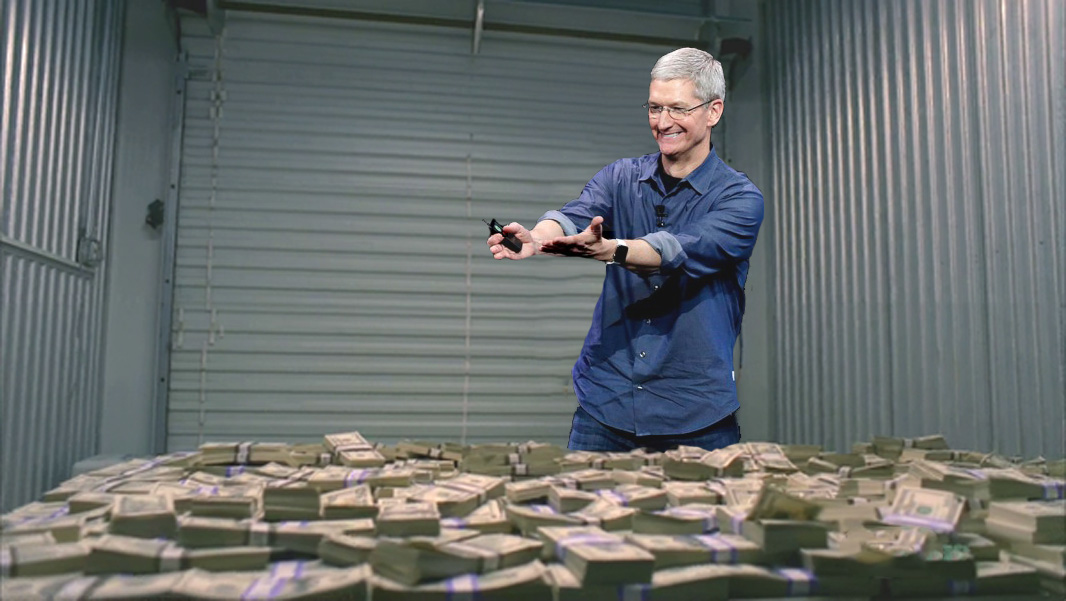 Because one trillion, that's why, this edition of Short Takes looks at Apple's $1 trillion market capitalization and how it compares history. Plus some Microsoft stuff. Because, you know.
Apple hits a $1 trillion market cap
Apple is now worth over $1 trillion by market capitalization, making it the first U.S.-based company to hit this milestone. That Alphabet (Google), Amazon, and Microsoft are close on its heels is perhaps not coincidental, as Big Tech seems to be making a post-Internet boom comeback these days. But Apple is, of course, unique, and it has made its run to $1 trillion on the back of exactly one incredibly profitable product, the iPhone. Likewise unique, Apple's biggest valuation gains have come since the death of Steve Jobs, the person most credit for Apple's successes. Under CEO Tim Cook, Apple has released exactly zero incredible new products and has seen its financial success multiply regardless. Because stock price—which is what drives market cap—is black magic, not logic.
"4 Things Retailers Should Learn From Apple As It Nears $1 Trillion Market Cap"
People driving themselves in cars to other physical locations is absolutely the future of retail sales?
Jobs: Turning Apple around is the "booby prize
Speaking of Steve Jobs, Apple's mercurial co-founder once had something interesting to say about turning around Apple when he returned to the company in 1997. Discovering that Apple was just weeks away from bankruptcy—"Apple was on the rocks," he later said publicly—he aggressively started trimming products and businesses that didn't make sense. "The question now is not [whether we] can we turn around Apple," he said in an early internal meeting. "I think that's the booby prize. I think it's [whether we] can we make Apple really great again." Looked at this way, the $1 trillion market cap is the booby prize, and we can now debate whether Apple is truly a great company. There are some abused factory workers in China who may feel otherwise. And I will point to Apple's incredible tax evasion efforts as another example of a company that is, at the end of the day, just a company and not something that should be idolized. Apple makes great hardware, for sure. But let's not get ahead of ourselves here.
"Apple Says It Has Paid Two-Thirds of $15 Billion Irish Tax Bill"
It has to hock its car to pay for the rest.
Historically, Apple barely rates
Apple isn't really the first company in the world to hit a market cap of $1 trillion—PetroChina achieved this milestone several years ago. But in the context of history, by which I mean, when adjusting for inflation, Apple barely rates alongside some of the corporate giants of the past. According to Money, which is probably better at math than I am, the Dutch East India Company is the most valuable company of all time, and it was once worth about $8.2 trillion in today's dollars. But the South Sea Company ($4 trillion), Saudi Aramco ($1.5 trillion), and others were also technically bigger than Apple is today. The most interesting company in the list is Standard Oil, which was once worth $1 trillion in today's dollars, because this firm is held up as the example in all modern antitrust trials because it was broken up by the government in 1911. Speaking of which, Microsoft's Dot Com-era boom-time high would be worth about $930 billion today. So close.
"HomePod now has 'small but meaningful share' of smart speaker sales in US"
6 percent is small, not meaningful.
Microsoft is still in the running for a $1 trillion market cap of its own
With Apple hitting the magical $1 trillion market cap milestone this week, it's useful to remember that some other big technology firms will likewise do so soon. Among them, inexplicably, is Microsoft, which has seen a stock price—and thus market cap—resurgence under CEO Satya Nadella, a man who is incongruously both feel-good and robotic. Today's Microsoft's market cap is about $825 billion, which is rather incredible. But in the bad news department, the software giant is still lagging behind a couple of competitors: Amazon is worth about $885 billion right now, and Alphabet—which is really "Google plus a couple of other firms, all of which lose money"—is worth $855 billion. So the race is on for number two. Or as I used to call this kind of thing as a kid, "the toilet bowl."
"Microsoft executive considers it a 'responsibility' to help you unplug"
Ah. So that was the Windows phone strategy!
Report: Microsoft is now the number two cloud vendor
The Masters of the Obvious over at Gartner this week confirmed what has been obvious for years, noting that Microsoft is number two in cloud services behind market leader Amazon. But there is some interesting data in the report, which notes that the worldwide infrastructure as a service (IaaS) market increased 29.5 percent last year from $18.2 billion to $23.5 billion. And that the first biggest players in this market—Amazon, Microsoft, Alibaba, and Google—accounted for about 73 percent of it collectively. Gartner says that Amazon earned $12.2 billion in cloud revenues last year, compared to $3.1 billion. Which makes it seem like a lopsided contest. But Microsoft's revenues were up almost 100 percent, four times the growth rate of Amazon, and it is starting to gain on the online retailer. I think the best way to look at this market is that there will soon be only two major players, Amazon and Microsoft, and then a bunch of smaller players.
"Microsoft Explains Windows 10 Monthly Patch Approach"
Is it a month? Then we're patching Windows.