Network Monitoring with Orion Network Performance Monitor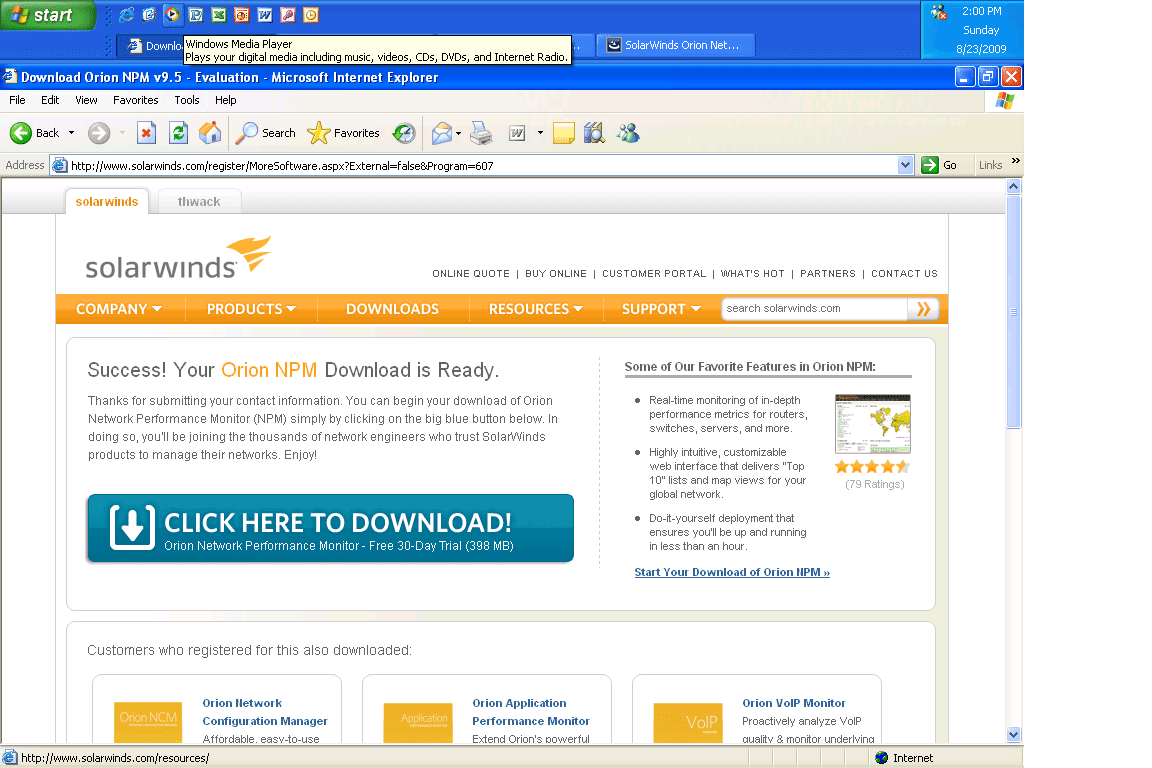 SolarWinds is headquartered in Austin, Texas, with sales and product development offices around the world. The company produces a number of system and network tools that allows administrators and networking professionals better visibility and the control that they need to complete their tasks more effectively which helps them manage their networks even better than before.
In this overview article series I will be outlining one of their network administration tools – the Orion Network Performance Monitor that is available. Download Orion directly here.
You can download most of the tools on the site and use them for 30 day trial periods before purchasing licenses for them. Solarwinds also provides a number of great network management tools completely free, so be sure to check those out as well.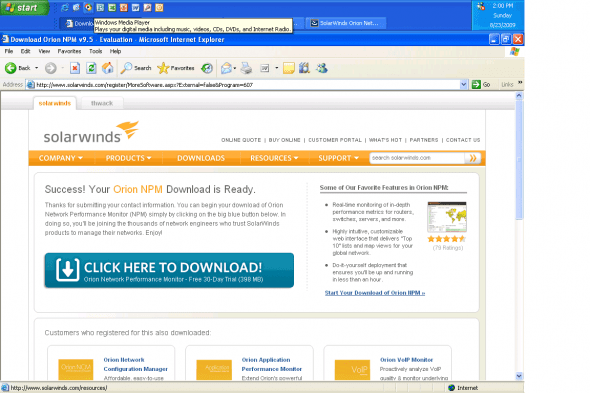 An Overview of Orion Network Performance Monitor
The Orion Network Performance Monitor (often referred to as Orion NPM or ONPM for short) is a web-enabled performance management solution that has a number of important features that makes it a valuable tool for any Network Administrator's toolkit.
By leveraging the features of the tool it allows Network Administrators to detect, diagnose, and resolve network performance problems which may allow you to avoid outages or dramatically reduce the impact time of a network related issue for your end users and your customers.
Orion Network Performance Monitor can be used to monitor and analyze in detail the network performance statistics for your enterprise routers, switches, wireless access points, servers, and any other SNMP-enabled devices in real time.
It will allow you as a Network Administrator to get all of the details you might need when working on any network issue through the use of the drill down maps and Top 10 views of your enterprise network.
The tool also scales in order to accommodate any growth in your network and allows you to adapt to changes in your management needs. One of the ways it does this is through the leveraging of the Orion Hot Standby Engine which is used to check the primary systems' ability to function and record availability and performance data. If a failure occurs, the Hot Standby Engine will automatically take over the network monitoring responsibility. When a failed polling engine returns to an operational state, the Hot Standby Engine will automatically return all monitoring tasks to the original polling engine.
The tool also has the ability to leverage against additional polling engines. By leveraging additional polling engines, the polling load for Orion is distributed between multiple servers. In large enterprise networks this is often the typical bottleneck point when polling many network connected devices throughout large enterprise networks.
In situations where you need to enable more Network Administrators access to the tool, you can add an additional web server (or servers). The Orion website can be run from a different system than the Orion server which allows more users to access the Orion web portal without negatively impacting the performance of the system. This provides increased scalability and deployment flexibility in your enterprise.
You can also leverage the advanced alerting capabilities of the tool for correlated events or other sustained network conditions.
Orion Network Performance Monitor – System Requirements
Once you have downloaded the 30 day evaluation package you can extract it from the compress folder and start your installation.
Before you get started with your installation it is important to review the system requirements for Orion NPM. These system requirements will vary based upon the number of elements managed in your enterprise, the polling frequency of the devices, and the number of simultaneous users that will be using the tool.
The general guidelines for the software and hardware required for a minimum configuration are offered below in the summary information.
With respect to the operating system, you can be running Windows 2008 Server (32-bit or 64-bit, running in 32-bit mode) or Windows 2003 Server R2 (32-bit or 64-bit, running in 32-bit mode).
Internet Information Services (IIS) must be installed. The tool is supported on Microsoft IIS version 6.0 and later. DNS specifications for the tool require that hostnames be composed of alphanumeric characters (A-Z, 0-9), the minus sign (-), and periods (.).
Underscore characters (_) are not allowed. For more information, see RFC 952.
Installing Orion NPM on the same server or using the same database server as a Research in Motion (RIM) Blackberry server is not a supported configuration.
Orion NPM administrators will need to have local administrator privileges on the system to make certain they have the full functionality of all of the local Orion NPM tools on the system itself. If you are limiting users to the web console only they do not require administrator privileges on the local system.
While you are able to install Orion NPM on a Windows Vista system, it is not a supported configuration and SolarWinds does not support this installation configuration in production environments.
NET Framework Version 3.5 or later is required as is SNMP Trap Services which is the Windows operating system management and monitoring tools component.
Access to a database is required and the following database servers are supported as the Orion datastore:
SQL Server 2005 SP1 Express, Standard, or Enterprise
SQL Server 2008 Express, Standard, or Enterprise
Your server must support either mixed-mode or SQL authentication.
The following x86 components must also be installed (if the components are not found on the target computer, the setup program downloads and installs the components):
SQL Server System Common Language Runtime (CLR) Types
Microsoft SQL Server Native Client
Microsoft SQL Server Management Objects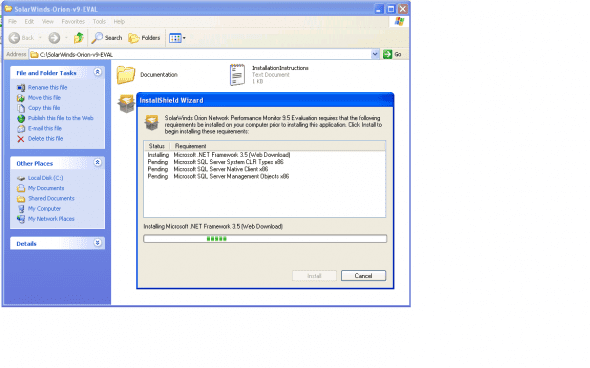 [NOTES FROM THE FIELD] – For improved performance, Orion NPM uses secure SQL CLR stored procedures for selected, non-business data operations.
If you are using SQL Server 2005 SP1 Express Edition on a Windows XP operating system, enable the following protocols: Shared memory, TCP/IP, and Named Pipes.
When using the Web Console Browser you'll need to have Internet Explorer version 6 or later with Active scripting. Another browser listed as supported is Firefox version 3.0 or later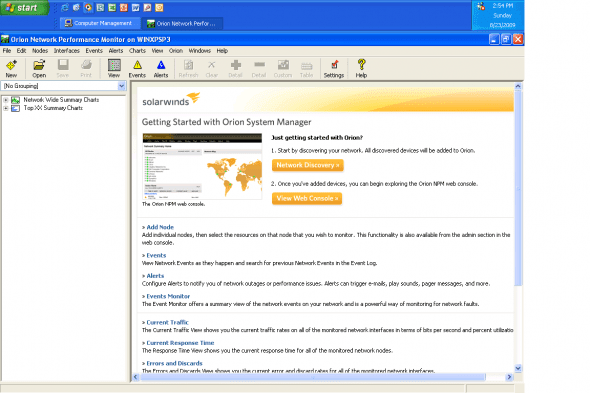 Processor, free hard drive space and memory requirements are listed in the installation as based on license level for the product in use.
The following list provides the different types of Orion licenses that are available:
Up to 100 objects (SL100)
Up to 250 objects (SL250)
Up to 500 objects (SL500)
Up to 2000 objects (SL2000)
Unlimited objects (SLX)
Based on that, the remaining requirements are:
SL100, SL250, or SL500 – CPU 2.0GHz with 2GB of free space and 2GB of RAM
SL2000 – CPU 2.4GHz with 5GB of free space and 3GB of RAM
SLX – CPU 3.0GHz with 20GB of free space and 3GB of RAM
[NOTES FROM THE FIELD] – The Orion installation routine needs approximately 1GB of space on the drive where temporary Windows system or user variables are stored and some of the common files may need to be installed on the same drive as your server operating system.
Due to intense I/O requirements, RAID 1+0 is strongly recommended for the hard drive hosting the SQL Server database. RAID 5 is not recommended for the SQL Server hard drive.
For SLX-level (unlimited objects) installations, SolarWinds recommends that Orion NPM and SQL Server are installed on separate servers, as outlined below.
For the Orion NPM SLX configuration that should be considered would be a dual processor, dual core system with 3GB RAM or more and 20 GB free disk space.
For the SQL Server, the disk configuration should be a RAID 1+0 array with 4GB RAM
I am always looking forward to any feedback you have on this or any of the articles I have written so feel free to drop in some comments or contact me directly.
Additionally, I would welcome any suggestions topics of interest that you would like to see and based on demand and column space I'll do what I can to deliver them to you.  Network Management Software also has recently reviewed NPM 10.1, the latest version of Network Performance Monitor from Solarwinds.