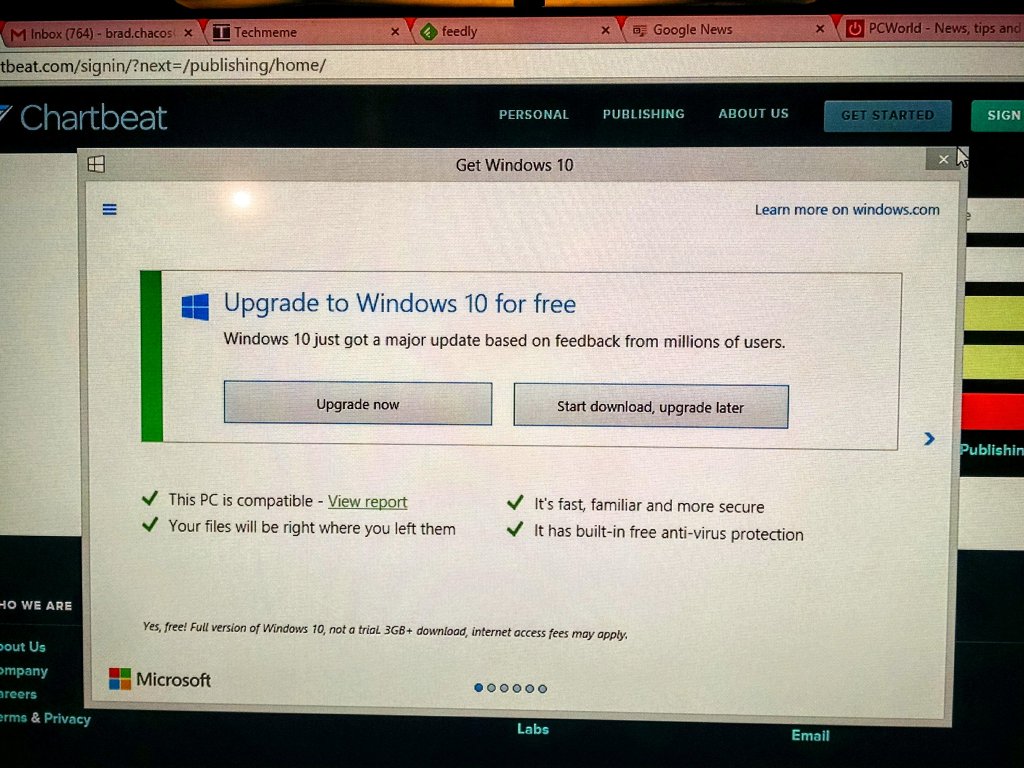 It's no secret that Microsoft is doing nearly everything it can to get users of Windows 7 and 8 to upgrade to Windows 10. With the company offering the OS for free, they hope to attract everyone who uses Windows to the new OS but if you don't want the free upgrade, the prompts can feel like malware.
If you are running Windows 7 or 8, there is a strong probability you have seen a pop-up on your machine trying to get you to download Windows 10. If you haven't seen the pop-up because you are already running the OS or have managed to block the update that applies the nagware, take a look at the image at the top of this post.
The key here is that there is no clear option to stop the download, other than the red x in the top right corner of the window. Typically, on a dialog box like this, you have an accept and cancel button. In this case, you have an install now and an install later option. Worse, there is not an option to hide or stop this pop-up from occurring on your desktop…it's nagware that cannot easily be removed.
And it's only going to get worse.
The company announced in October that early next year, they will make the Windows 10 download a recommended update, instead of optional, which means Windows Update will automatically download Windows 10 on to your machine. While it will not automatically install the OS, it will bring this aggressive prompt to more users unless you are willing to turn off automatic updates for Windows.
Microsoft wants to have one billion installs of Windows 10 within three years of the release of the OS and they are aggressively pursuing upgrades at the risk of upsetting their customer base. While Windows 10 is shaping up to be a quality OS, that doesn't mean everyone wants or needs to upgrade.
Thanks to @BradChacos for the image