Investigating the Microsoft System Center product suite for the first time can be an overwhelming experience, an endeavor not easily taken by the faint of heart. The number of products bearing the System Center logo has steadily increased over the years, but not without some casualties along the way (and with a few name changes to keep things interesting). Keeping abreast of this constantly evolving suite is almost becoming a full-time job. In order for us to successfully navigate our way to delivering some truly impressive System Center-based IT solutions, a little trip back in time will help us understand where we might be going.
What Is Microsoft System Center and Where Did It Come From?
We begin our adventure a long time ago around the year 1994, in a far away place called "One Microsoft Way", where a wise old man realized that with the growing number of computers being deployed in offices and companies around the world, there had do be a better way to manage hundreds (and even thousands) of PCs at once. Clearly a utility was required to simplify the process of installing software, gathering inventories, and ensuring the basic health of these devices, and so it was that Systems Management Server (SMS) 1.0 was born. Over the next few years SMS evolved, and version 2.0 was presented  in 1999, which also happened to be the year when Microsoft revealed Active Directory.
A short few months later, a new management product called Microsoft Operations Manager was introduced that focused on monitoring the health, availability and security of services. In the course of the following 6 years the umbrella name "System Center" was introduced for these system management tools, but unlike many other Microsoft products — like Microsoft Office and the individual Office suite products — these disparate System Center components continued to be developed and released on independent cycles.
By 2007/8 the list of products had greatly evolved, and the product family now consisted of:
Operations Manager, now maturing as the go to tool for monitoring all Microsoft hosted services, using a sophisticated Management Pack product knowledge system.
Configuration Manager (formally SMS), now extended with the ability to deploy Operating Systems to bare metal computers.
Data Protection Manager, a disk based backup solution leveraging windows volume shadow copy technologies
Capacity Planner, focused on assisting the IT Pro with managing and sizing their ever more complex IT infrastructure's
Reporting Manager, a reporting solution designed to consolidate the data from all the above products to create comprehensive reports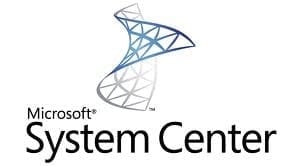 Just a few months later, and with the introduction of Windows Server 2008, Microsoft added yet more products to the System Center family:
Service Manager, a new Help desk product based on the ITIL standards
Virtual Machine Manager, designed from the ground up to manage the growing sprawl of Virtual Machines, while adding both a standards approach and a Self- Service experience.
Microsoft System Center 2012
Now, in the dawn of the cloud computing era, even more changes abound. Microsoft has internally reorganized its teams and processes, focusing Windows and System Center products to be the foundation pillars for delivering, managing and operating cloud services, both on and off premise. Utilizing a scenario based approach, in favor of the old product centric task based methods, we now focus on delivering  tightly integrated solutions, comprised of technology components which when utilized together enable the Cloud OS and deliver business ready solutions.
Supporting this initiative the Microsoft System Center product family has become a single suite (not unlike Microsoft Office), with its components being on the same development and release cycle. System Center now also includes some service offerings hosted on Azure.
Orchestrator, a new automation engine, using a "Visio" style designer canvas to draw "runbooks" for automating IT activities.
App Controller, a new self service portal extending on the features of Virtual Machine Manager, while also integrating with Auzre VM Services.
Advisor, also cloud based; offering an Operations Manager style monitoring experience, using real-time knowledge from the MS Customer Support teams, can be used with without Operations Manager deployed.
Global Services Monitor, an extension to Operations Manager, leveraging the global infrastructure of Azure to enable monitoring of your public services from anywhere on the globe
Outside of the System Center family Microsoft also released
Windows Intune
, a cloud-based service for managing mobile computing devices that also integrates fully with the on-premise System Center Suite.
R2 Preview and Beyond
As if all this was not enough, less than one year later, In June 2013, Microsoft unveiled the latest evolution, code named "Blue", in the form of  the R2 Preview wave of products. This release extends on the original 2012 offerings by adding even more goodness:
Windows Azure Pack, a new HTML5 based web portal which is cloned from the Azure portal UI, creating a full multi-tenancy self service web experience for cloud services
Recovery Manager, a new Azure based VM Recovery Manager, designed for simplifying data-center fail-overs
Service Provider Framework, a new web based API enabling seamless integration of the System Center suites.
We have a lot of interesting material to cover in the near future, so sit back and relax as we board the
Microsoft Cloud OS
train, and learn lots more about Windows Server, System Center, Azure and all their combined offerings.