Whats New with Microsoft's Power Platform June 2022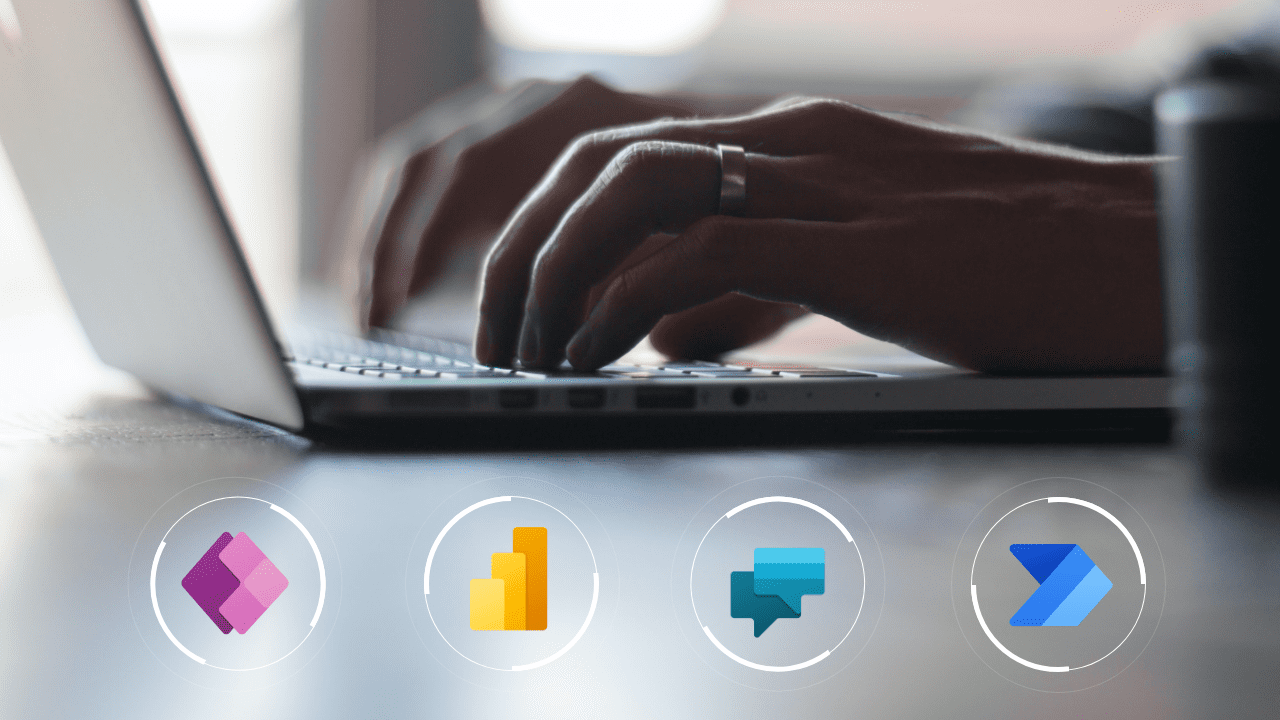 There have been many exciting updates for Microsoft's Power Platform last month, including a new look for model-driven apps, new metrics in Power BI, as well as Search and Find and Replace capabilities coming to Power Apps.
On the connectors front, Microsoft also added introduced 13 new connectors and updated 14 existing ones. Let's dive into the main updates for Microsoft's Power Platform released throughout June 2022!
New look for model-driven apps
On fire! And I'm not talking about the heat outside, but the Power Platform! The release of a streamlined and user-friendly maker experience for model-driven apps is definitely on fire. 
Canvas app makers will be familiar with the navigational experience and layout. Expect to see improvements in performance as well as the addition of component libraries. 

New metrics in Power BI 
Some exciting news for business analysts from Power BI folks! What was previewed, a year ago, as goals in Power BI has been renamed to metrics in Power BI. The metric scorecards roll data into hierarchies so that data is presented in a more granular view.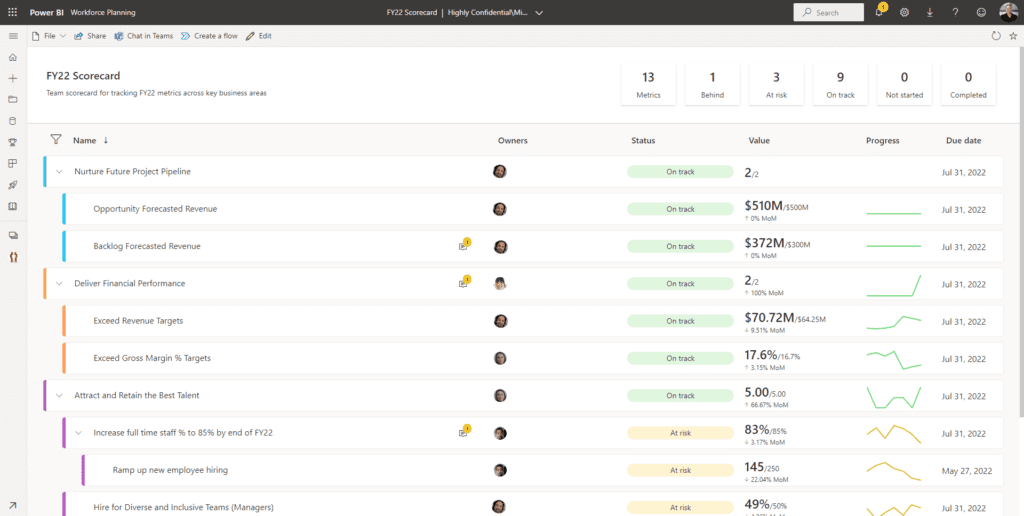 Power Apps for Windows
You can now install Power Apps for Windows to run canvas and model-driven apps, with your favorite connectors! The same capabilities that you are used to using like the camera, geo-location, and many more are available in Power Apps for Windows. To learn more, check out the Microsoft documentation. 
Search comes to Power Apps in preview 
Let's face it, we have waited a long time for Search to appear in Power Apps, and it's finally here… Full disclosure, the new Search pane is a preview feature (and subject to change) that requires an additional setting to be enabled. 
To turn on Search, open the Power Apps Studio, select Settings, Upcoming Features, Preview tab, and turn on Search. Now that Search is enabled, you can use the Search pane or the shortcut keys (Ctrl+F) when your cursor is outside the formula bar. When inside the formula bar, press Ctrl+Shift+F to open the Search pane. 
The results are narrowed down to the various categories of a canvas app: a variable, collection, data, media, flow, component, or a screen. Selecting search results in different areas of the Search pane will behave differently depending on the context of the result.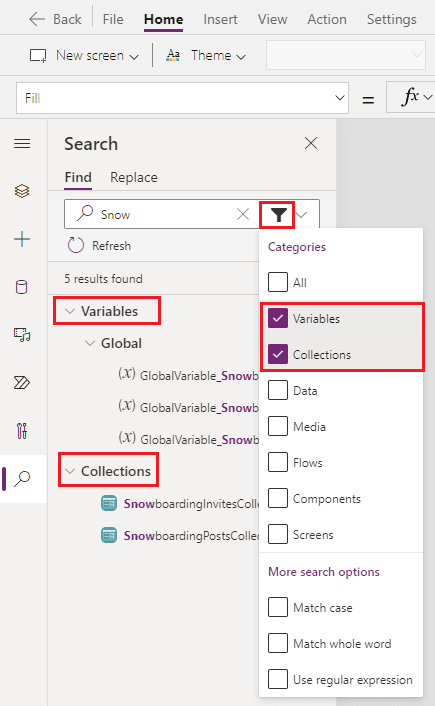 The search results can also be classified under two broad categories — Definitions and Instances. Definitions describe the object being referred to in your app, usually in a formula. Instances describe the search results that are tied to an individual app, screen, or control property in the formula bar. You can also take the search a bit further with find & replace. 
Find and replace in Power Apps 
With the new Find and Replace capability, you can search for combinations of letters, numbers, words, and phrases within a formula in the formula bar. This capability also allows you to use text casing, whole words, and regular expressions to find and replace text inside formulas. 
You can launch the Find and Replace control in the formula bar using the Find and Replace button, or shortcut keys. You can also pre-populate text in the search input. Did you know you can do a bulk rename? Watch my latest video on the Power Apps Search Pane to find out how. 

Find and Replace control appears on the upper-right hand side of the formula bar. When working with Find, you have three options to search the formula (1) match case; (2) match the whole word; and (3) use regular expression. With Replace, you have two options: (1) replace or (2) replace all.   
New & updated connectors 
There were several new and updated connectors introduced last month, notably in the Document Management area with DocuSign and GoFileRoom updates. Overall, there were updates for 14 connectors as well as 13 new verified connectors including Alkymi, Cascade, Exasol, and Tribal.  
It's a wrap! 
The mobile Power App experience just got amped up! Wrap for Power Apps is an optional feature that will allow you to wrap more than one canvas app into a mobile app package. When you are ready, you can apply your own customized branding to the app. It's a great all-in-one experience for customer-facing employees or frontline workers. 
That's it for the main updates that came to Microsoft's Power Platform last month. Even though the summer has just begun, Microsoft won't be slowing down so I'll see you in a month for the next roundup of Power Platform updates!