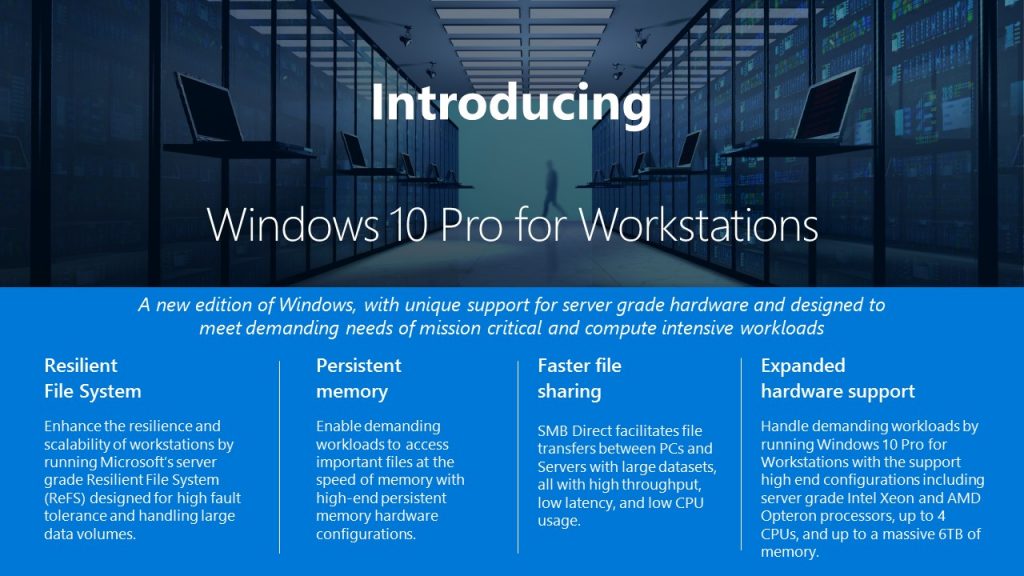 Microsoft has announced a new SKU of Windows 10 and this new iteration is for the workstation. Officially called Windows 10 Pro for Workstation, this version of the OS will arrive in the coming months with the Fall Creators Update.
This SKU of Windows comes with unique support for server grade hardware and is intended for mission critical applications and workloads. Because the OS will run on server grade silicon, the company is including optimized support for that hardware while running Windows 10.
With this version of the OS, the workstation will support ReFS (Resilient file system), persistent memory, SMB direct (for faster file sharing) and of course, expanded chip support to take advantage of server grade chips from Intel and AMD.
This build of Windows 10 has slowly leaked out over the past few months but it is good to see Microsoft coming forward and formally announcing the software. For those that are running server grade silicon as a workstation, there is now finally a version of Windows 10 that supports that hardware.
While I don't think that this will usher in a massive new wave of devices upgrading from older versions of Windows to 10, every little bit helps.
Microsoft likes to point out that this iteration of the OS was shaped by feedback from Insiders which means if you have more feedback about this SKU, they are listening. At this time, we don't know yet how this version of the operating system will be licensed or if it will be included in the E3 or E5 tiers.