Microsoft today announced Surface 3, a cost-reduced version of Surface Pro 3 that eschews the compatibility and performance issues of previous Windows RT-based Surface tablets. Based on the brand-spanking-new Intel "Cherry Trail" platform, Surface 3 is, in Microsoft's words, "a full Windows and Office machine" that can fulfill the needs of individuals and businesses alike.
Surface 3 starts at $499, though that price doesn't include a very-necessary Type Cover, nor a Surface Pen, which works as it does on Surface Pro 3. You could spend up to $699 on a version with more RAM, storage and LTE capabilities, as well, and that gets you into Surface Pro 3 pricing territory: A base Surface Pro 3 starts at $799 (again, sans Type Cover, though Surface Pro 3 does come with Surface Pen).
To arrive at this lower price, Microsoft had to cut corners in some ways, while retaining the general build quality of the higher priced Surface Pro 3. So Surface 3 is clad in the same durable magnesium, and it shares the same general port layout and capabilities. But there are of course differences.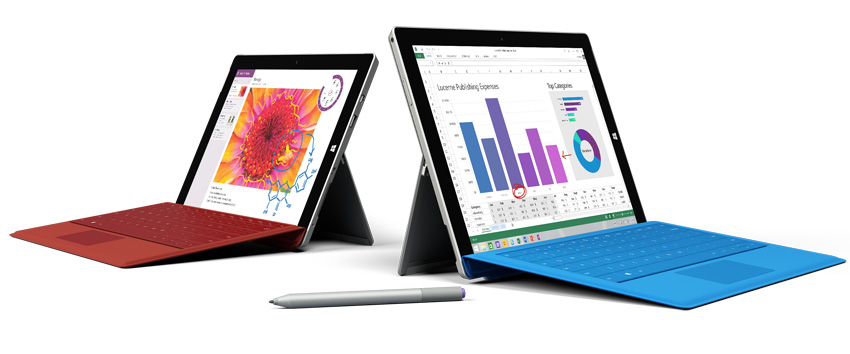 I have a full rundown of the Surface 3 specs in Here Comes Surface 3, but the most important differences between this new device and Surface Pro 3 include:
Processor. Surface 3 is the first device to ship with Intel's new Atom x7 ("Cherry Trail") processor, which Microsoft says is "performant" (unlike previous Atoms) and offers better battery life than Core M chips and allows for a thinner, fanless design. Where Surface Pro 3 offers a choice of different Core i3, i5 and i7 processors, only a single Atom x7 processor is available across each Surface 3 model.
Screen. Like Surface Pro 3, Surface 3 has a 3:2 aspect ratio screen, making the device more usable as a tablet than with traditional widescreen displays. But it's smaller—10.8 inches vs. 12 inches—and has a lower, but still HD, resolution of 1920 x 1280.
Form factor. Thanks to the smaller screen, Surface 3 is a bit smaller than Surface Pro 3, but it's also thinner because the Atom x7 architecture generates less heat and doesn't require the heat venting found on the more expensive device. Surface 3 is the thinnest and lightest Surface ever made, Microsoft says.
Kickstand. Where Surface Pro 3 offers a continuous, frictionless, multi-position kickstand, which lets you set the angle of the screen from in a range of positions that spans 150 degrees, Surface 3 offers a three-position kickstand, which lowers costs and allows for a thinner body.
RAM and storage. Depending on the configuration, you can get Surface 3 with 2 GB or 4 GB of RAM and 64 GB or 128 GB of SSD storage. Surface Pro 3 can be configured with 4 GB to 8 GB of RAM and 128 GB to 512 GB of SSD storage.
Power. Surface 3 eschews the magnetic silliness of the Surface Pro 3 power adapter and pragmatically uses micro-USB, the same charger type used by smart phones and tablets. This means that you can use the micro-USB cables you already own to charge the device, albeit less quickly than with the power cable that comes with the tablet.
Compared to its Windows RT-based predecessors, Surface 3 retains the better aspects of those devices, in particular the excellent battery life (Surface 3 is rated at 10 hours of battery life for video playback) and the ultra-mobility. But it solves the two biggest issues with those predecessors by moving to an Intel platform that provides much better performance and, as important, 100 percent compatibility with the Windows PC ecosystem. So more accessories will work—and work better—with Surface 3 than with Surface RT or Surface 2, and all Windows desktop applications—full Office, iTunes, Chrome, Photoshop, whatever—will work fine as well.
But like those Windows RT-based Surface devices, Surface 3 is being asked to serve a dual purpose, with Microsoft targeting both individuals and businesses with this release. The software giant says that Surface 3 is a great solution for those businesses that don't need the power of Surface Pro 3, and because it's less expensive and smaller, it has some advantages of its own. And Microsoft has already signed up some partners—BASF, Emirates, Prada and the University of Phoenix—to broadly deploy Surface 3 in their organizations.
If there's a downside to Surface 3, it's that the new form factor means that accessories like Type Cover (which is available in multiple colors, including a few new ones) and the Docking Station are new and unique to Surface 3. Surface Pen is completely compatible between the two devices, and works identically, and you could mix and match Type Covers, though the fit would be off. Docking Station is completely incompatible between Surface 3 and Surface Pro 3, so you need the dock that's designed for your tablet.
There's no word yet on a Surface Pro 4, which I'd imagine is waiting on Windows 10 and will include various features—like a web camera that enables facial/iris-based sign-ins—that will be unique to that release. Microsoft says that Windows 10 is on track to ship "this summer," which I take to mean "late September."
You can preorder Surface 3 at the Microsoft Store. The device will begin shipping to 26 markets in May.