Microsoft Exchange Conference (MEC) 2014 Highlights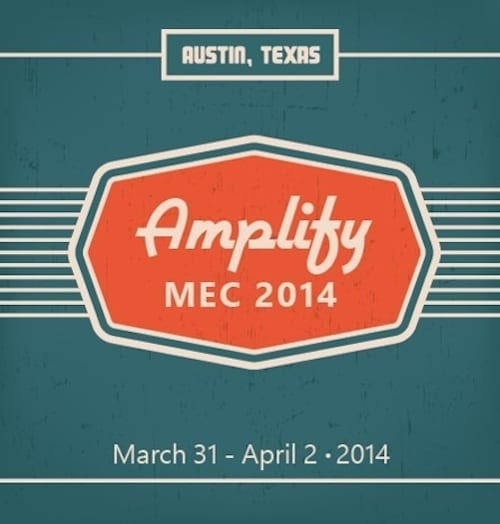 I'd say "MEC is back!" but that was the theme for MEC 2012, which saw the return of the much loved Microsoft Exchange Conference after a 10-year hiatus when it was merged with Microsoft TechEd. The theme for MEC 2014 might be more like "not cloud-only, but cloud-first." That was the resonating theme for the development of new features to the Microsoft Exchange platform. Development of new features are being tested out in the Office 365 environment first, perfected, and then will/may (hopefully) be brought down to on-premise flavors.
Austin and the Microsoft Exchange Conference 2014
It was my first time to Austin, Texas, and it's obvious they take things seriously there, including their food and their music. Plenty of locations downtown near the conference center specialized in one or both. For a smaller venue like MEC, I'd say this was the perfect location. The conference center is surrounded by good hotels and walking distance to lots of great after-conference venues.
MEC 2014 started off with the keynote address and Julia White, general manager of Microsoft Office, was the master of ceremonies. As usual, she did a fantastic job interviewing top engineers and product managers from the product team such as Jeff Teper, Kristian Andaker, Steven Chew, and the ever popular Perry Clarke. Interspersed between serious content were funny videos that kept the crowd laughing. No worries if you couldn't attend MEC in person: The Microsoft Exchange team posted a few of these videos on their official blog about MEC. 
A clear theme that came through was that while on-premise Exchange is not dead (in fact, they mentioned Exchange 2015 coming up next year), it's not their key focus. Cloud-first is (and has been) their focus. Features that they are working on will be released first to the Office 365 platform before being put into the on-premise flavor. Much of this makes sense because we're not only talking about features for Exchange, but also features that require the whole Office 365 platform. For example: Microsoft deploys integration with Yammer, OneDrive, and a host of other pieces in the cloud first that could be daunting to install and configure on-premise. Even from a lab perspective, you should get an Office 365 subscription just to see what they are working on and prepare for future features without having to set up all the infrastructure required to make it work. Plus, even if you did set up the infrastructure, you still wouldn't have the bits for the latest and greatest features, like you would in the cloud-first Office 365 model.
New Office 365 Features: Clutter, Yammer, and OneDrive
So, what are some of the cool things in development? Microsoft demonstrated several new pieces that will be coming to us via Office 365. In addition, I had the privilege of sitting one-on-one with Steve Chew, technical product manager on the Exchange Team at Microsoft, during which he reviewed the value of some of these features. Steve discusses most of these in the Office blog post on "The evolution of email," so I'll just hit the highlights here.
For one thing, they are introducing a new feature currently codenamed Clutter. We all know that our Inbox has three types of email: important stuff, unimportant stuff, and junk. We want the junk filtered. But the unimportant stuff could be important, depending on what it is. You signed up for a newsletter or two that you like (so you don't unsubscribe), but you're so slammed with real work that you don't have time to read them (and they seem to come out every day!). That's clutter – the stuff that you would like to quickly decide to read or delete. So a new feature currently called Clutter will let you quickly tell the clutter apart from the important stuff (and it gets smarter over time), allowing you to take quick, one-click action with it. You can turn this off if you like, but it may help you run that zero inbox you have been promising yourself you would accomplish one day.
All About OWA: Yammer, OneDrive, and Android
Another interesting feature coming to Outlook Web Access (OWA) – note that I typed to OWA, not to Outlook (yet) – is Yammer integration with OWA. Now, many of my friends know how I feel about Yammer. I'm an email guy. Yammer is like clutter to me. The debate on using Yammer is raging among many in IT, but they showed how you could use Yammer groups to communicate and collaborate without having to open another browser window and work in a whole other tool. I liked that. I wouldn't say it makes me a Yammer convert, but I like having that option. [Editor's Note: Microsoft is making a similar push towards Yammer integration with SharePoint as well.]
At the same time, they demonstrated the use of OneDrive to be able to send email attachments (or links) from documents that are in OneDrive. And one of the benefits is that you can edit these documents using Office Online so that you can collaborate with others on your team by providing (by default) access to the attachment to view and edit (or just view if you prefer). Again, all of this is integrating into OWA (not Outlook just yet) and it allows you to stay within one solution rather than jumping around to other sites, apps, applications, etc. – a smart move on Microsoft's part.
There was also the news that OWA for Android was released, so Android phone users will no doubt appreciate that. OWA for iPhone and iPad already exists, and certainly Windows Phone users have their own mail client built in. Nice to see the tools moving across all major platforms so that Exchange access (or Exchange Online through Office 365) can be more consistent of an experience.
In addition to the Exchange-focused features, they reiterated some of the features announced a couple of weeks back at the SharePoint Conference 2014 with regard to Office Graph and Oslo. You can read the full discussion of those features on the official Microsoft Office blog.
Basically, I see Office Graph (which is used to help the new Clutter feature work) as somewhat of a "we're watching all that you do" kind of aggregation of your personal behavior. And I see Oslo as one of the results of that over-the-shoulder snooping, which is to provide you with a Pinterest-looking next-gen search and discovery. But I don't see it is as search/discovery at all. The system gets to "know" you and what you might want to see based on your work and the work of your colleagues and then presents that to you. I'm not saying I don't like it – I'm saying I'd like to see how this enhances a work environment. Does it encourage more collaboration, communication, and creativity, or does it distract people from their normal flow of work? We'll see.
The keynote was just the tip of the iceberg. There were a ton of sessions about all sorts of topics, including Exchange online protection, data loss prevention (DLP) features, migrating to Office 365, setting up a hybrid configuration, retention policies, Unified Messaging, and regulatory compliance. I had the privilege of speaking on the subject "Eliminate the Regulatory Compliance Nightmare" to a group one morning, and I also had a few Exchange books of my own to promote at the event: Conversational Exchange and the book I contributed to for  Sybex called Mastering Microsoft Exchange Server 2013.
Overall MEC 2014 was a great event. I'm heading to the airport right after my final period on this article. I'm tired, but it's a good kind of tired. MEC 2014 was a great place for Exchange/Office 365 folks to come, learn, enjoy an interchange of experience and such, eat and listen to good music. A success on all fronts. I'll close with a photo of some (but not all) of the Microsoft Exchange MVPs that were on-site for  MEC 2014.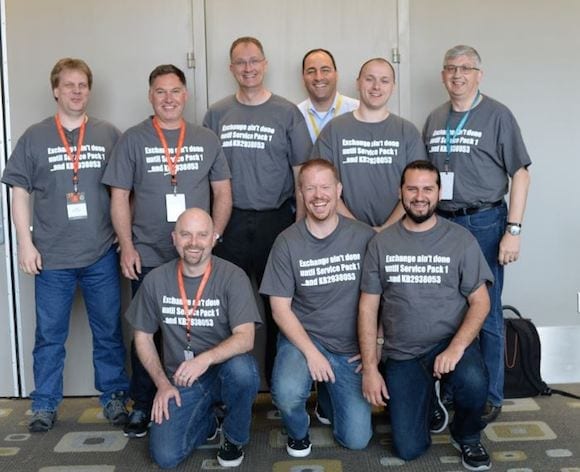 Microsoft Exchange MVPs at MEC 2014: (Back Row, L to R) Lasse Pettersson, Jeff Guillet, Paul Robichaux, J. Peter Bruzzese, Michael Van Horenbeeck, Tony Redmond (Front Row, L to R) Jason Sherry, Paul Cunningham, Serkan Varoğlu (Source: J. Peter Bruzzese)
Want to see more pictures from the show? Just hop on Twitter and check out the #IamMEC hashtag.