Microsoft announced this morning a new Microsoft Dynamics 365 Copilot solution. The new AI-powered tool allows customers to automate repetitive tasks for customer relationship management (CRM) and enterprise resource planning (ERP).
"Dynamics 365 Copilot takes advantage of recent advancements in generative AI to automate these tedious tasks and unlock the full creativity of the workforce. Dynamics 365 Copilot puts CRM and ERP to work for business users to accelerate their pace of innovation and improve business outcomes in every line of business," said Charles Lamanna, CVP of Business Applications and Platform.
The new Copilot capabilities in Dynamics 365 Sales and Viva Sales let businesses write customers' email responses and summarize Microsoft Teams meetings in Outlook. The AI-powered feature can also draft contextual answers to customers' questions. Moreover, Copilot enables marketing teams to gain insights into customer segments. The data could be used to create target email campaigns in Dynamics 365 Customer Insights and Dynamics 365 Marketing.
In Dynamics 365 Business Central, the Copilot integration allows customers to quickly create e-commerce product listings. It's possible to publish these product details on Shopify with a couple of clicks.
Microsoft Supply Chain Center gets new AI-powered Copilot features
Microsoft Supply Chain Center is also getting new Copilot capabilities to help organizations respond to potential supply chain issues. The tool automatically composes emails to notify impacted partners about disruptions such as weather, geography, and finances.
Lastly, Microsoft has introduced generative AI capabilities in Power Virtual Agents and AI Builder. A new conversation booster feature in Power Virtual Agents lets organizations connect the bot to websites or internal databases to respond to customers' questions. Microsoft's AI Builder tool is now powered by a new GPT model that brings text generation capabilities to Power Automate and Power Apps.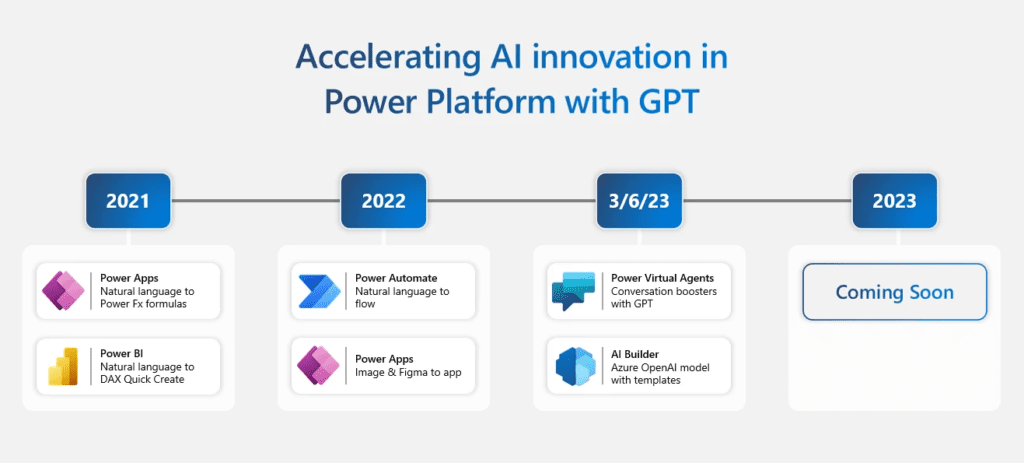 Microsoft says the new Copilot features are available in preview for business and enterprise customers. The company expects to make these updates generally available later this year, though there is no ETA yet. The Copilot feature is bundled with existing Dynamics 365 licenses at no additional cost, and you can check out the official blog post for more details.