Server Manager debuted in Windows Server 2008, and while the tool showed potential, it was too limited in functionality to offer a compelling alternative to tried-and-tested methods of managing and monitoring Windows Server. Server Manager in Windows 2012 has been given a complete overhaul to make it easier for administrators to manage Windows Server in the cloud. Much of the new functionality is tied to improvements in PowerShell 3.0 and the Windows Management Framework (WMF) 3.0, which have also been updated for improved remote connectivity and manageability.
There is a small learning curve involved in understanding how to work with Server Manager, but if you can make the time to understand the new features, Server Manager is a more efficient way to manage Windows Server than connecting to individual remote desktops.
Information at a Glance
Server Manager's Dashboard allows you to monitor the basic status of all your servers from one place. In previous versions of Windows Server, you could set up Event Log monitoring to be alerted on server health, and while that is still possible, the Dashboard now offers a convenient overview without any specialist knowledge of how to configure alerting. By default, the Dashboard only shows alerts for critical events, but this can be changed to suit your needs.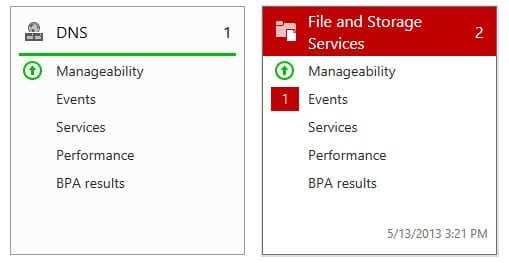 Servers can be grouped together for more convenient management and monitoring. Not only can servers be accessed individually or by group, it's also possible to quickly access all the servers that are running a particular server role, such as Active Directory Domain Services (AD DS).
Managing multiple remote servers
Server manager allows you select multiple servers and perform a range of actions simultaneously. For example, if you need to restart all servers running DNS, clicking DNS in the left pane will display a list of all servers running DNS in the domain. Each server can be selected individually to perform a range of actions by right clicking, or you can select multiple servers to perform actions across a range of servers. Possible actions include restarting servers, adding roles and features, and accessing tools relevant to the server(s) selected, such as DNS manager or the Active Directory Administrative Center.
You are only presented with tools that are appropriate to the server(s) selected, which is especially useful for new system administrators, cutting through much of the clutter that would be otherwise presented if logging on to a server locally or using remote desktop. There is a limit to how much is actionable from Server Manager, but the built-in logic allows you to quickly launch the right tool for the job. If you need to open an external tool, such as DNS manager, you don't need to select multiple servers in Server Manager as all the servers in a group will be added to one management console for your convenience.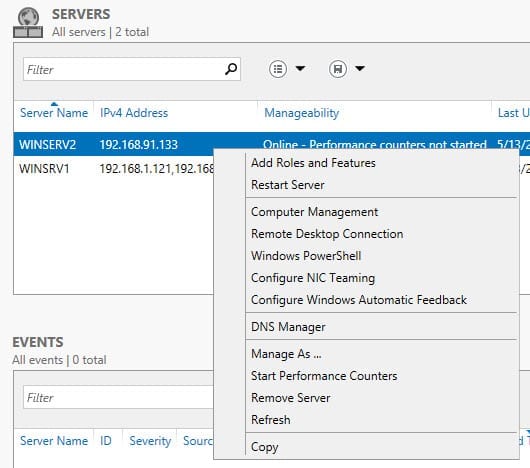 Server Manager allows you to create groups, which could be all servers in a given physical location or of a particular hardware type, such as virtual machines. Servers can also belong to more than one group. You might also create a group temporarily, as it defines the range of devices on which a particular action will be performed.
Another important feature of Server Manager is that it displays the progress and results of any actions undertaken so that you don't need to visit each server individually to confirm successful completion. For example, if you decide to install a new role across several servers, the results will be displayed in Server Manager so you can be confident that everything was successfully completed. There's also a handy log of events so you can see the historical results of all actions undertaken from Server Manager.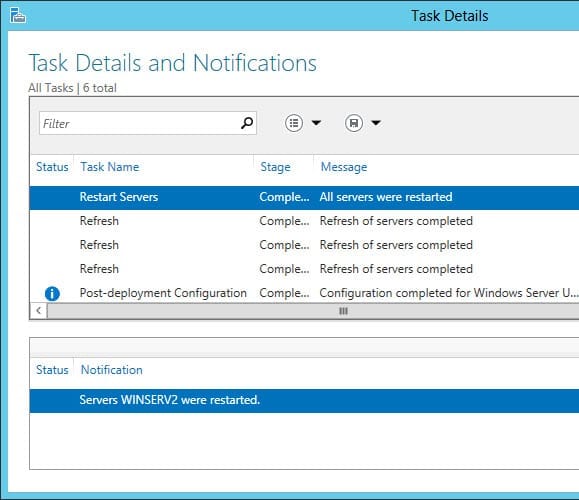 A Simple but Effective Management Tool
The best part of the new Server Manager is that you can manage an entire server estate from one place, without needing to navigate around multiple remote desktop connection windows to perform management actions and with all the most important information at your fingertips. This should be a real time saver for administrators. Information can also be filtered and sorted, quickly allowing you to find the data you need. If you haven't yet explored the features of Server Manager in Windows Server 2012, now is the time to see how it can help you manage Windows Server more efficiently.
Don't forget that Server Manager is also part of the Remote Server Administration Tools (RSAT) for Windows 8, which you can download from here.