So, how do I make a WS2012 domain controller into a global catalog server?
A global catalog server (GC) contains information about objects from all domains in an Active Directory forest. When you promote Windows Server 2012 to be a domain controller (DC), the option to make the new DC a global catalog server is selected by default. If you choose not to do this at the time of promoting the server to a DC, you can make the DC a global catalog server at a later stage.
Single-Domain Forest
In an Active Directory forest where there is only one domain, every DC can be a global catalog server without affecting performance. GCs are used when a client requests information about AD objects in different domains to avoid directing the queries to DCs in different domains until the right domain is located.
While DCs in a single-domain forest contain information about all AD objects, GC searches occur on a different port to standard AD queries, so you should configure every DC to be a global catalog server for load-balancing. If you make use of Universal Groups in AD, a global catalog is required for domain logons.
Multiple-Domain Forests
In general, you should consider having at least one global catalog server per AD site; but this will depend on whether clients and applications in a site need to look up information from different domains. If no GC is available, AD operations could be significantly slower if search queries have to be directed over a wide area network. GC placement in a multi-domain forest should take into consideration the increased replication overhead.
Make an Existing Domain Controller a Global Catalog Server
Log in to Windows Server 2012 with an account that is a member of the Domain Administrators group and follow the instructions below.
Open Server Manager from the icon on the desktop Taskbar or from the Start screen.
Select Active Directory Sites and Services from the Tools menu in Server Manager.
In the Active Directory Sites and Services console, expand the Sites folder and the site where the domain controller you want to make a global catalog server is located.
In your chosen site, expand the Servers folder and your chosen domain controller.
Right-click NTDS Settings under your chosen server and select Properties from the menu.
On the General tab of the NTDS Settings Properties dialog, check Global Catalog and click OK.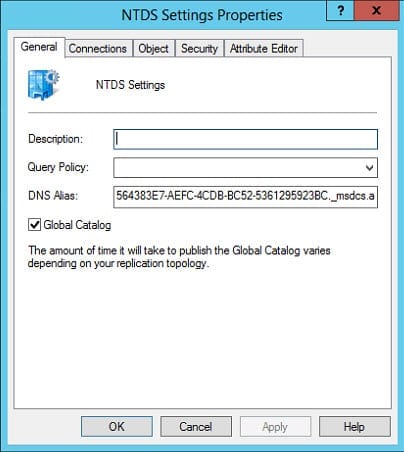 A DC won't be marked as a GC in Active Directory until replication has completed, so you may need to be patient, depending on the speed of your network connections and number of objects in AD.