How do I install the loopback adapter in Windows Server 2012?
While there is a tendency for vendors to assume that we are always connected to a network or the Internet, there are occasions when network connectivity is not available but we'd still like to use an application that requires an IP address. One example is Hyper-V, which when used without a network connection has limited functionality if there is no IP address available on the host.
Install Loopback Adapter
Microsoft's loopback adapter can be installed to provide a virtual network connection and IP address. Here's how you do it.
Logon to Windows Server 2012 as a local administrator.
Right-click the far bottom left of the Taskbar, over the Start charm when it appears, and select Device Manager from the menu.
In the Device Manager window, right-click the server name and select Add legacy hardware from the menu.
Click Next on the welcome screen of the Add Hardware Wizard.
Select Install the hardware that I manually select from a list (Advanced) and click Next.
Under Common hardware types, scroll down the menu, select Network adapters and click Next.
On the Select Network Adapter screen, select Microsoft from the list of manufacturers.
Select Microsoft KM-TEST Loopback Adapter from the list of network adapters on the right and click Next.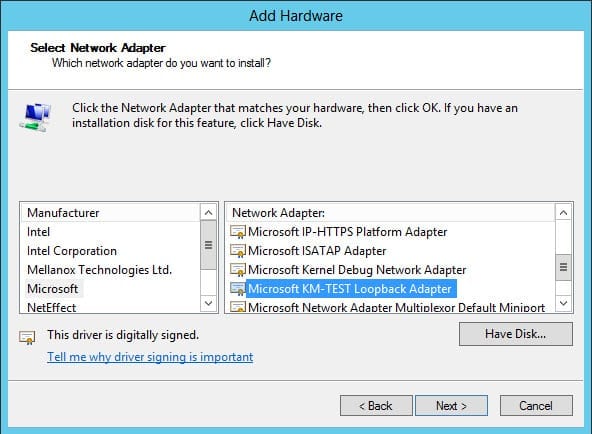 Click Next again to confirm that you want to install the loopback adapter.
Click Finish once the installation has completed.
Configure Loopback Adapter
Now that the loopback adapter is installed on the server, you can configure it via the Network and Sharing Center.
Right-click the network icon in the bottom right corner of the desktop Taskbar and select Open Network and Sharing Center from the menu.
In the Network and Sharing Center window, click Change adapter settings.
In the Network Connections window, right-click the Microsoft KM-Test Loopback Adapter and select Properties from the menu.
On the Networking tab, select Internet Protocol Version 4 (TCP/IPv4) and click Properties.
In the Properties dialog on the General tab, configure IP address network and DNS settings as required and click OK.
Close the adapter's Properties dialog.