Free Remote Desktop, Terminal & Citrix Session Recorder: ObserveIT Express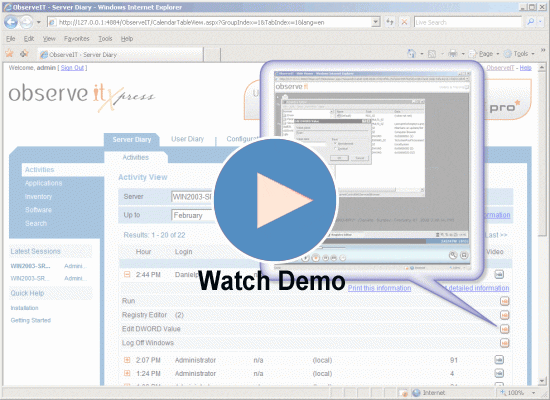 This is a special offer for the Petri Knowledgebase readers.
ObserveIT empowers companies to demonstrate Compliance, augment Security Administration and reduce mean-time-between-failure for systems administrators. The software visually records and replays all Terminal, Citrix, and Console sessions, providing detailed insight into all activities on your network.

Do you use any social networks? Follow ObserveIT on Facebook, Linkedin and/or Twitter.
ObserveIT Express – Free product download
Download ObserveIT Express here
ObserveIT is a software that is designed from the ground up to be deployed in multi-server enterprise environments and provides visibility into all user activity such as Microsoft Terminal Services, Citrix (ICA) including published applications, Remote Desktop (RDP), PC-Anywhere, VNC and NetOP.
ObserveIT continuously records and indexes all user activities performed in a window session. Agnostic to protocol or application, ObserveIT records any window session in a compressed and searchable format. ObserveIT's unique metadata architecture enables you to generate detailed reports (For example: "Show me all window console and terminal session recordings that include access to the registry on all servers through January 2009") quickly and effectively, solving system related problems and helping prevent future repetition of similar errors.
Read more about ObserveIT in my "Record and Audit Terminal, Citrix and DRP Session ObserveIT Product Overview" article.
Until now, ObserveIT has (and still does) required a valid license to use. However, as an exclusive offer for the readers of the Petri IT Knowledgebase, I have managed to get the ObserveIT developers to create a special version of the software – ObserveIT Express. This version is now being offered for free to my readers ("free" as in no hidden costs, no spyware, no spamware, totally free to use).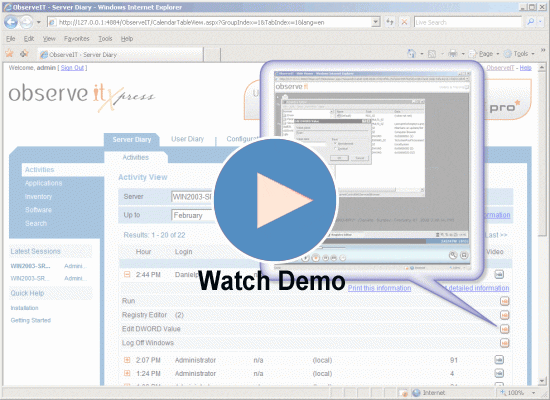 So, what do you get with this offer?
In order to help you understand the true benefit of this offer, let me compare the two versions of ObserveIT. While both have identical components and installation requirements, there are some major differences between the two versions. The Express edition is a free download and is limited in its capabilities in comparison with the Pro edition. For example, it can only be used to record a maximum number of  5 Agents, there are no configuration options available (i.e. record all applications, all the time, for all users), and replaying of recorded sessions is limited to the last 24 hours.
The Pro edition is designed for enterprise-wide deployments. It is capable of integrating with 3rd-party auditing and monitoring tools in order to provide almost real-time alerting of user actions. It can be used in conjunction with external LDAP-based databases to provide identification services, and the impressive list of configuration possibilities makes it a truly formidable recording and auditing solution.
What is unique about ObserveIT?
ObserveIT is the only software based solution that:
Record all remote access software, including: Citrix, Terminal Services, NetOp, VNC etc
Advanced searching & Reporting Search for any activity within recorded terminal, Citrix and console sessions
Audit Session Replays – Audit Any session playback, including the actual frames viewed
Metadata Textual Metadata displays exactly what occurred within a recorded terminal, Citrix and console session without the need to replay the actual session
By using either version of ObserveIT, whether you need to record remote vendor support activities performed through Terminal or Citrix Sessions, or if you suspect that one of your users or administrators made a change on one of the applications that are installed on one of your servers (and I'm talking about ANY application), you can easily perform a search or generate a report of all user activities performed within all remote terminal sessions or console access to your server during the previous X hours/days, and easily see in a step by step window session replay what where the actions that were performed on the server.

Here are some cool videos I made of ObserveIT and some of its usage scenarios:
Listed below is a table of feature differences between the two versions of ObserveIT:
| | | |
| --- | --- | --- |
| Feature | Express | Pro |
| Supported operating systems – Windows NT/2000/2003/2008 + Windows XP/Vista | True | True |
| Support for 32-bit operating systems | True | True |
| Support for 64-bit operating systems | True | True |
| Number of monitored servers | 5 | Unlimited, based on license |
| Easy to use one-click-installation | True | True |
| Easy to deploy agents | True | True |
| Record all user activities on monitored servers | True | True |
| Easy to use textual transcript of each session | True | True |
| Replay all user activities on monitored servers | True, replaying of results is limited to last 24 hours | True |
| Quick access to latest sessions on monitored servers | True, replaying of results is limited to last 24 hours | True |
| Google-like free-text search capabilities | True, replaying of results is limited to last 24 hours | True |
| Creation of reports based upon user names, application names, server names and date range | True, replaying of results is limited to last 24 hours | True |
| Ability to export textual transcript of user sessions to Excel | True | True |
| Centrally stored and indexed SQL database | True | True |
| Ability to locally cache recorded information in case of network connection disruption | False | True |
| Ability to exclude specified users from being recorded | False | True |
| Ability to exclude specified applications from being recorded | False | True |
| Ability to implement SSL to encrypt the traffic between monitored agents and the central application server | True | True |
| Granular management capabilities of the ObserveIT Web Management console | False | True |
| Ability to provide secondary authentication prompts for specified privileged users | False | True |
| Integration with 3rd-party management and monitoring tools | False | True |
| Integration with SMTP servers to provide e-mail alerting capabilities | False | True |
In order to get the full feature set you must upgrade your license to the Pro edition. Please consult with the Upgrading to the Pro Edition help topic for more information. Upgrading the product will not delete or remove any previously recorded sessions, and after upgrading you will gain full access to the Pro edition features.
Download ObserveIT Express here
Or read more about ObserveIT Express in the ObserveIT Express documentation