Microsoft prepares to release the Windows 10 May 2021 Update. The news and interests taskbar flyout is coming to older versions of Windows 10, and Microsoft adds Linux GUI app support to WSL in an Insider build. And there's much more! So, let's get started.
Windows 10 'Known Issue Rollback' fixes KB5001330 bug
Microsoft released an update for Windows 10 this month to silently roll back changes made by KB5001330. Released in March as a cumulative update for Windows 10, KB5001330 caused some performance issues for a small number of users running games in full-screen mode with multi-monitor setups.
Known Issue Rollback is a feature in Windows 10 that Microsoft can use to quickly roll back code changes when bugs are introduced by an update. It's designed to be used with non-security bug fixes. When Microsoft releases cumulative updates for Windows 10, it can choose to include the Known Issue Rollback capability for 'quality' changes. Microsoft says:
While Known Issue Rollback was originally designed for user-mode processes, we have made phased improvements over the last year to the OS kernel and the boot loader to support this capability in kernel mode. Some versions of Windows 10 prior to version 2004, for example versions 1909 and 1809, have partial support for Known Issue Rollback built into the OS and we leverage that support whenever possible when shipping updates for those versions.
Known Issue Rollback works by adding the code required for a fix but also keeping the original code intact. If a problem with an update occurs, Microsoft can set a flag in the registry to force Windows to use the old code. If a problem with an update is detected, Microsoft can change the policy setting to disable any problematic code. Enterprises can control Known Issue Rollback using a Group Policy setting that is published with each Windows Update KB article.
For more information on how Known Issue Rollback works, check out Microsoft's website here.
News and Interests coming to Windows 10 21H1, 20H2, and 2004
The news and interests flyout on the taskbar is coming to Windows 10 versions 21H1, 20H2, and 2004. Microsoft has been working on news and interests in Insider builds over the past few months. Originally, it was thought that news and interests would only be made available in Windows 10 21H2, which is due in the second half of 2021.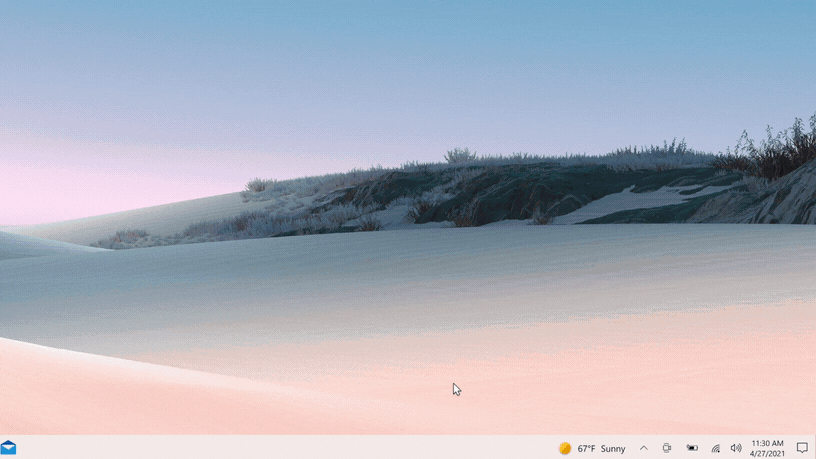 But Microsoft started rolling out an optional update for Windows 10 users this month, that includes the news and interests flyout. Optional updates are usually tested ahead of being generally pushed out in the next month's Patch Tuesday. Microsoft says about the update:
With news and interests on the Windows taskbar, you get quick access to an integrated feed of dynamic content, such as news, weather, sports, and more, that updates throughout the day. You can personalize your feed with relevant content tailored for you. In the coming weeks, you will be able to seamlessly peek into your feed directly from the taskbar throughout your day without disrupting your workflow. For more information, see Personalized content at a glance: Introducing news and interests on the Windows 10 taskbar.
In a blog post about the new feature, Microsoft says that rather than being a distraction, the news and interests flyout should actually help users 'Effortlessly staying up to date begins with weather updates on your Windows taskbar – something that many of you have asked for!'
News and interests group configuration
I'm skeptical about whether news and interests has any advantages for end-users. But there is some good news, you will be able to disable it. And enterprises will be able to configure news and interests using Group Policy and Mobile Device Management (MDM). There's an option to enable/disable news and interests in Group Policy under Computer Configuration > Administrative Templates > Windows Components > News and interests > Enable news and interests on the taskbar.
Microsoft Edge
Microsoft released version 90 of its web browser and it's a relatively minor update. Improvements were made to font rendering, to improve clarity and reduce blur. Downloads has been updated as a flyout menu. And new downloads now appear in the top right of the browser window, instead of in the bottom left-hand corner.
There are some improvements to password autofill; Azure Active Directory accounts, and Microsoft Accounts on macOS, now get single sign-on (SSO) support. There's a new policy to define print rasterization mode for non-postscript printers on Windows. And finally, there are additional scaling options when printing webpages and PDF documents, including "Fit to Page" and "Actual size".
Microsoft Store to get facelift
Petri's Brad Sams reported this month that Microsoft plans to give the Store a significant facelift later in 2021. Windows Central says Microsoft is apparently building a new Store app. The app will have a modern and fluid user interface, and there will also be changes to the kind of apps that can be submitted to the Store. Changes for developers include:
Submit unpackaged Win32 apps
Host apps and updates on 3rd-party content delivery network (CDN)
Use third-party commerce platforms in apps
As part of these changes, Microsoft is planning to bring more of its apps to the Store, including Teams, Office, Edge, and Visual Studio. As Brad points out, these changes are likely to make it more difficult to police the quality and safety of apps in the Store. Microsoft has yet to detail how it will manage the increased risk for end users.
Microsoft Readies Windows 10 May 2021 Update
Microsoft announced this month not only the official name for the 21H1 update, Windows 10 May 2021 Update, but that it is also preparing PCs for its release. The post states that Microsoft believes Windows 10 build 19043.928 will be the final build for 21H1.
This update brings a few features for enterprises. But nothing of note for the rest of us. The big changes to the Windows 10 UI are coming in the 21H2 update (Sun Valley), due in the second half of 2021. For users running Windows 10 2004 or 20H2, 21H1 will be delivered as a small cumulative update.
Microsoft Defender for Endpoint hits general availability on Windows 10 for ARM
In even less exciting news than Windows 10 21H1, Microsoft Defender for Endpoint is now available for devices running Windows 10 for ARM. Microsoft says:
Arm devices are designed to take full advantage of the protections available in Windows 10 such as encryption, data protection, and next gen antivirus and antimalware capabilities. Microsoft Defender for Endpoint compliments these features with a cloud-powered enterprise platform that helps security teams prevent, detect, investigate and respond to advanced threats, while delivering secure and productive end user experiences.
Windows Insider builds
As I noted above, Microsoft has been busy working on news and interests over the past months. Windows 10 build 21354 brought some minor improvements to news and interests, including a new "Manage interests" button when you hover over weather on the taskbar. Microsoft has also added a search box at the top of the "My interests" page so users can more easily find topics or publishers that they'd like to follow.
'Tune your feed' on the My interests page makes it easy to explore and follow publishers from Microsoft's partner ecosystem and select example articles that you find interesting. The new personalization experiences for news and interests are available in U.S., U.K., Canada, India, and Australia. Microsoft says that global rollout is continuing.
Windows 10 build 21354 brings a new Cameras page to the Settings app. It lets you manage cameras that are directly connected directly to your device or ONVIF IP cameras on your local network.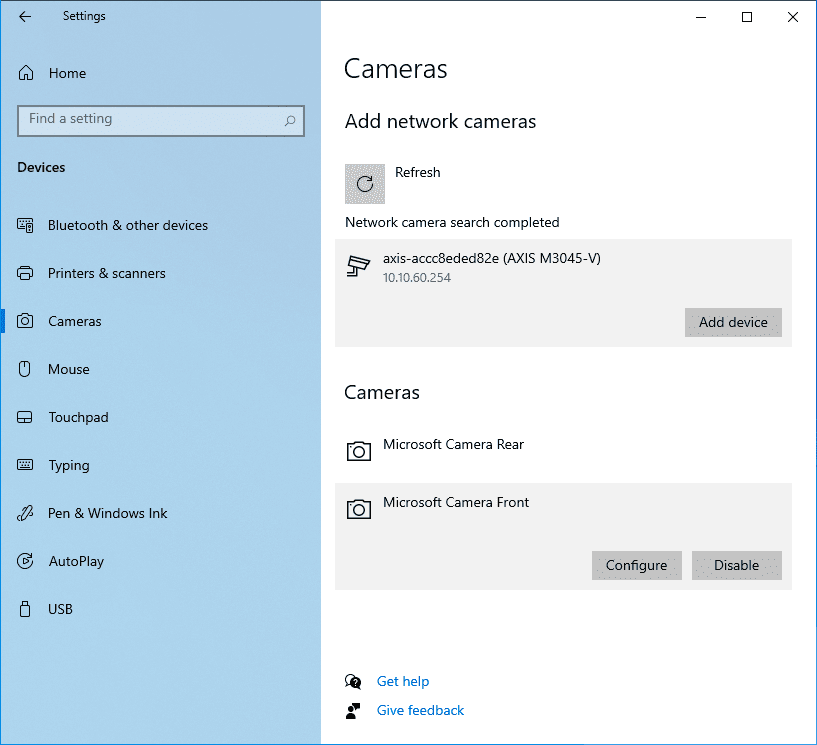 Build 21354 brings MS Paint and the Snipping Tool as a Store apps. And finally in this build, the Windows Administrative Tools folder in Start is renamed to Windows Tools.
Windows 10 build 21359 has a new setting on the Start menu: 'Restart apps after signing in'. You can check this option on the start menu to have restartable apps automatically launch when you restart Windows. Microsoft also announced that users signing in with a Microsoft Account (MSA) will no longer be able to synchronize their Timeline activity to the cloud. This change doesn't affect Azure Active Directory accounts. Microsoft says that Timeline, and all your local activity history, will still remain on Windows 10. But for how long is the question…
The big news in Windows 10 build 21364 is the addition of support for Linux GUI apps in Windows Subsystem for Linux (WSL). You can find out more about how to enable support and install Linux GUI apps in Windows 10 on Petri here. Task Manager has been updated to support Microsoft Edge process classification. Now you can identify resource consumption using several classifications, like tabs, browser processes (browser, GPU process, Crashpad), utility plugins, and dedicated and service workers.
In this build Task Manager also gets an experimental feature called Eco mode. It lets users throttle process resources and identify processes running in Eco mode.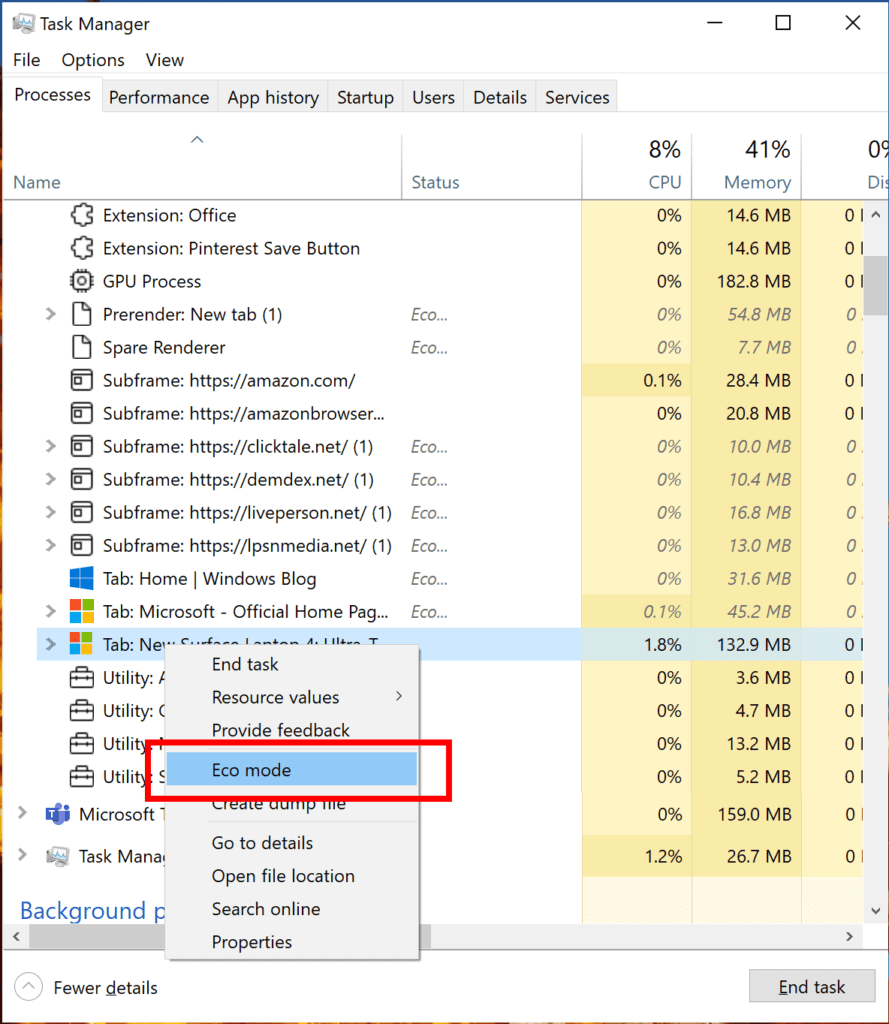 And lastly this month, Windows 10 build 21370 gets an improved Bluetooth audio experience. Bluetooth headsets now get a unified audio endpoint, so you don't have to scroll through devices to get your headset's voice and mic working. Microsoft also added support for the AAC audio codec for Bluetooth headphones and speakers.