When setting up SharePoint 2010 in your organization, planning is important and it goes hand-in-hand with governance. Sometimes the needs of the organization determine the features that are required, and that drives the purchase of the licenses. Sometimes the opposite is true, and the cost drives the determination of what SharePoint 2010 version is going to be implemented.

Whether you're trying to justify the next big upgrade, finding out what you can do with the license you've been given, or just curious which licenses have a certain feature, a side-by-side comparison is the best way to see the differences between the versions of Microsoft SharePoint 2010. In this article, I'll show you the features that are available in each version of Microsoft SharePoint 2010. I gathered the information for the charts in this article from the Microsoft SharePoint 2010 editions comparison site, and then combined that information with the Microsoft SharePoint Online for Enterprises Service Description (Appendix B, pg. 30).
SharePoint Foundation 2010
I wrote an article recently about the features of SharePoint foundation. And for some organizations, SharePoint Foundation is good enough. SharePoint Foundation provides the features like Team Sites, lists, libraries, claims-based authentication, and SharePoint Timer jobs. Most of the features that are included with SharePoint 2010 Foundation are fine enough to get your site up and running, log onto, and use it for basic collaboration.
SharePoint Server 2010 Standard Edition
Many of the features that SharePoint 2010 is known for is included with the Standard Edition. While some of the best features are reserved for the Enterprise Edition, most of what you may want and expect out of your SharePoint site will be available in this edition.
The most notable features that SharePoint 2010 Standard offer center around social, search, and content management. Content management features include the ability to assign document IDs, use managed metadata and tagging of content, as well as audience targeting. Social features include user profiles and the ability to use social tags, news feed, and the My Content feature. The improvements offered by the search features in SharePoint 2010 Standard allow federated search results and user profile searching.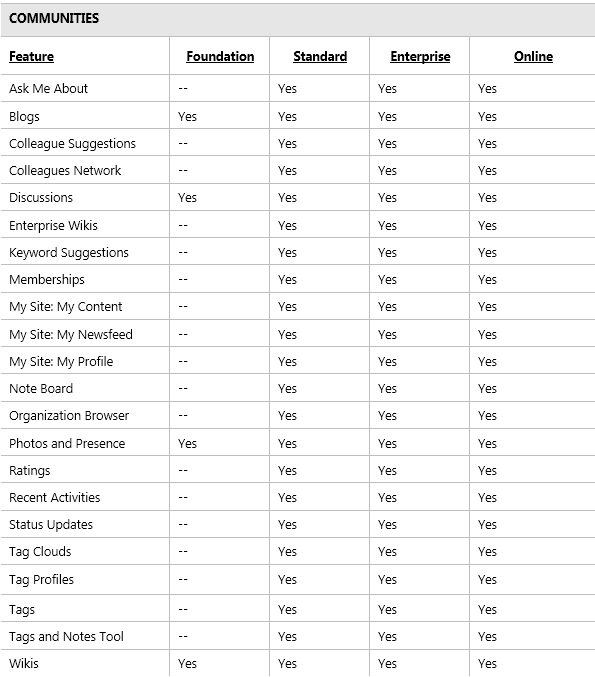 SharePoint Server 2010 Enterprise Edition
Absolutely every feature that SharePoint has is included with SharePoint 2010 Enterprise Edition. For the Enterprise Edition, there are more Office-based features such as Excel Services, Visio Services and Access Services. However, one of the highest-impact features, and the reason so many organizations go with the Enterprise Edition, is because of the Business Intelligence features, including the Business Intelligence Center and Business Data web parts.
SharePoint Online
SharePoint Online has a collection of features from each level of SharePoint. It has most, but not all, of the features from Foundation, and it's also missing some features from the Standard Edition. It does include some features that are available in the Enterprise Edition, but it does not include Business Intelligence.
What's great about SharePoint Online: Easy licensing, with a shared total storage space. Each extra user costs a few more dollars per month, and each user increases the total amount of storage space available to the organization.

Also, it removes much of the burden on administrators: Loading the OS on the servers and maintaining them with patches is all handled by Microsoft. Their datacenters are spread around the world, and they have a financially backed guarantee of uptime. Even disaster recovery is completely handled by Microsoft.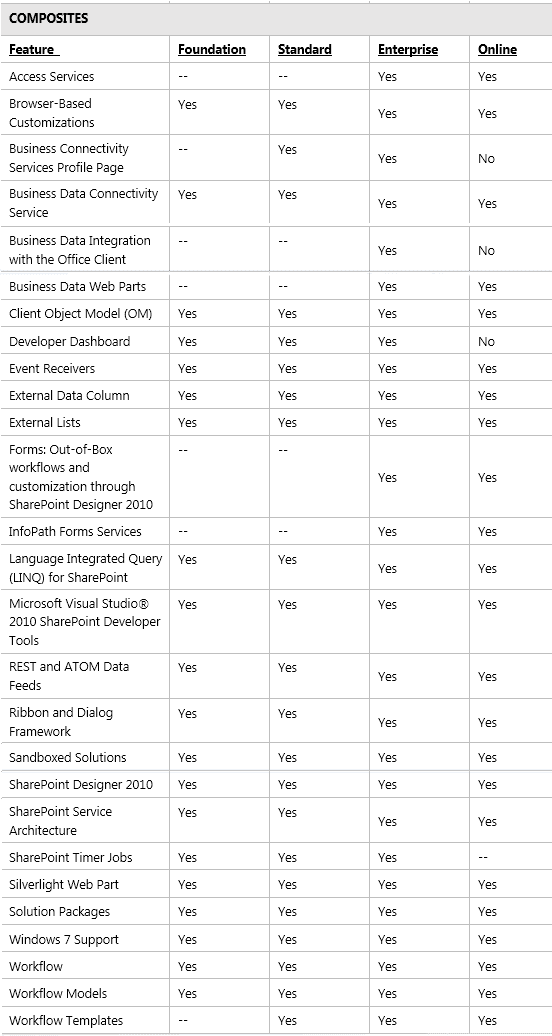 What's not-so-great about SharePoint Online: The SharePoint Online website experience is intended to provide a simple and convenient site that is professional looking and easy to use. Unfortunately, you are limited on the amount of customization that can be done. SharePoint Designer does not work at all with the website in SharePoint Online, and you can only customize the web page using the browser-based ribbon interface.
You also cannot upload any custom designed farm solutions. If you have designers on staff that you're hoping to use to develop for the SharePoint infrastructure, then SharePoint On-Premise may be a better choice.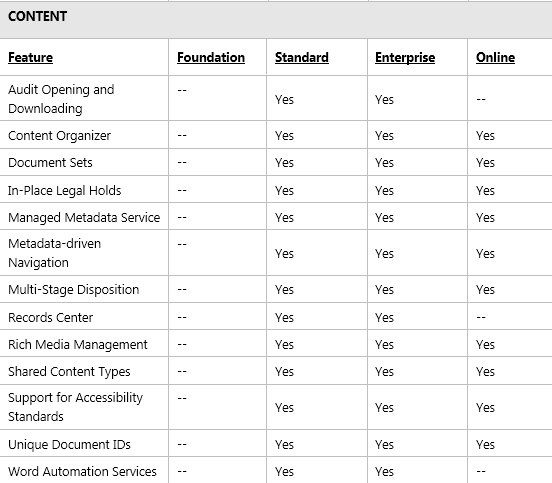 The 'For Internet Sites' designation on some editions of SharePoint is for licensing purposes, specifying who can and cannot legally use the software according to Microsoft's software licensing policy. It has nothing to do with what software features the edition has.
In addition to the SharePoint 2010 Standard and Enterprise editions, there are two versions to each of those editions. Both SharePoint 2010 Standard and Enterprise can be purchased either as they are or with the additional For Internet Sites (FIS) license.
However, the For Internet Sites license doesn't change any of the features — whether you get Enterprise Edition or Enterprise Edition for internet sites, the features included are exactly the same.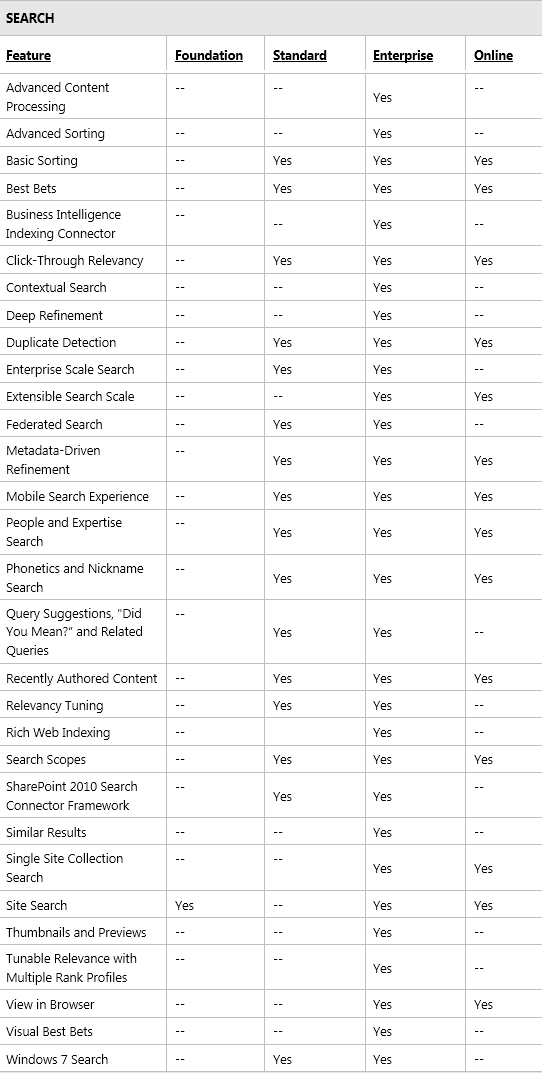 Then why do I need a SharePoint FIS license and what does a FIS license do? Just like Windows Server, Exchange, and other Microsoft server applications, SharePoint 2010 requires that users that use it are licensed. The license is called a CAL, or Client Access License, and each user needs on to be in compliance with the licensing for SharePoint.
Many companies take advantage of volume licensing to purchase CALs on a yearly subscription. For companies that have chosen an Enterprise Desktop CAL, SharePoint is included. If you're not already covered by a CAL agreement, you will need to order SharePoint CALs for the users that intend to use it.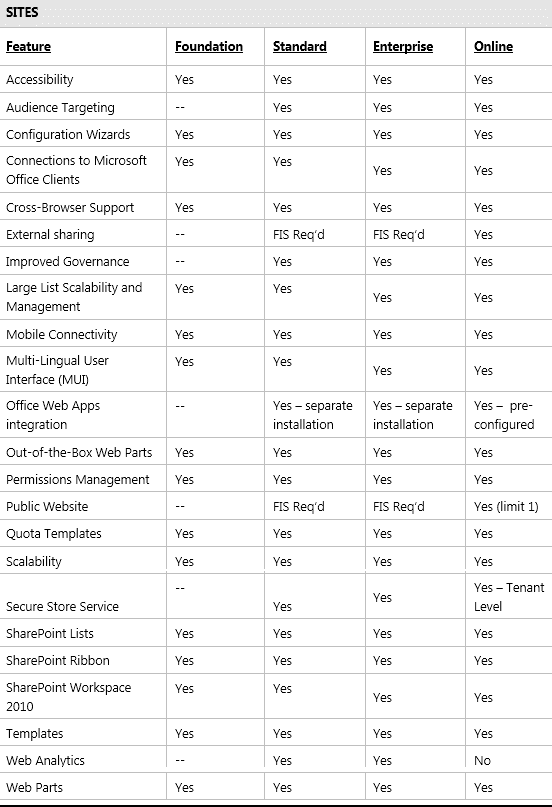 The FIS license is there to provide an unlimited number of licenses to people that are outside your organization. Since there's no way to account for licenses of people that are outside the organization, purchasing the FIS license keeps you in compliance without having to purchase individual licenses for those outside of your control.
If I have enough internal users, can I just use a FIS license to save money? No, the FIS license only covers users that are external to your organization. Even if you have a FIS license, you still need CALs for your internal users.