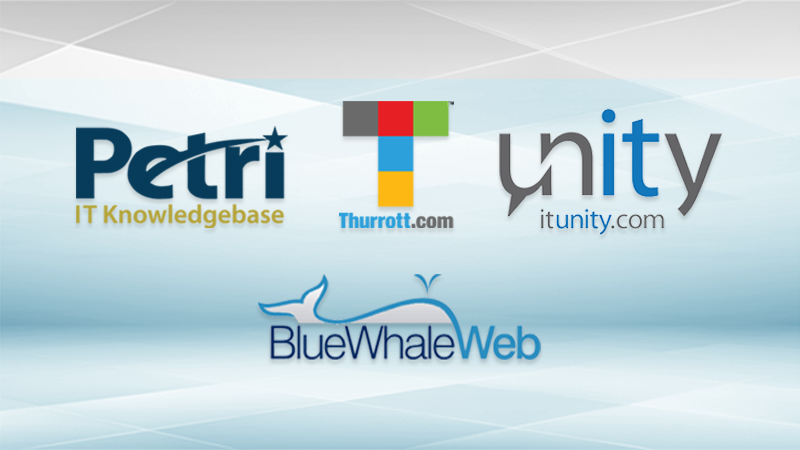 Today, I am excited to announce that Blue Whale Web is acquiring IT Unity and NC Communications; these two communities will be joining the Petri.com and Thurrott.com family and will help to provide additional content and educational resources to our readers.
So who are these companies joining us? IT Unity provides technical articles, online conferences, news, and webinars that empower the community to maximize the value of SharePoint and Office 365. NC Communications produces Europe's premier SharePoint and Office 365 conference, Unity Connect, in collaboration with IT Unity.
In 2016, IT Unity and NC Communications will be hosting several conferences that are worth checking out:
With the acquisition, the Blue Whale Web family is growing, and I'd like to welcome Megan Keller, Erik Ruthruff, Jacquelyn Baillie, Lyman Goodrich, Chris Moore, plus Irene and Nigel Clapham to the family.
George Coll, CEO of Blue Whale Web, will lead the combined organization, and we would like to congratulate Dan Holme on his move to Microsoft. Prior to the acquisition and after successfully leading IT Unity from its inception two years ago, Dan Holme, co-founder and CEO of IT Unity, joined Microsoft as Director of Product Marketing for SharePoint on April 4, 2016. We wish him well and look forward to continuing to work with him as the IT Unity team pursues his vision.
It's an exciting time at Blue Whale Web as we continue to invest in our communities, and the addition of IT Unity and NC Communities allows us to expand our reach and our capabilities. Please join me in welcoming the IT Unity and NC Communications teams to the Blue Whale Web family.
Best,
Brad Sams
Executive Editor | Blue Whale Web