By all definitions, the iPad has changed the face of modern computing. It has become a trusted companion to millions of users who find its style and functionality a perfect combination. This is as true for IT professionals as it is for anyone else. Virtually not a day passes where I don't grab my iPad and put it to work troubleshooting network problems, remotely administering servers and workstations, taking notes, or performing any number of other job-related tasks. With this in mind, I thought it high time to share with Petri readers my tried and true six favorite iPad apps for making life in the IT trenches a little bit easier.
1. NoteTaker HD: The New Post-its
An app doesn't actually need to be IT-related in order to be a go-to tool for IT pros. Case in point: NoteTaker HD. I work with numerous users on a plethora of projects each and every day. Taking notes is how I keep everything straight and how I avoid costly oversights and errors. Rather than carry around a pile of Post-its, I rely on my iPad and the amazing NoteTaker HD app.
NoteTaker HD is impressive in its functionality. Beyond simply scribbling notes, the app allows users to perform many other common tasks: import and annotate PDF files, insert and crop images, or work with forms – it's all there in NoteTaker HD. When taking notes I adjust the line thickness and use the Edit 2 mode to make the process accurate and efficient. If there's anything to complain about when it comes to this $4.99 app, it's that it does so much it can be overwhelming. Don't worry, start with the basics and then add skills as you go.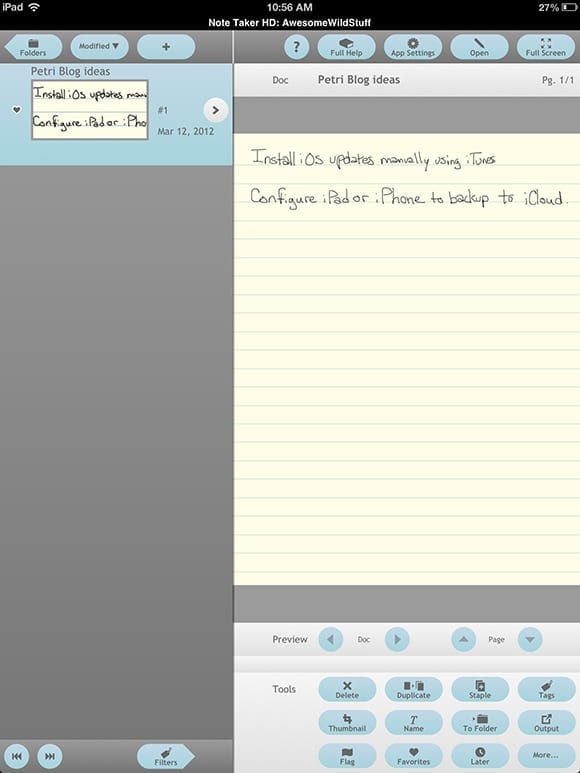 2. FileBrowser: File Management Made Easy
FileBrowser from Stratospherix is another non-IT specific app that's indispensable. Accessing and managing files is a critical task for getting things done in IT. FileBrowser performs masterfully allowing files to be accessed locally on the iPad, across the network using SMB, or in the Cloud using services including Box, Dropbox, and SkyDrive. Kicking things up a notch, FileBrowser can view text, Office, iWork, PDFs, and image files, or it can use iOS' "open in" feature to edit the documents in other iPad apps. Encryption, secure settings, and Active Directory authentication are all supported positioning FileBrowser as an excellent corporate tool.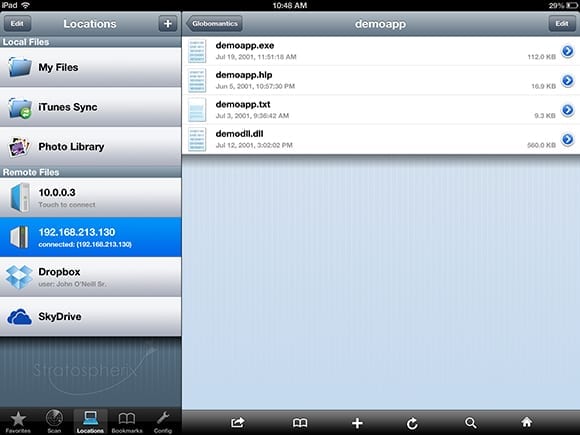 3. IT Tools: TCP/IP Troubleshooting
The next app in my list is IT Tools by Kevin Koltzau. This little gem includes all the basic TCP/IP troubleshooting tools network admins rely on to earn their bread and butter: Ping, Traceroute, DNS queries, network scanning, viewing route and ARP tables, checking interface statistics, and even a built-in WiFi scanner are all stuffed into this handy app. A very basic, super easy-to-learn user interface makes the app that much more endearing to those of us in the field that just need to "git 'er done." IPv6 support and the ability to email results are the icing on the cake for IT Tools.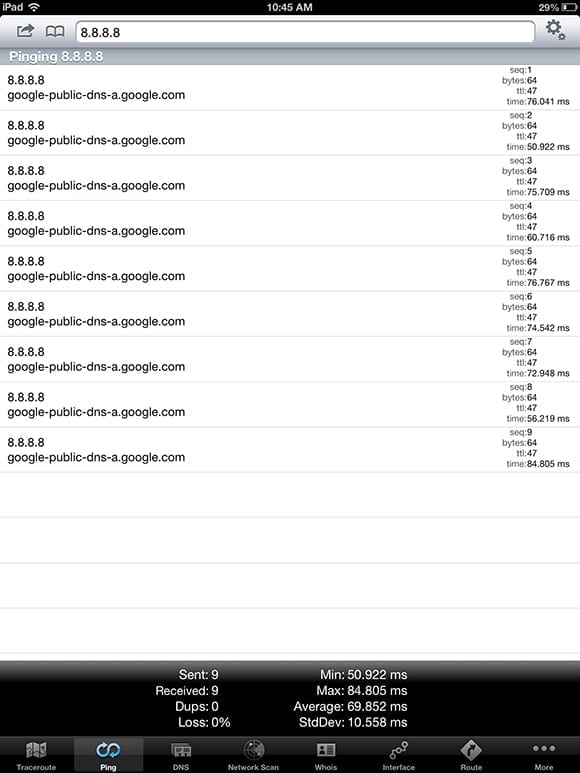 4. Get Console: Network Engineer Nirvana
The fourth iPad app in my list is Get Console from Amix Capital Ltd. Another must for any iPad-wielding network admin, Get Console provides serial, SSH, and telnet connectivity to infrastructure equipment. Imagine being in the field and needing to console into a misbehaving router. No need to break out a laptop! All that's needed is an iPad and Get Console along with the Redpark console cable. Network engineers back in the operations center can remotely connect to Get Console providing assistance to field engineers when required. Log all sessions leaving review and documentation for when you return to the comfort of your office. Get Console even has the capability to download configuration files and templates from the Cloud and apply those to connected devices. In the near future, the Airconsole accessory will allow console sessions not using a cable, but via WiFi. I'm looking forward to taking advantage of that new functionality as soon as it arrives.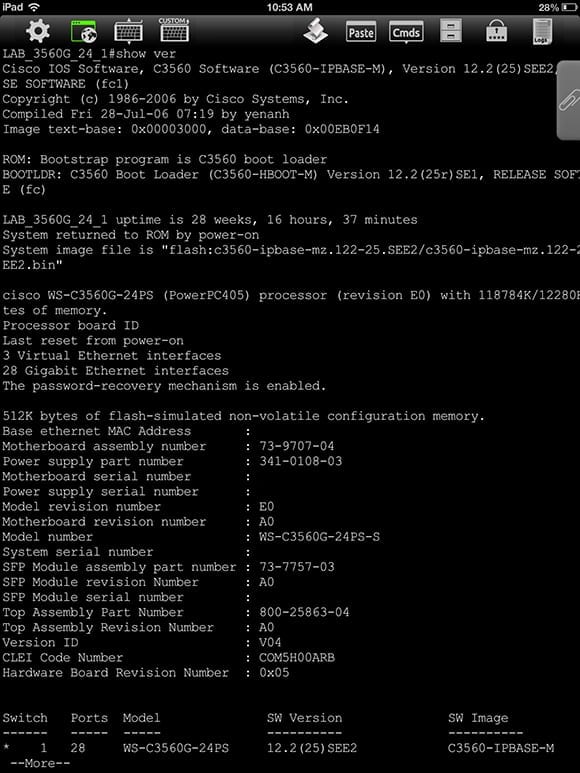 5. PocketCloud: Remote Access to Go
No iPad IT Tools list would be complete without at least on remote access app. My favorite is Dell Wyse's PocketCloud. Connecting to Windows servers and clients is a snap using either the RDP or VNC protocols. Connecting to VMWare View 4.5 and later desktops is supported as long as they use RDP. When connecting to VMWare View desktops using PCoIP, I rely on the VMware Horizon View iPad app. PocketCloud's other qualities include encryption support, autodiscovery, customizable keyboards, and a relatively intuitive user interface. The free version of the app gives access to most of the features, but limits connections to one. Multitask and save as many connections as you like by upgrading to the paid Pro version. With all the Windows servers I support, the paid version is well worth the investment. Look closely at the screenshot – I'm accessing a Windows 8 Pro PC right from my iPad! Nothing even spontaneously combusted.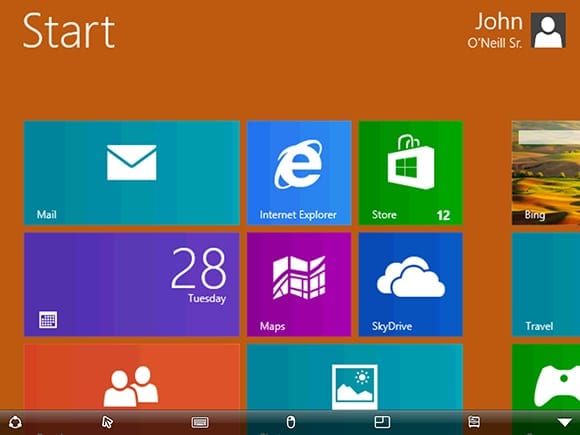 6. Basecamp: Keeping Track of Projects
The final app of my six favorite iPad IT apps is the Basecamp project management app. Basecamp is a successful cloud-based project management system. Create projects, collaborate with team members, and store files quickly and easily. The Basecamp single page project view allows you to keep track of everything going on with the project without spending hours clicking through endless pages. Coordinate team member schedules using the built-in calendar. Daily email updates let you keep track of yesterday's activity without even logging in to the system. In addition to the iPad app, Basecamp projects can be accessed from any device with a web browser. Simple, cheap, and effective; how could this not be one of my favorite apps?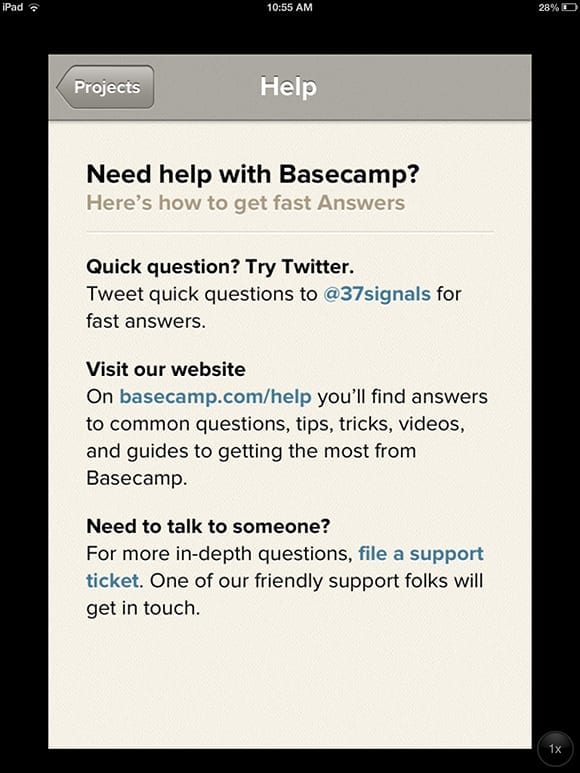 This list is just the tip of the iceberg when it comes to iPad apps that can help IT pros. The iPad is not just the device that ushered in a new era of tablet computing nor is it simply an executive email reader. With the right apps and a little imagination, the iPad can transform itself into a trusted, value-added tool for the modern IT professional.