5 Top iOS Note-Taking Apps for System Administrators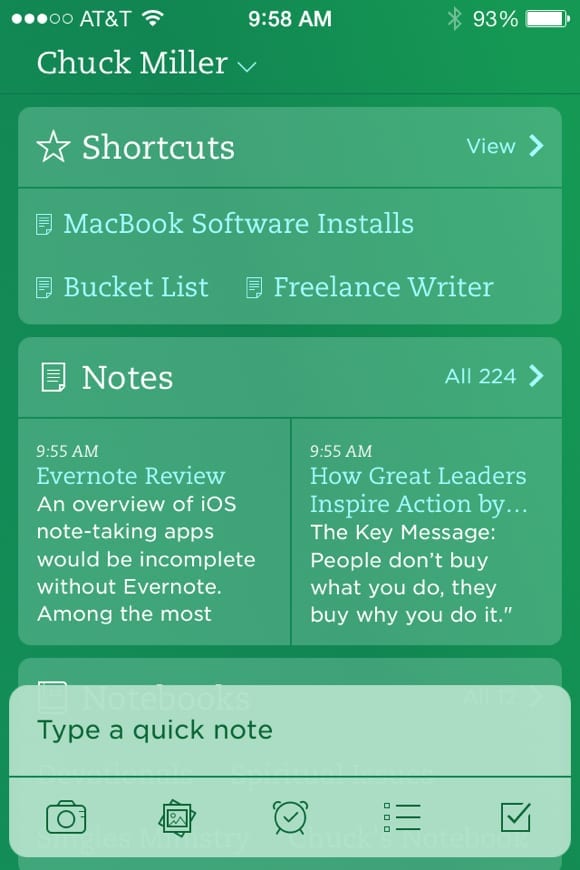 With currently over 900,000 apps in the iTunes store, an abundance exist for system administrators and IT professionals. Whatever your mobile needs, as the saying goes, "there's an app for that." And while many tools residing in your app arsenal are designed to address more system-specific needs (remote administration, server monitoring, net statistics, and security), you'll find plenty of reasons to keep a solid note-taking app close by for myriad tasks, from jotting down ideas to corralling troubleshooting tips and keeping oft-used data such as network passwords and logins at the ready. Here are five of the best alternatives to keep you functioning at peak performance personally and professionally.
1. Evernote (Free)
An overview of iOS note-taking apps would be incomplete without Evernote. Among the most mature and versatile in its class, Evernote syncs with the widest selection of devices, including iPhone, iPad, Android, Windows Phone, Blackberry, Windows, and Mac. In fact, it's hard to beat for its exceptional support and abundance of built-in features, including a browser extension that allows you to save any online content—text, links, and images—into your Evernote account with one click. Moreover, the app features a gamut of add-ons like Penultimate, an easy-to-use handwriting app for the iPad, and vJournal, which turns Evernote into a simple one-note-per-day diary.
Unlike some competitors, Evernote (even the iPhone iteration) is quite feature complete. It's also among the most attractive and functional note-taking apps, especially given the latest update for iOS 7. Offering numerous improvements, it features better performance, "quick note" access from the home screen, improved notebook and tag browsing, and support for note sharing through AirDrop. The iPad version is even slicker and more useful thanks primarily to its larger format.
Organized via notebooks and tags, Evernote syncs all types of data across your devices including text and audio notes, tweets, posts, images, PDFs, and more. And it easily allows you to share notes with others via Facebook, Twitter, LinkedIn, and email. A whole ecosphere of Evernote-branded products is appearing as well, making it unique among its peers.
For many users, the free version of Evernote will suffice. However, a premium version is available for $5 a month or $45 annually, adding features like improved notebook access offline, collaborative editing, a passcode lock, increased storage, and searching within documents. It's the "800-pound gorilla" (or should I say elephant) in the room.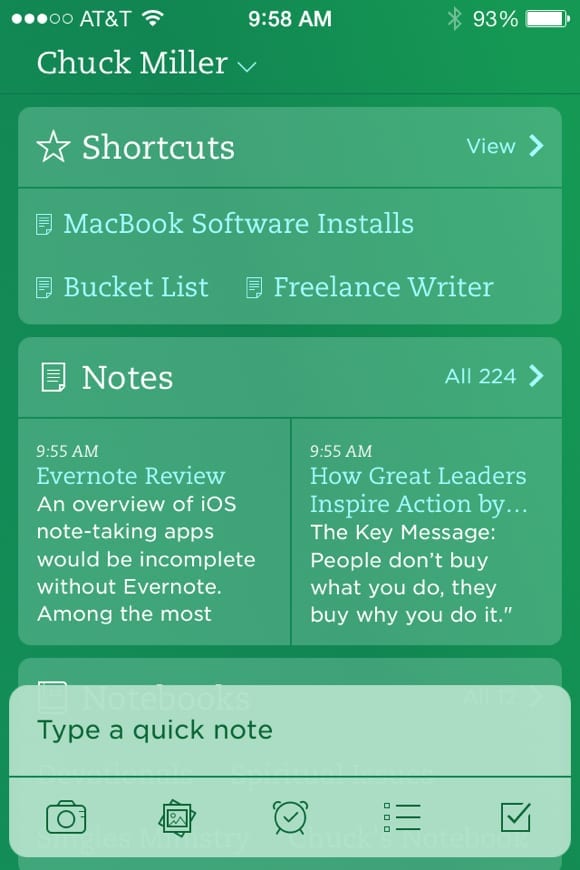 Evernote's home screen features a new "quick note" entry window at the bottom.
2. Simplenote (Free)
Simplenote, the antithesis of Evernote, is exactly what you would expect from its name, a simple, free way to take notes. Available for iOS, Android, Kindle, Mac, and on the web, it keeps track of text-only notes—no images, web clippings, or PDFs, just text. If your needs are simple, it handles them simply. If not, head for a different app.
All notes are stored online, automatically backed up, and available across all your devices. Notes are quickly located via simple searches and tags, and important or regularly used notes can be pinned to the top of the list for quick access. They can be shared via text message and email, published to the web (with a shareable URL) and unpublished at any time. A note history is available so you can restore a previous version of any note and you can allow others to collaborate on notes (via an email address for the person to include). Your notes can also be passcode protected.
Simplenote is extremely basic in features and capabilities. If that suits your needs, it's a great app for coddling your notes.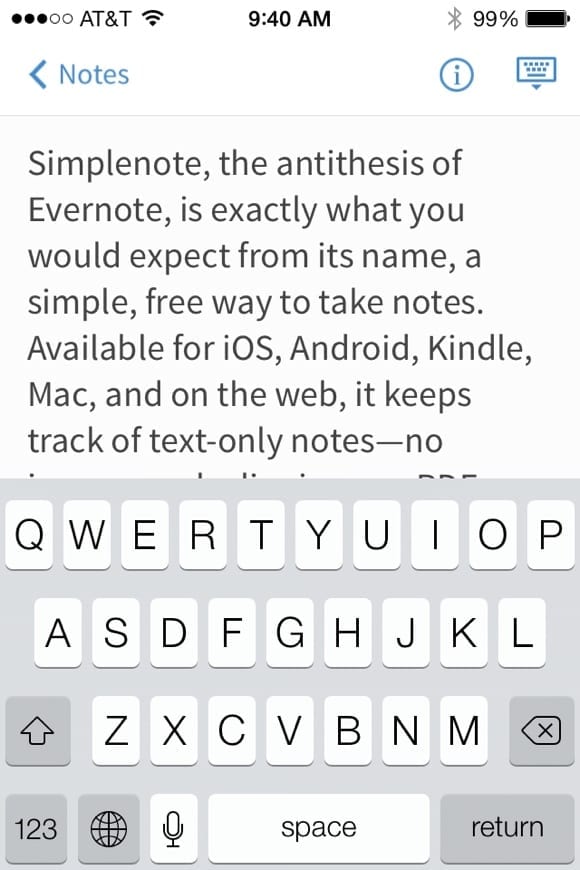 Simplenote offers simple, no-nonsense text entry.
3. Note Taker HD ($4.99)
Not everyone enjoys using the keyboard for note creation, at least not exclusively. If you prefer handwritten notes (via a finger or stylus), Note Taker HD for the iPad is an excellent tool. Designed by Dan Bricklin, creator of VisiCalc, it lacks the visual pizzaz of competing apps. In fact, it's quite spartan by comparison. However, functionality and readability are impressive, as is its capacity for writing and organizing handwritten notes and diagrams. It also allows you to annotate PDF files, insert and crop images, and work with forms.
The hallmark of Note Taker HD, however, is its dual-window zoomed editing, the option to zoom in and out on a page, seeing both a zoomed-out overview and a zoomed-in close-up writing area simultaneously. Other features include the ability to shrink writing to squeeze loads of text on each page, enhanced document organization (by tags, favorites, and date/time last modified), scrolling thumbnails to locate notes more easily, over 60 customizable shapes, AirPlay support, the capacity to share editable copies of your notes, password protect folders, and scads more.
On the downside, Note Taker HD can be overwhelming to new users. But it has much to offer those who prefer handwritten notes, as well as those who need to include diagrams and annotate docs.
Note: An iPhone version of Note Taker is available, but problems with iOS 7 and no updates since 2010 keep it off the recommended list.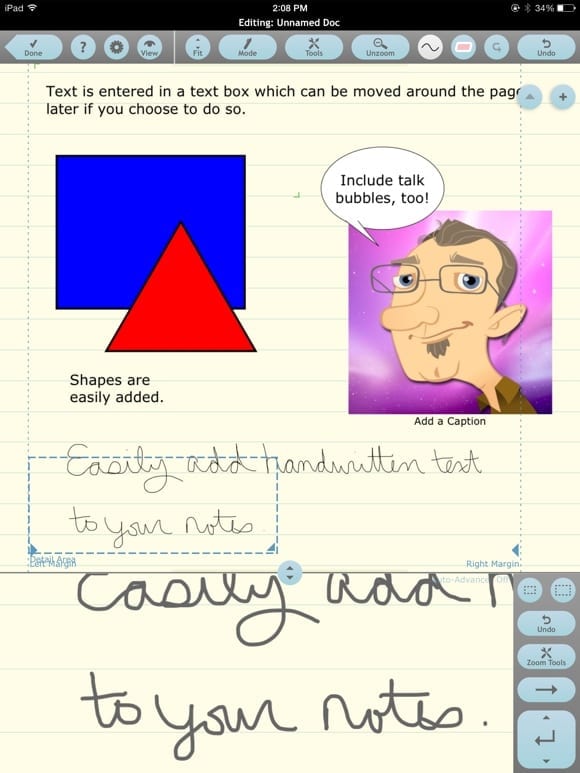 Note Taker HD offers handwritten text and many customizable options.
4. Notability ($2.99)
Notability is a clean, functional app. Similar to Note Taker HD, it offers comparable elements in a "lite" version at a lower cost. But, with that economy comes compromise, foregoing some more advanced features like predefined shapes and tags. What you don't lose, though, is the dual-window zoomed view. And you gain some ease of use.
With Notability, iCloud-based syncing keeps your notes in parity between iOS devices. And speaking of notes, they can be typed or handwritten, you can sketch your ideas, annotate and sign documents, record audio, keep a journal, insert photos (with the option to change size and add a caption), import forms, create lists, select various pens and paper, and clip and rotate note items. Notes are searched by title or content and are organized by subject. Backup is covered via Dropbox, Box, Google Drive, or webDAV, while data sharing is handled through email, Airdrop, and twitter.
The iPhone version offers a few less features than its iPad counterpart (lacking figures, web clips, post-it style notes, and visual themes), but it nonetheless does its job well. Still, Notability offers great features and usability at an affordable price.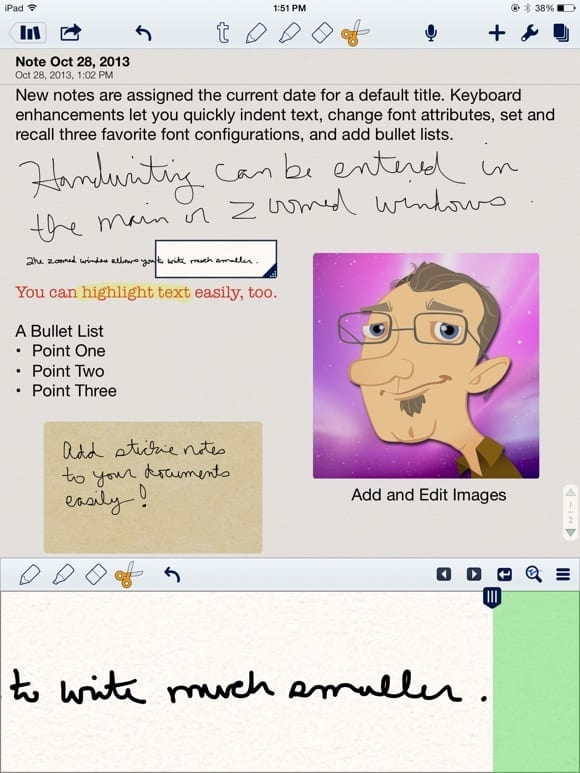 Ease of use makes Notability an excellent app for note-taking chores.
5. Drafts ($2.99/$3.99)
Deceptively simple at first glance, Drafts for iOS is more full featured than its clean, uncluttered interface suggests. It opens with a new blank draft (note) so you can immediately begin entering text, deciding later what to do with it. No immediate choices are needed about titles or notebooks. Organization is simple, too. New drafts are placed in the Inbox, old ones in the Archive, and drafts you want to keep handy are pinned for easy retrieval.
Features include full text searching, sync between iOS apps, reminder integration (with the iOS Reminders app), text-based draft creation via Siri, a special Link Mode (making captured phone numbers, web links and addresses tappable), an enhanced keyboard, visual customization (light, dark and sepia themes), and more than a dozen font choices. It supports Markdown, as well.
What really sets Drafts apart, however, are its robust output options and configurable actions. Output choices span the gamut from composing and sending email and text messages to firing off tweets and posting to a Facebook or Google account. You can also create calendar events, save drafts to Dropbox or Evernote, and export a draft to any app that supports importing text files. Customizable actions are available for email and messages, allowing you to configure predefined values. Actions can also be programmed that create, append or prepend to files in Dropbox and Evernote. Further, ready-to-use actions can be downloaded from the developer, including those that integrate with popular apps like OmniFocus, Things, Tweetbot, Byword, Fantastical, and others. You can even automate iOS workflows.
The only basic feature it's lacking is creation of custom folders to store your notes. Plus, you have to buy separate apps for the iPhone and iPad. Still, it's one of the most powerful note taking apps on the market.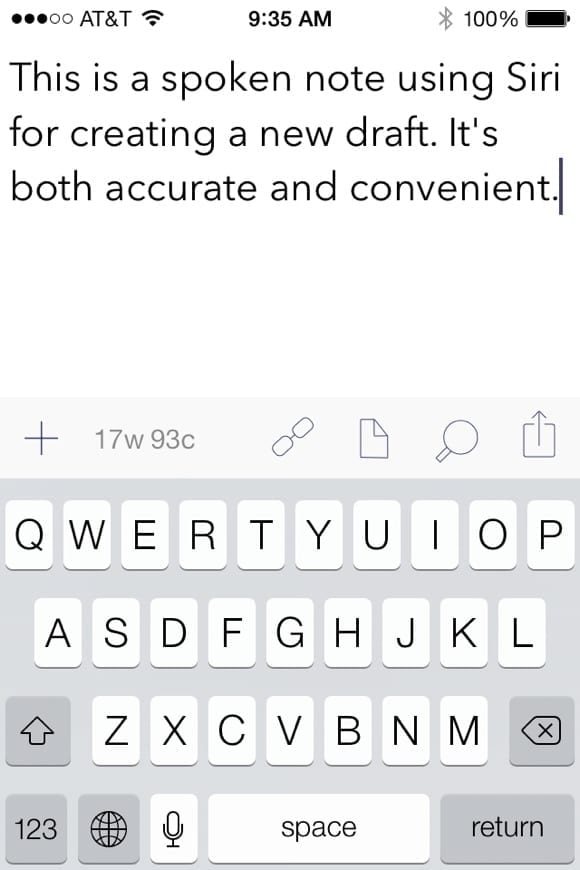 In Drafts, spoken text is entered quickly and exactly via Siri.
When it comes to note taking, specific needs and work style will dictate what's best. However, you'll benefit from any of the apps listed here. Others you might want to consider include 1Password (password-protected notes), GoDocs (Google Docs compatibility), Daily Notes + Tasks (task management features), OneNote (Microsoft OneNote for Windows compatibility), and Springpad (a more socially-oriented, digital assistant approach). Experiment with free apps to your heart's content, and test drive paid counterparts if they address your needs more closely. In the end, you may find, as I did, that your note-taking and organizational needs are best met by using several apps in tandem. In my case, Evernote, Penultimate, and Drafts.