Microsoft has announced the release of a big update for its Azure VMware Solution (AVS). This release brings support for stretched clusters, customer-managed keys, Azure NetApp Files Datastores, and much more.
"Azure VMware Solution is an easy way to extend and migrate existing VMware Private Clouds to run them natively on Azure. Azure VMware Solution offers symmetry with on-premises environments, which helps to accelerate datacenter migrations, so customers recognize the benefits of the cloud sooner," said Ram Gowrishankar, Microsoft's Partner Director for Product Management.
Microsoft has introduced support for stretched clusters in Azure VMware Solution. The feature is designed to ensure 99.99 percent uptime for mission-critical apps. It automatically moves virtual machines (VMs) and enterprise applications to an availability zone that has not been affected by the problem. The stretched clusters feature helps organizations to focus on core application features and requirements.
Additionally, Microsoft has announced a new Azure NetApp Files integration in Azure VMware Solution. This release enables customers to run their most demanding enterprise file workloads (such as SAP, databases, and high-performance computing application on Azure VMware Solution.
Azure VMware Solution adds support for customer-managed keys
The latest update brings the ability for customers to use customer-managed keys (CMKs) managed by customer-owned Azure Key Vault to encrypt VMware vSAN Key Encryption Keys (KEKs). Microsoft has added support for two new node sizes (AV36P and AV52) in Azure VMware Solution. It enables organizations to optimize their workloads for memory and storage as well as reduce transaction costs of latency-sensitive services.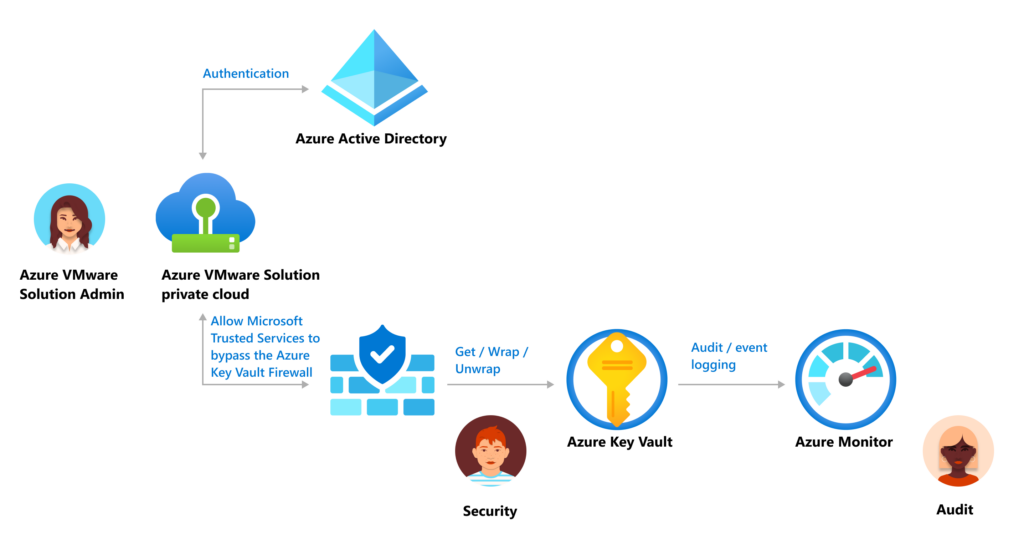 Lastly, Microsoft announced that customers can now integrate Azure native services into Azure VMware Solution. These include Microsoft Defender for Cloud, Azure Monitor, Azure Arc, Log Analytics Workspace, and Azure Update Management. It should make it easier to monitor and protect their virtual machines (VMs) in hybrid environments.