Azure Backup Center Brings Unified Admin Experience for Management at Scale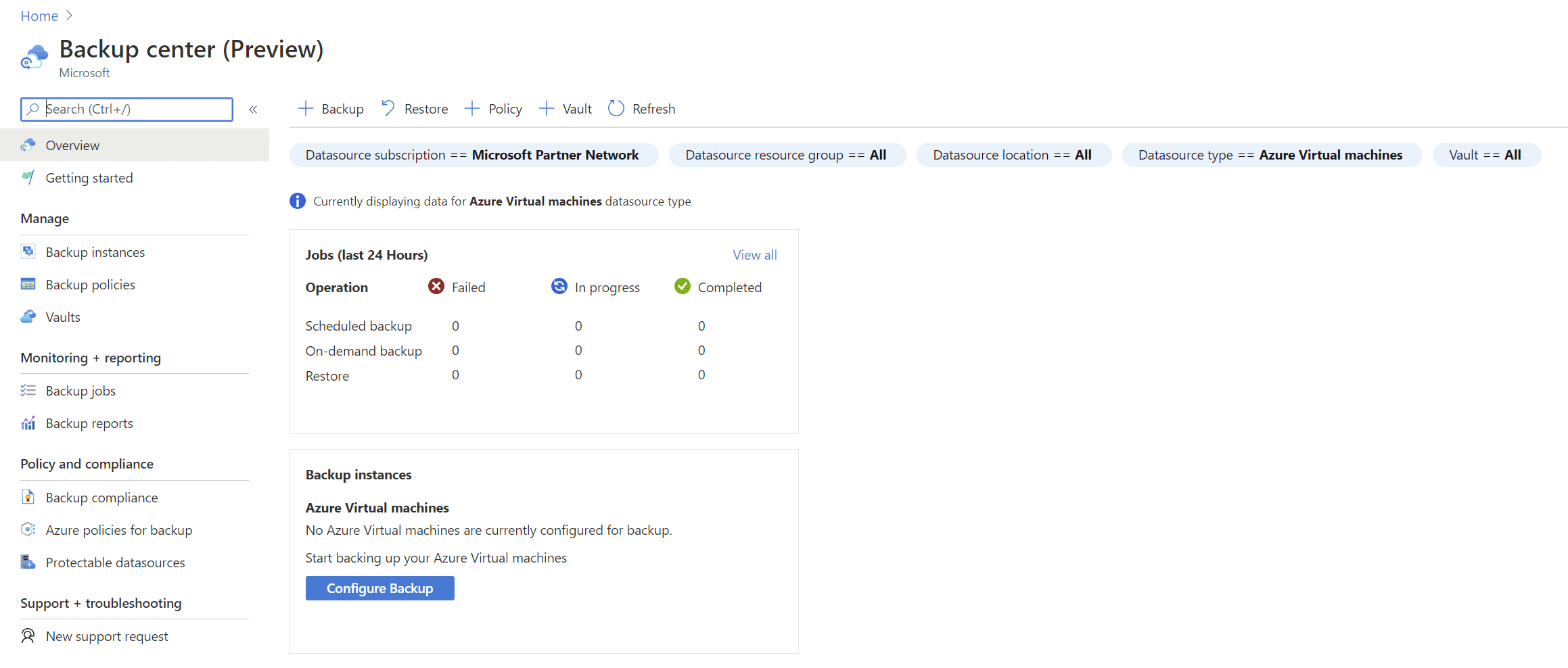 A public preview of Azure Backup Center was announced at this year's Microsoft Ignite conference, a virtual event that took place on September 22nd to 24th. The new Backup Center provides admins with a single pane of glass for managing backup of Azure resources at scale. It provides a unified tool for exploring backup inventories that are distributed across backup vaults, Azure subscriptions, locations, and tenants. Microsoft says about Backup Center:
Azure Backup has enabled a new native central management capability to manage your entire Backup estate from a single pane of glass. Backup Center provides you with the capability to monitor, operate, govern, and optimize data protection at scale in a unified manner consistent with core Azure native management paradigms.
At the time of writing, Azure Backup Center supports triggering actions for the following workloads:
Azure Virtual Machines
SQL in Azure Virtual Machines
Azure Database for PostgreSQL servers
Azure Files
Define and track governance with deep integration with Azure policies
There's also the ability to define and track governance; including deep integration with Azure policies, letting IT ensure governance by providing policy definitions that apply to backup jobs.
Azure Backup now extends Cross Region Restore of Azure virtual machines (VM) to include support for SQL and SAP HANA backups. Cross Region Restore lets IT organizations restore backup data in secondary regions when a primary region is unavailable. Or at any time for audit and compliance purposes.
Image #1 Expand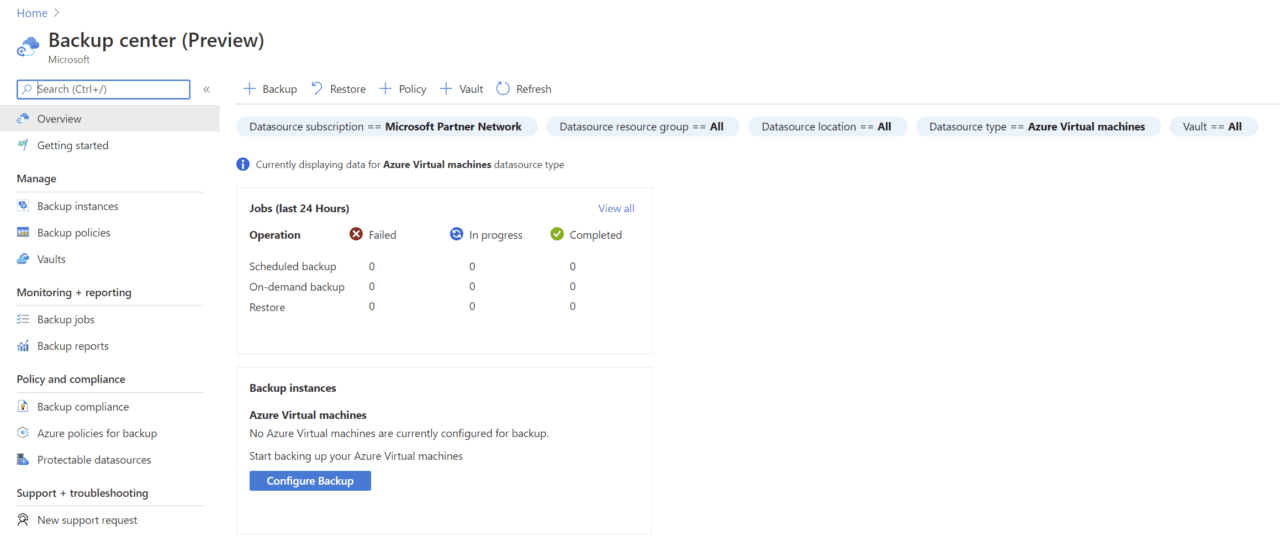 Azure Resource Mover, which was also announced at Ignite this year, lets customers easily move Azure resources across regions. You can find out more about Resource Mover on Petri here.
Azure Backup supports on-premises workloads
Azure Backup might have been born in the cloud, but it also supports backing up on-premises workloads using software agents (MARS). Although MARS doesn't support Linux machines. Additionally, you can back up on-premises machines to Azure Backup Server (MABS), or System Center Data Protection Manager (DPM), and then back up the backup server to an Azure Recovery Services vault.
Image #2 Expand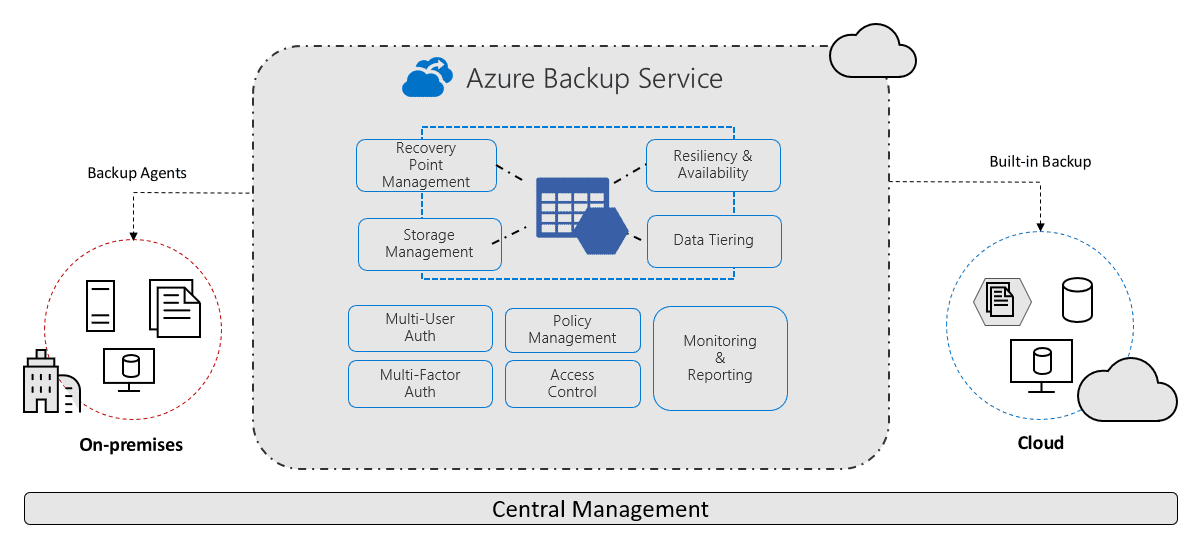 For more information on installing the MARS agent on Windows and configuring backup jobs to Azure, check out Microsoft's website here.
Azure Backup provides scale and flexibility
If you haven't looked into cloud backup, Azure Backup provides scale and flexibility for your disaster recovery needs. Plus, Microsoft doesn't charge for inbound or outbound data transfer, or limit the amount of data that you can transfer. Data is secured in transit and at rest.
You can use Azure backup to provide app-consistent backups, where all the data necessary to restore an app to a working state is including in the backup set. If you need to backup on-premises Linux machines, take a look at using Azure Backup Server or Data Protection Manager.
Organizations can choose which data is backed up to the cloud and which must remain on-premises. Data in the cloud can be stored using locally redundant, geo-redundant, or zone-redundant storage. Geo-redundant storage (GRS) is the default and recommended storage option. It replicates data to a secondary region for better data durability, even in the case of a regional outage.