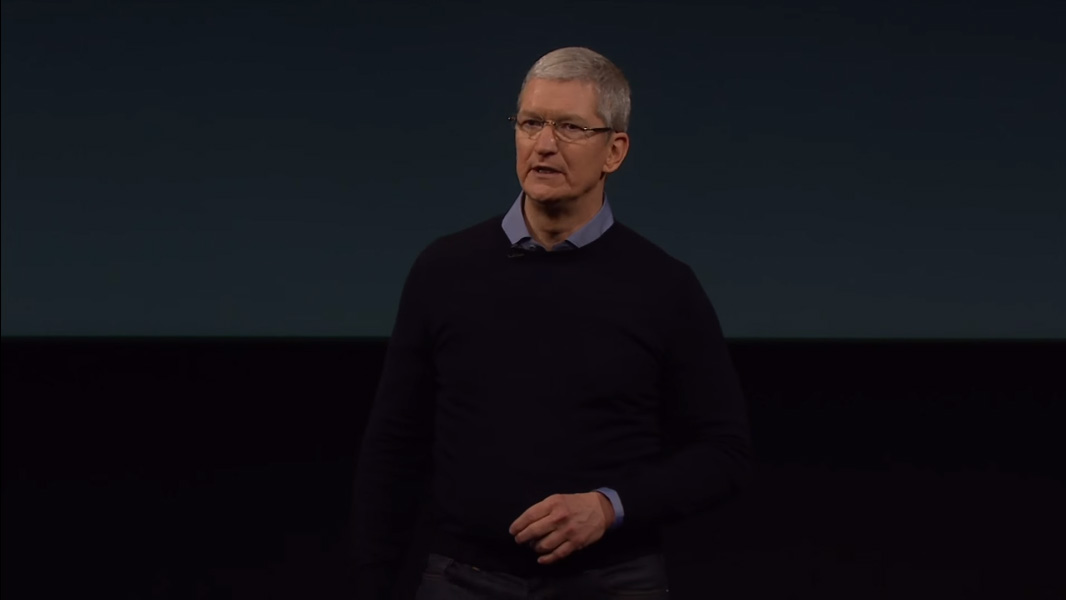 Apple recorded revenues of over $50 billion in the quarter ending March 31, but the firm sold fewer iPhones, iPads, and Macs than it did in the same period a year ago. It was the consumer electronic giant's first year-over-year revenue decline in 13 years.
"Our team executed extremely well in the face of strong macroeconomic headwinds," Apple CEO Tim Cook said in a prepared statement. "We are very happy with the continued strong growth in revenue from services, thanks to the incredible strength of the Apple ecosystem and our growing base of over one billion active devices."
What really hurt Apple, however, was its stunning success in the year ago quarter, when the firm posted record revenues for a non-holiday quarter thanks to its switch to the bigger iPhone 6 and 6 Plus handsets. That heady quarter is "a tough bar to hurdle," as Mr. Cook correctly asserted. But he feels that "the future is very bright."
He's certainly correct, but after over a decade of beating expectations and inventing markets, Apple has finally run into that wall so many were anticipating: It has grown so large that it simply can't continue at the pace it previously established as the norm.
Consider iPhone. Apple sold 51 million iPhones in the quarter, a 16 percent decline from the 61 million units it sold a year ago. But 51 million units is an astonishing figure given the market saturation and resulting slowdown in China, and the fact that its current devices—the iPhone 6S and 6S Plus—are minor improvements over the previous versions. If you ignore that one quarter a year ago, iPhone sales in this past quarter were in fact explosive. The firm makes 50 percent of all smart phones used in the United States.
But the iPhone is also Apple's Achilles Heel, as it still accounts for 65 percent of the firm's revenues. Subsequent products like the iPad and Apple Watch simply haven't generated the excitement—or the sales and, as important, repeat sales—that the iPhone enjoys.
The iPad has been a particular disaster, and has now experienced falling sales in 9 consecutive quarters, or for over two straight years. Apple sold just 10 million iPads in the quarter, down almost 20 percent from the 16 million it sold a year ago. Revenue from iPad likewise fell almost 20 percent.
Even the Mac stumbled this quarter, with Apple selling just 4 million units, down 12 percent from the 6.7 million it sold a year ago. Part of the issue there is that key Mac models—the Macbook Air and Pro, in particular—haven't received meaningful upgrades in years. And I suspect that the slow upgrade cycle can be tied in part to reliability issues with Intel's latest chipsets. Just ask Microsoft, which still faces issues in its Surface Book and Pro 4 devices.
Apple Watch is subsumed into the firm's "other products" business so Apple can hide how poorly its doing. But "the best-selling wearable" in the market probably accounted for about $2 billion in revenues, making it Apple's smallest major product. Even its services business—iTunes, the App Store, and so, with almost $6 billion in revenues—dwarfs Apple Watch. Heck, revenues from services now exceed those from iPad and Mac too, a first.
But even that $6 billion looks sickly when compared to iPhone's $50 billion in revenues. And that is the problem: Apple will likely never find a product that is as successful as its iPhone. And like Microsoft and Windows before it, Apple may simply need to become accustomed to market maintenance as it invests in new businesses. Given its financial strength—its market cap is still well north of $500 billion—Apple has plenty to time to figure out a new strategy.