Update: Friday, 9/13/13, 2:07pm MT – Updated to reflect Microsoft blocking access to the Windows Phone videos on YouTube mentioned in this post.
When it comes to smartphone platform options, it's becoming increasingly clear that the vast bulk of the market is being divvied up between devices powered by Google's Android and Apple's iOS, with a recent Gartner report putting those OSes at 79% and 14% market share, respectively, for a combined 93% market share based on worldwide smartphone sales to end users in Q2 2013. Microsoft, BlackBerry, Bada, and others are left to fight over the scraps.
Admittedly, Microsoft's Windows Phone platform has matured into a powerful, robust environment that can finally be considered at approximate technological parity with the best Android and Apple smartphones. It's a solid platform, and Apple and Android fans would be well advised to give  Microsoft's phone platform another look. Microsoft is gaining ground with Windows Phone, and recently it displaced BlackBerry in smartphone shipments as the number-three smartphone provider. Despite Microsoft's recent gains, some sizable obstacles to wider adoption remain, ranging from a still limited selection of native Windows phone apps, heavy reliance on a single hardware partner (Nokia, whose smartphone business is now owned by Microsoft), and lack of compelling "killer apps" to drive phone adoption.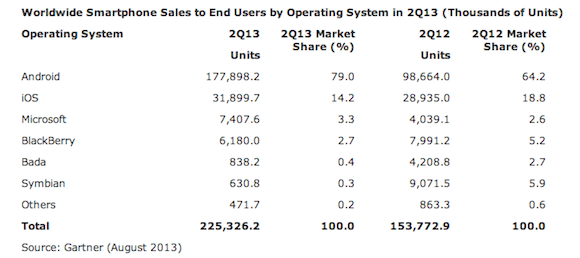 Smartphone market share based on unit sales in Q2 2013 (Source: Gartner)
Yet rather than focus their marketing efforts on unseating the struggling BlackBerry from the enterprise, or pointing out the fragmentation and security concerns around the proliferation of Android devices, Microsoft spent this week charging headlong into the press coverage freight train surrounding the new iPhone 5C, 5S, and iOS 7. It started with mocking tweets from the Nokia UK Twitter account, transitioned into more jabs about the megapixel disparity between the iPhone 5S and Nokia Lumia 1020 camera, and then followed with a fusillade of seven campy YouTube 'mockumentaries' that serve up a fly-on-the-wall view of Apple headquarters in Cupertino.
[Editor's Note: After this article was posted, Microsoft blocked access to the videos described here. We've replaced the video embed originally from the Windows Phone YouTube channel with another source for the video, which you can see below.]
They tease Apple about the plastic used to make the iPhone 5C. (Note to Microsoft: The iPhone 5C uses the same polycarbonate case that the Nokia Lumia 1020 has, so mocking a competitor for the same looks hypocritical at best, and disingenuous at worst.) Other news outlets have called the ads cringeworthy, but Microsoft has a history of advertising blunders:  Anyone remember such advertising gems as the Internet Explorer ad featuring a vomiting spouse who found her husband's porn collection?

The 'Fly on the wall in Cupertino' video, which Microsoft recently blocked access to on their YouTube channel.
Way back in 2008 I wrote about how I thought Microsoft wasn't being served well by their apparent fixation on Apple. I'd argue that Microsoft's decision to merge desktop PC and touch-based use cases into a single OS — Windows 8 — was driven by an overwhelming desire to one-up Apple, and now the company is retreating from what was obviously a bridge too far for corporate customers and end-users a like, based on lethargic Windows 8 adoption rates. Now I think Microsoft is still fixated on Apple to its own detriment, relentlessly pursuing a futile quest of attempted Apple one-upmanship while Google's Android gleefully gobbles up market share in enterprise boardrooms and consumer-heavy coffee shops alike.
Given Microsoft's distant third-place position in the smartphone market, all of this heckling and criticism comes off as empty challenges, much like a bush-league indoor football quarterback telling Tom Brady or Peyton Manning how much better he is than them. The trash talk comes off as weak and phony, and frankly it makes Microsoft look grasping, desperate, and hypocritical.
So my advice to Microsoft's Windows Phone marketing team? Windows Phone is off to a great start, and has a very bright future ahead of it. It's always better to focus on telling your own story and promoting the genuinely good things that Windows Phone has to offer. Actions always speak louder than words, and criticizing competitors for the same features you have is misguided at best, and makes informed consumers wonder why you're putting down your own product. They may just listen to you, skip that plastic iPhone 5C and Nokia 1020, and buy that shiny new aluminum-bodied HTC One Android phone instead.