Accelerate Your Data Protection Strategy at VeeamON 2021 and Support a Good Cause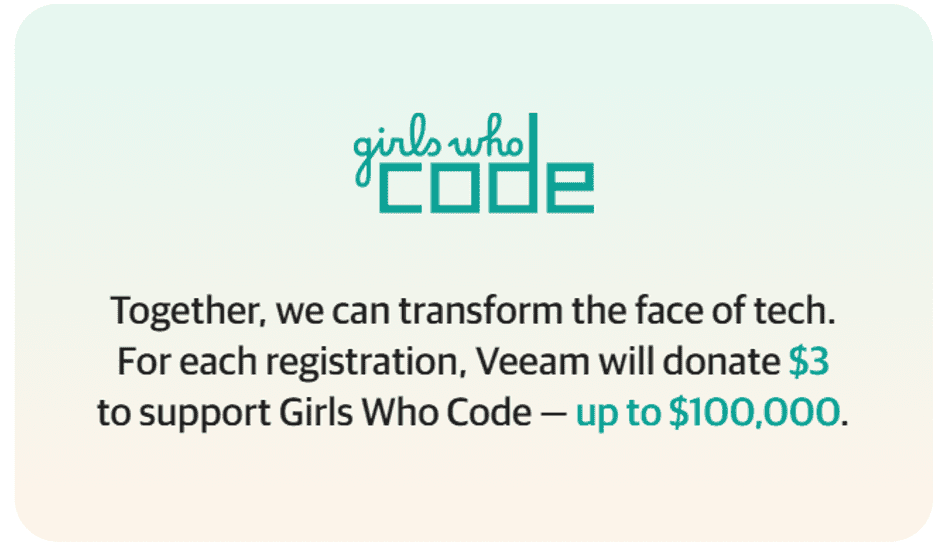 Data is essential to every business, it accelerates business operations, drives sales, and maintains business integrity. The importance of data is not new, and neither is the importance of making sure that data is protected. Modern data protection is critical to every business and needs to be simple, flexible, and reliable. VeeamON 2021, May 25-26 (Timed for Americas and Europe), and May 26-27 (Timed for the APJ region) will not only deliver tips and strategies to protect your data but also allow you to unleash the power of your data through informative content, visionary learning, and technical demonstrations.
Turning it up with Veeam Continuous Data Protection
There are many topics that will be covered during the event, but I want to take some time here to highlight some of my favorites. Veeam Backup & Replication brought many new enhancements with its latest release, but one of them sticks out to me more than the rest, Continuous Data Protection. Some workloads can't afford any type of data loss and need to be continuously protected. Veeam CDP achieves near-zero RPOs for Tier-1 workloads by leveraging VMware vSphere APIs for I/O (VAIO). By being able to set RPOs to seconds instead of minutes, you can easily achieve business continuity while meeting both internal and external SLAs, satisfying every IT leader's needs.
CDP doesn't stop there, and the feature is supported across three products, creating the ultimate DR trifecta. Veeam ONE, a tool that provides monitoring & analytics, not only for your data protection environment but also your virtual environment, provides insight into how the different CDP components are performing, alarms to ensure your meeting SLAs, and reports for easy documentation. Combined with Veeam Disaster Recovery Orchestrator, complement your CDP replicas with CDP replica orchestration plans, enhanced readiness check, and tracking with auditing.
VeeamON 2021 will dive deeper into how using these three products together will make you the ultimate DR hero, be sure to register for this session because it should be missed! If you are new to Veeam and to this feature, there will also be a CDP workshop available to help you get started.  If you haven't already be sure to check out the agenda and register for VeeamON 2021.
A Good Cause in Mind Also
I also want to draw your attention to an element of goodwill that is part of VeeamON. Veeam has committed to donating $3 for each registration to support Girls Who Code! This will be up to USD $100,000 which means we have hit our registration target. You can help others by attending VeeamON!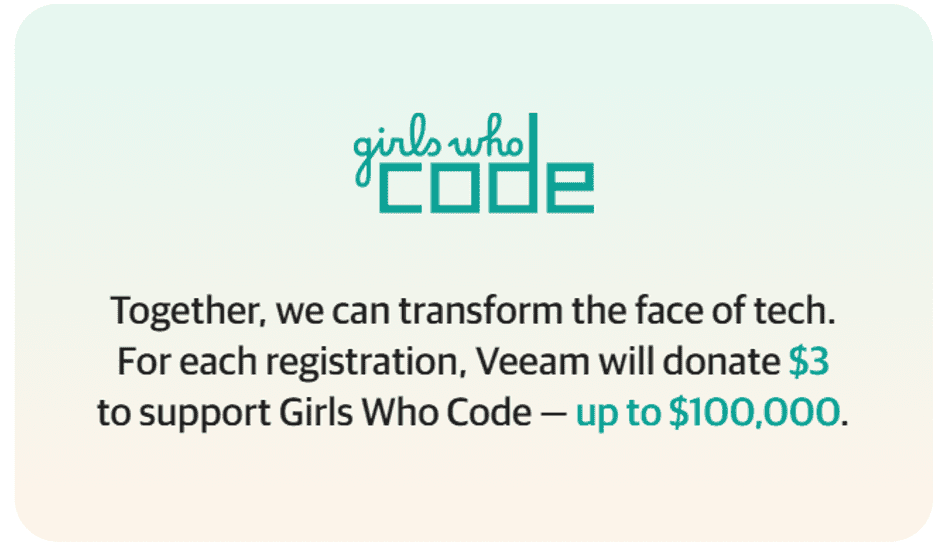 That's not all!
Veeam is continuously innovating to help keep your data safe and ransomware out. So it should be no surprise that there will be dedicated sessions in regards to security that include best practices and strategies every business should implement.
Microsoft Office 365 is a widely used SaaS application for many organizations. With this, Veeam Backup for Microsoft Office 365 is the tool to use to make sure that data is protected and most importantly available when needed. There is probably a lot you already know about Office 365, but there are some backup strategies you might not know, so be sure to check out the sessions to gain access to what is new with Veeam Backup for Microsoft Office 365 and also learn more about the ins and outs of protecting its data.
Lastly, we never want to forget about the cloud, and Veeam has solutions for those workloads as well. Whether you want to migrate to the cloud, store backup data in the cloud or protect workloads running in the cloud, Veeam has the tools to keep it simple, flexible and reliable for any scenario. With five cloud-centric solutions (Office 365, Azure-hosted, AWS-hosted, GCP hosted and Kubernetes) you don't want to miss out on learning the strategies and best practices to innovate your data protection policies.
You don't want to miss this!
As we continue through the age of digital transformation, technology and data have a transformative impact on how businesses and communities operate.  VeeamON brings together industry experts, customers and partners for informative content, visionary learning and technical demonstrations no one should be without. If you haven't registered yet, you don't want to miss out on the fun, and I hope that I will be talking to you there!