Windows Store (Modern UI) apps have improved in both quality and quantity since Windows 8 was launched in October 2012, even if there's still room for improvement. Here are some of my top app choices for Windows system administrators.
1. My Microsoft Azure Dashboard
Anyone who has used the Azure management portal to start or stop virtual machines will know how slow and painful an experience it can be. Although Microsoft is working on a new portal that's currently in preview, it doesn't yet support VM management.
My Azure Dashboard, a free app for Windows 8 and Windows Phone 8 from Infinite Square, provides a simple dashboard with tiles representing VMs. You can select a tile to start or stop VMs, and pin tiles to the Start screen for quick access.
The app does exactly what is says on the tin, nothing more, and although it's useful for simple start and stop operations and getting an overview, it would be nice to have the option to control multiple VMs simultaneously, and to disable the warning message that appears before each operation.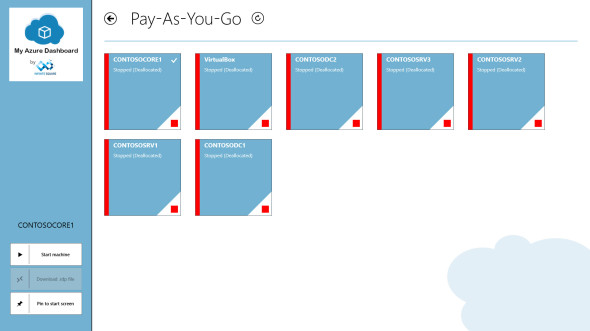 2. Remote Desktop App
It's probably no coincidence that most of the best apps for Windows 8 come from Microsoft, and Remote Desktop is no exception. Although there have been apps in the past for managing Remote Desktop connections, I've never found any of them indispensable.
Remote Desktop automatically remembers devices that you've recently connected to, and they're listed on the main screen as large tiles with previews. Just like the built-in desktop Remote Desktop Connection program, the app can remember passwords for convenience. As a neat and tidy way to manage all your regular Remote Desktops, this app ticks all the boxes.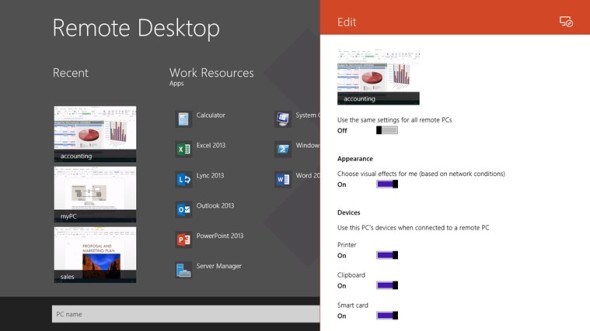 Remote Desktop app for Windows 8 (Image: apps.microsoft.com)
3. Reading List App
IT is a fast moving sphere and professionals need to stay on top of the latest news and developments. Although browser tab management has improved over the years, having 20 or more open tabs not only increases the likelihood of information being lost somewhere in the ether, but also affects memory usage and impacts battery life if you're using a portable device.
Microsoft's Reading List allows web pages to be bookmarked for later reference, alleviating the need to copy content to OneNote or keep tabs open in a browser. Sounds simple? It is, and it's very handy. You can create categories to organize bookmarks, and your reading list can be synchronized between devices, including Windows Phone 8. The only downside is that there's no offline reading mode, so you'll need an Internet connection to access the content.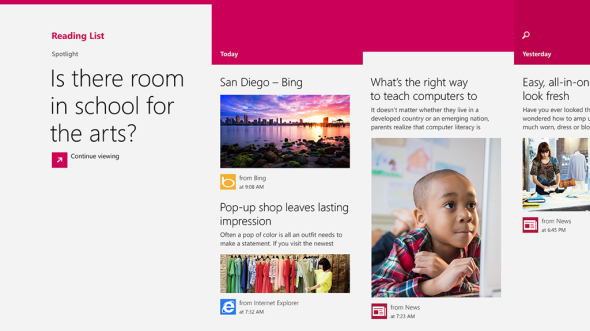 Reading List app for Windows 8 (Image: blogs.windows.com)
4. OneNote App
Although the Reading List app is useful, there comes a time when you need to create and annotate your own notes. OneNote is currently the only Microsoft Office suite program available for Windows Phone 8 and Windows 8's Modern UI.
OneNote doesn't contain all the bells and whistles of its desktop counterpart, but for most simple tasks it has everything that's necessary and a convenient interface. Additionally, the ability to transfer information to OneNote using the Share icon on the Charms bar works much better than the IE plug-in supplied with the desktop version.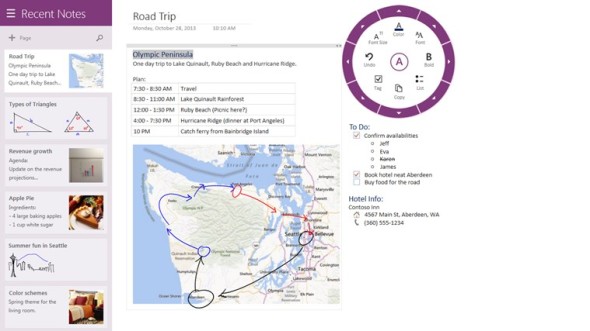 OneNote for Windows 8 (Image: apps.microsoft.com)
5. LastPass App
As a security-conscious IT professional, you have different passwords for each site that you access, right? So you need some way to manage and access passwords securely from all your devices. LastPass isn't the most beautiful or best thought out app, but with versions for both Windows 8 and Windows Phone, it provides a secure and convenient way to store and retrieve passwords.
KeePass served me well in the past, and although it's possible to synchronize passwords between devices using third-party extensions, LastPass provides a more elegant solution. Two-factor authentication can be enabled to provide strong protection for your password vault, and devices you use regularly can be set as trusted to avoid having to enter an authorization code along with your password each time you want to access your vault. LastPass for Windows Phone 8 isn't free, it requires a premium subscription, but I think it's well worth it.