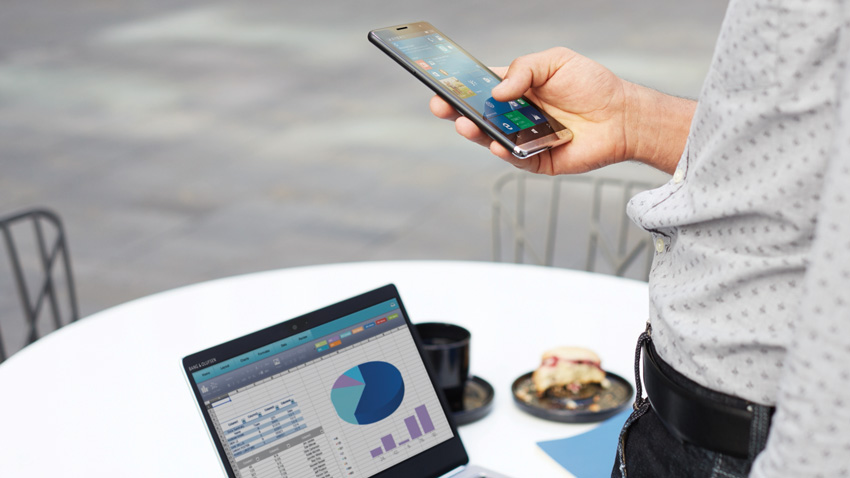 Microsoft announced a new smart phone, the Lumia 650, a week before Mobile World Congress, the annual mobile industry exhibition. Turns out that was a hint: The software giant has only a minimal presence at the show, and will not make any formal announcements. Instead, it will let its Windows device partners do the talking this year.
That's a big change for a company that announced its latest smart phone platform, originally called Windows Phone 7 Series, at Mobile World Congress (MWC) in 2010. In the years since, Microsoft—and its key hardware partner and eventual acquisition Nokia—have used MWC as the launching point for major new software and hardware releases each year.
But Windows phones have fallen on hard times, and now account for a minuscule 1.1 percent of all smart phones sold worldwide. So Microsoft is scaling back on its previous plans and has stuck a fork in its first-party hardware ambitions. And a key part of this new strategy is to grow its partner base and keep its direct phone losses to a minimum.
Two things are interesting about this shift.
First, Microsoft has rolled its phone software development into that of Windows 10, creating a single platform that can work across a multitude of device types. So not just PCs and tablets, and phones, but also the Xbox One video game console, embedded and connected Internet of Things (IoT) devices, the Surface Hub office collaboration solution, and the HoloLens augmented reality headset. In this way, phone no longer needs to stand on its own against the entrenched iPhone and Android competition. It is just part of the bigger Windows 10 story.
Second, the software giant can now bring new players into the phone world including, most notably, HP, which announced its first Windows 10 Mobile-based smart phone, the Elite x3, at MWC on Sunday. Because Windows 10 Mobile is basically just Windows 10, and because phones based on this system can be managed and secured consistently with PCs, this system makes sense to HP (and others), and to the IT staffs at its commercial customers.
And that's why HP and other companies can embrace a system that has just 1.1. percent of the market: They no longer see Windows phones as phones. Instead, these devices are simply highly portable and ever-connected mini-PCs that can connect to legacy back-end systems and be transformed into highly-managed PC-like devices when docked with a screen, keyboard and mouse. Oh, and they can be used like a phone when needed too.
Will this new strategy "save" Windows phone? Hardly. If anything, these new Windows 10 Mobile-based devices will represent a minority portion of the PC market, which is itself less than one-sixth the size of the smart phone market right now.
But moving Windows phones into the PC sphere comes with advantages. HP's devices will not be sold at retail or via wireless carriers, and will thus not compete head-to-head with iPhone and Android for the hearts and minds of consumers. But within the commercial PC space, the HP solution can perhaps find success within the relatively lower sales volume of this market. Especially since HP isn't selling a "phone" but rather a complete end-to-end solution that comes with a monthly or annual subscription cost to customers.
MWC just got underway, so it's not clear as of this writing whether other companies from the PC past—I'm looking at you, Dell—will introduce similar products. But Microsoft is also licensing Windows 10 Mobile to companies that will in fact still try to sell directly to consumers in certain markets. Alcatel, for example, will soon offer a Onetouch Fierce XL phone that will even be sold in the United States, via T-Mobile. And in markets where Windows phone market share actually stretches almost to the 10 percent market—parts of Europe, mostly—there will be even more options.
For Microsoft, which currently makes about 97 percent of all Windows phones in use, ceding this market to others makes plenty of sense. Today, Microsoft loses money on each handset it sells, but smaller partners with local manufacturing expertise can perhaps eke out profits in ways that are simply not possible for the software giant. A presumed and rumored "Surface phone" could move into the premium space, be priced accordingly, and be presented as an aspirational device, something to inspire both hardware makers and potential customers.
And it's not just phones, of course. Numerous partners have announced and will continue to announce new Windows 10-based mobile devices—like tablets, 2-in-1 PCs—at MWC this week as well. Not surprisingly, many of these devices are clearly inspired by Microsoft's Surface tablets. And that is exactly the future that Microsoft is plotting now for phone.