Windows Store for Business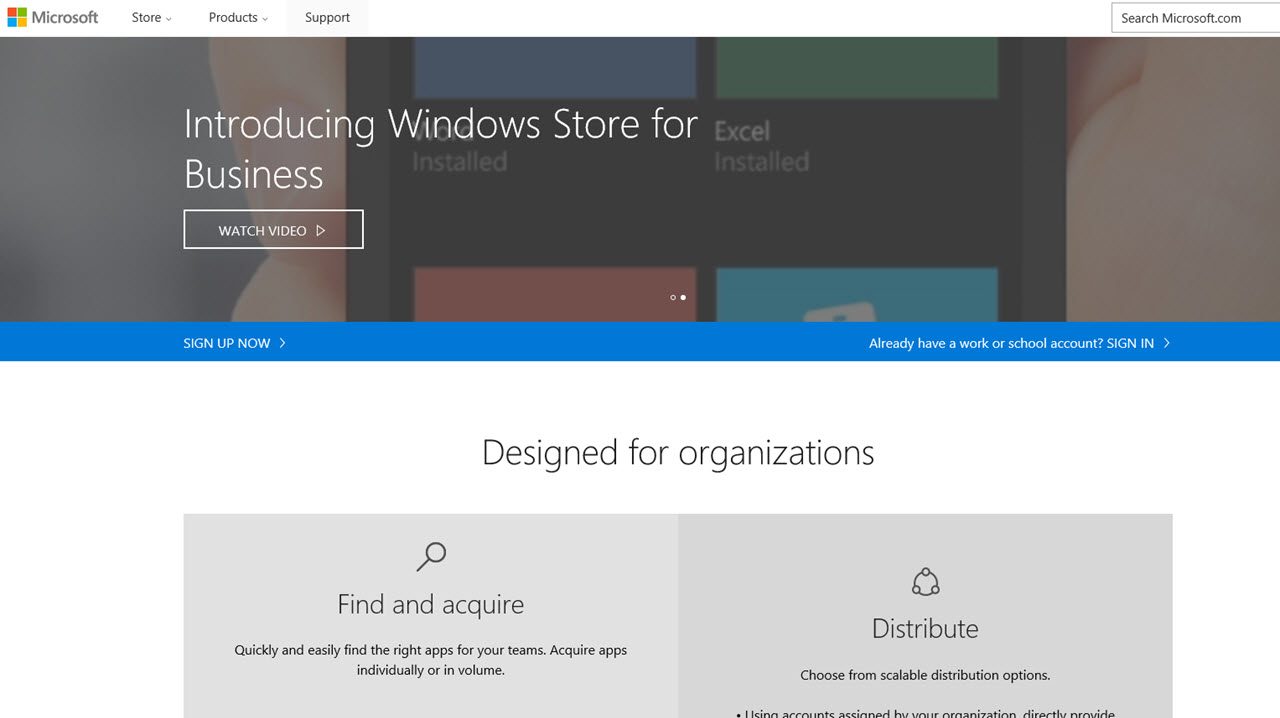 Ask the Admin
, I'll take a look at Microsoft's
Windows Store for Business
, which was launched at the end of 2015.
If you're familiar with the Windows Store, a curated app store for consumers that first appeared in Windows 8, then the Windows Store for Business extends that model for enterprises in the form of a web-based portal and is available in 21 markets. Windows Store for Business can be accessed by anyone who's signed up for the service, but businesses can also use it to create their own private portals for distributing purchased apps or apps developed in-house.
The Windows Store for Business makes managing volume licensing easier too, giving organizations control over purchasing administration and licensing through integration with Azure Active Directory (AAD). Instead of requiring a Microsoft ID, Windows Store for Business allows apps to be purchased under an organizational identity, and licenses can be revoked and reissued as required. For more information on AAD, see What is Azure Active Directory? on the Petri IT Knowledgebase.
Windows Store for Business basics
To get started with Windows Store for Business, you'll need an AAD account that has Global Administrator permissions for your tenant, and employees who need access to the store will also need AAD accounts if you don't have infrastructure in place to distribute offline apps, which requires Microsoft System Center Configuration Manager (SCCM), Intune, or other Mobile Device Management (MDM) compatible service.
Apps can be assigned to an organization's private store, from which users can download apps manually, or apps can be assigned directly to users or teams. Only AAD Global and Billing Administrators can purchase and distribute apps. It's worth noting that disconnected (offline) licensing, where apps can be distributed using SCCM or other solution, is only available for purchased apps if the developer has enabled Disconnected (offline) licensing.
Custom Line-of-Business apps
If you have custom line-of-business (LOB) apps to distribute, they can be added to your organization's private portal in Windows Store for Business using the Windows Dev Center, and then distributed using MDM, SCCM or Intune. To publish LOB apps, you'll need a developer account in the Windows Dev Center.

Although Windows Store for Business is only a version 1 product at this point, it's a welcome development for organizations wanting to purchase or distribute their own Universal Windows Platform (UWP) apps or purchase in volume from the store. With the ability to package Win32 desktop apps so that they can be distributed via Windows Store in a UWP wrapper in the Anniversary Update for Windows 10, the Windows Store for Business will become even more useful for enterprises that want to manage app distribution.

In today's