Overview
Windows Server Backup is the built-in tool in Windows Server 2008/R2 that allows you to backup and restore files, folders, and critical system data such as the System State, entire volumes and even the full server itself.
Installing Windows Server Backup on Windows Server 2008 R2


After using it, Windows Server Backup will begin to display a log of recent backup and restore operations. This log allows the administrator to keep track of what backup and restore operations were taken on that server, and may be quite useful especially when having many people dealing with your servers.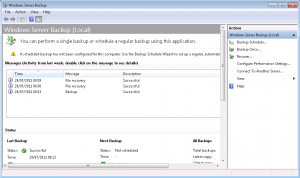 While useful, sometimes one might want to delete or clear that list of log entries. Strangely, there's no obvious place, button, command or checkbox you can use to clear that log.
After some digging, we found a workaround.

Clearing Windows Server Event Log
To clear the event log:
1. Open Event Viewer from the Administrative Tools folder.
2. Go to Applications and Services Logs.
3. Expand Microsoft > Windows > Backup.
4. Right click on the Operational Channel log and choose Save and Clear or just Clear in case you don't want to save the existing log (we suggest you save the logs before clearing for any future reference).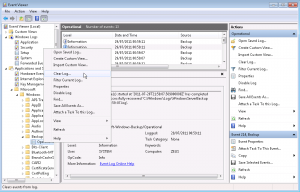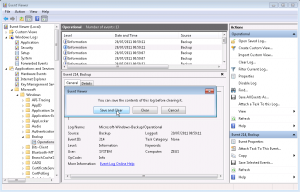 5. Now, if you open Windows Server Backup, you'll see that the log is empty.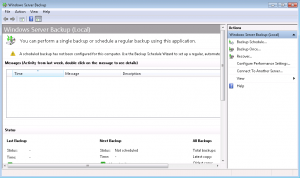 Summary
And that's it! Windows Server Backup is a very useful tool and the fact that it keeps a log of all its activity is an obvious addition to the software. Oddly, there is no obvious way to clear this log if one wanted to. Although it's not obvious, there is a workaround that hopefully you'll find it useful at some point.