At the Build Conference 2014 in San Francisco this week Microsoft formally announced Windows Phone 8.1 and Windows 8.1 Update. We'll have a separate post up soon discussing the new IT-friendly features that Windows Phone 8.1 brings to the table for system administrators, but in this article I'll focus on what Microsoft calls the Windows 8.1 Update, which has been informally referred to as either "Windows 8.1 Update 1" or the "Windows 8.1 Spring Update" in the weeks leading up to the Build developer conference.
From Windows 8 to Windows 8.1 Update
I've written a separate article that dives a bit deeper into the new features in Windows 8.1 Update, but I'll touch on the highlights here. Let's begin with a bit of history: As Petri IT Knowledgebase readers know, Microsoft has struggled to boost Windows 8 adoption number to Windows 7 levels, with a significant chunk of the blame being laid at the feet of the controversial Windows 8 'Metro' touch-based interface. Rather than make one Windows OS optimized for mouse and keyboard users and another Windows OS designed for smartphones and tablets — like Apple has successfully done with OS X and iOS — Microsoft, under the direction of former Windows chief Steven Sinofsky, radically revamped the Windows UI and wholly embraced touch-enabled computing.
That approach resulted in the first release of Windows 8, which worked great on touch-enabled tablets, but left many traditional Windows mouse-and-desktop users frustrated by the Dr. Jekyll and Mr. Hyde experience of switching between the desktop and Metro sides of Windows 8. Sluggish Windows 8 adoption among consumers and enterprises alike has caused Microsoft to backtrack from many of the more controversial design decisions in Windows 8, with the Windows 8.1 upgrade introducing a number of new features to mollify desktop users. Now the newly-announced Windows 8.1 Update – available now on MSDN, and slated for release to the public on April 8 – serves as yet another step back from the radical UI design introduced in Windows 8.
New Features in Windows 8.1 Update
This update focuses heavily on improving the Windows 8.1 user experience for mouse and keyboard users, so there's a host of tweaks and improvements in this area. The desktop task bar now remains visible on both the desktop and Metro sides of the OS, and you can pin modern apps to the task bar. Microsoft has also added close and minimize buttons to the upper right corner of modern apps which only appear when a user mouses over that region of the screen, which should remove some of the confusion around closing modern apps on non-touch hardware.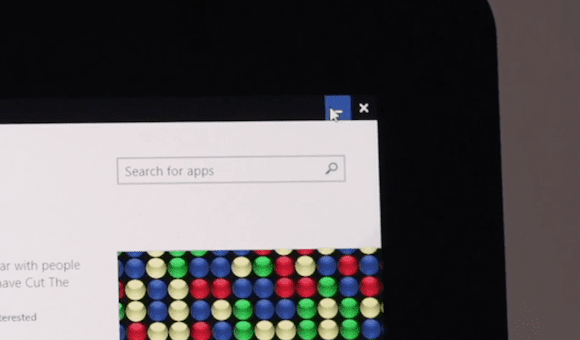 Windows 8.1 Update adds close and minimize buttons to modern apps. (Source: Microsoft)
Some other new features are specifically aimed at IT professionals, including enhanced mobile device management (MDM) support that allows businesses to prohibit the use of certain apps — like games found in the Windows Store, for example — or to blacklist non-approved websites. Windows 8.1 Update also includes an Enterprise Mode for Internet Explorer (EMIE) that provides a IE8 compatibility mode that can improve compatibility with legacy web apps. Microsoft has also made improvements to the footprint and memory usage of Windows 8.1 low-end devices, so the OS can now be installed on (and run properly) with just 16GB of hard drive space and 1GB of RAM. According to a Microsoft statement released on the first day of the Build conference, Microsoft will also remove the hardware OEM licensing fee for Windows OSes running on devices with screens 9 inches or smaller.
I've embedded a Microsoft video that highlights some of the new features of Windows 8.1 Update below, and I'd encourage you to also check out our article on the New Features in Windows 8.1 Update for a deeper dive on the new features. Petri IT Knowledgebase Contributing Editor Aidan Finn has also posted on his personal blog about changes to licensing for enterprise app side loading in Windows 8.1 and new features in the companion Windows Server 2012 R2 Update.
So are the new features in Windows 8.1 Update enough to get you to upgrade to Windows 8? If so, I'd love to hear from you. Drop me an email or touch base with me on Twitter, Google+, or Facebook (see below).