Microsoft's Windows Insider Program Adds New Canary Channel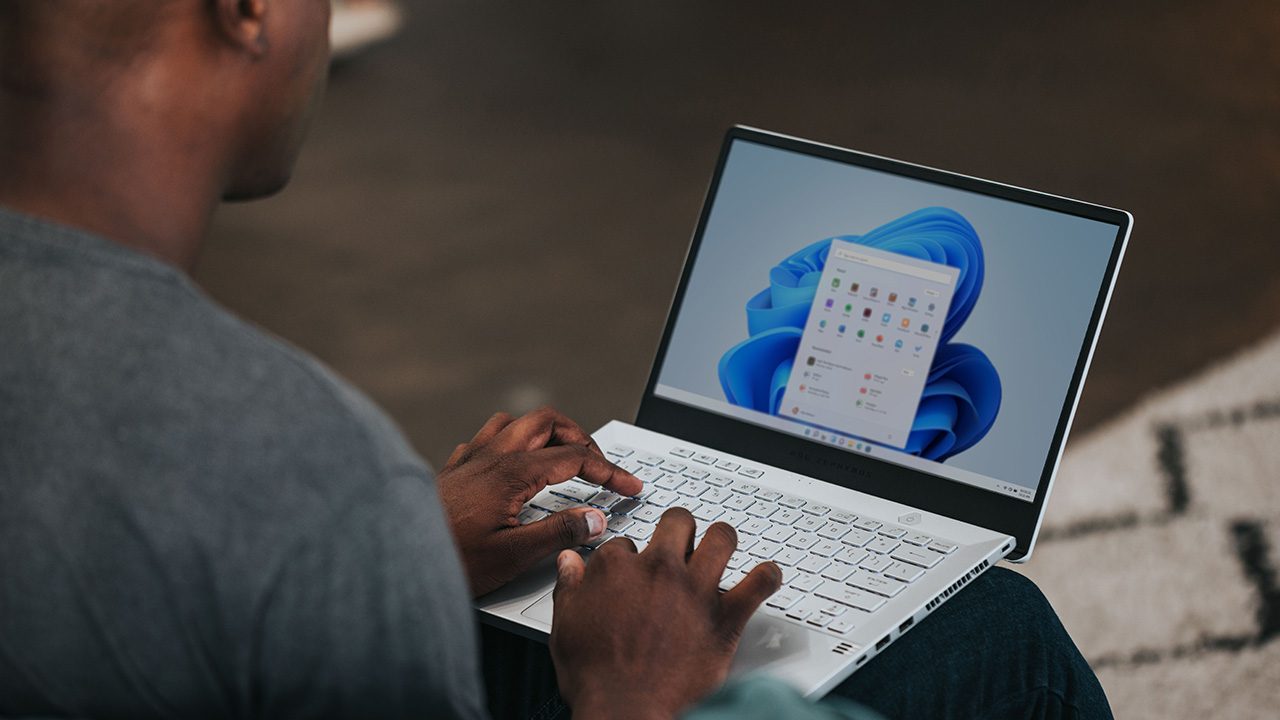 Microsoft's Windows Insider Program, which lets consumers and business users test new Windows 11 features ahead of their public release is getting an overhaul. Microsoft is launching a new Canary channel today while the existing Dev channel is getting a "reboot."
Microsoft originally launched its Windows Insider Program back in the fall of 2014, almost a year before the release of Windows 10. The program has evolved quite a lot over the years, and Microsoft is probably aware that keeping up with Windows Insider updates isn't exactly easy even for Windows enthusiasts.
Back in 2020, the company replaced the existing "rings" systems with "channels": The Fast & Skip Ahead rings became the Dev channel, while the Slow ring became the Beta channel. Starting today, Microsoft is adding a new Canary channel to the mix.
What is the new Windows Insider Canary channel?
According to Microsoft, the new Canary channel will be used to preview "platform changes" that require significant testing, including major changes to the Windows kernel, new APIs, and more. The company will use this Canary channel to test new features and improvements that may never ship. In practice, Microsoft says that "this is very similar to what we've been flighting to the Dev Channel in the past."
Starting today, all devices that are currently receiving Dev channel builds will be moved to the new Canary channel, and they'll continue to receive Windows 11 builds from the 25000 series. All Dev channel Insiders will be notified about this change via pop-up notifications and emails.
Microsoft also expects to release new Windows 11 builds for the Canary build more frequently, but not all of them will come with release notes. "We will not publish a blog post for every flight – only when new features are available in a build," Microsoft said today.
Overall, the Canary channel will receive less stable builds and if that's not for you, you'll need to perform a clean install to get out of this channel. Going forward, the revamped Dev channel will be Microsoft's recommended channel for most Insiders.
What happens with the "rebooted" Dev Channel?
Microsoft says that the rebooted Dev channel will continue to provide early access to new Windows 11 features (including some that may never ship), but with better platform stability compared to the Canary channel. "This will be the place where we incubate new ideas and preview new features and experiences, not tied to a specific Windows release," Microsoft explained today.
Insiders on the Dev channel will receive Windows 11 builds from the 23000 series, and all of them will come with detailed release notes. In some cases, some new Windows 11 features may come first to the Dev channel before they land in the Canary channel. That's because Microsoft can now enable new features with Controlled Feature Rollout (CFR) technology.
This is often perceived as the most confusing aspect of the Windows Insider program, but Microsoft is testing new features with different Insider groups on purpose. "We will only communicate about features that we are purposefully enabling for Insiders to try out and give feedback on," the company said.
Since nothing is changing for the Beta and Release Preview channels, Microsoft recommends Insiders on those rings who want to get early access to new features switch to the Dev channel. However, going back to the Beta and Release Preview channels will require a clean install since these two rings receive builds with lower build numbers.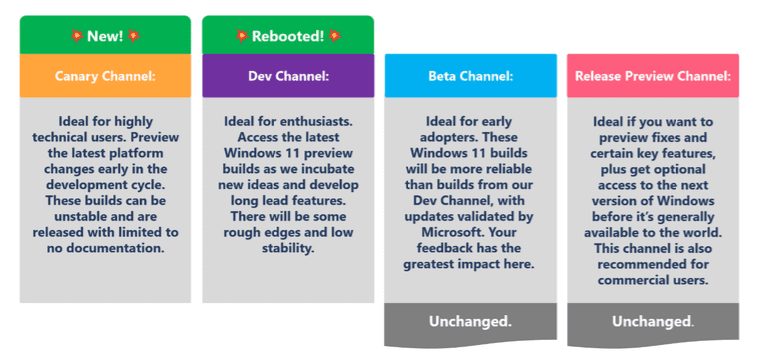 What does this mean for the Windows Insider Program for Business?
The Windows Insider Program for Business uses the same channels as the regular Windows Insider Program, but it comes with extra features to help organizations participating in the program. IT admins with an Azure Active Directory domain can install and manage Insider builds across multiple devices using Group Policy, MDM solutions such as Intune, Configuration Manager, or Windows Server Update Services.
For all managed devices receiving Dev channel via Windows Update for Business policy, Microsoft Intune, or through Group Policy, Microsoft said today that "the changes to the policy to enable customers to opt-into the new Canary Channel via policy will be coming soon." You can learn more about how to manage Windows 11 Insider builds across your organization on this page.