What's New in Windows Server 2012 R2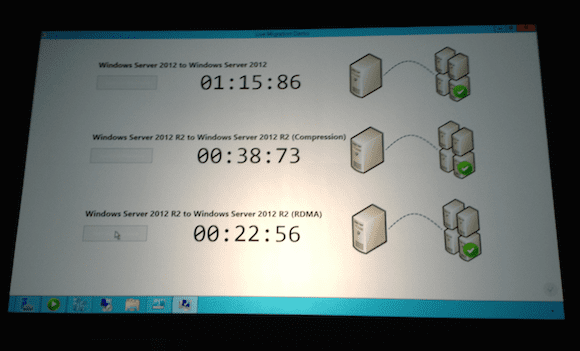 Microsoft took the wraps off the Windows Server 2012 R2 update this week at TechEd 2013, and the upgrade brings an impressive number of new features as well as improvements to existing capabilities in Windows Server 2012. According to Microsoft Corporate Vice President Brad Anderson, "Windows Server 2012 R2 will be available for preview in June and will be officially released before the end of the year [2013]."
The overriding theme of the upgrade is one of making it easier for IT administrators and cloud service providers to use Windows Server 2012 (along with System Center 2012 and Windows Azure) as a vital part of Microsoft's Cloud OS strategy.
This article will focus on providing a top-level overview of what you can expect to see in Windows Server 2012 R2. Where appropriate, we'll be adding links to more technical deep dives into each of the feature listed here. Please note: This is also only a partial list of the new features being announced in the R2 release; we'll be updating this article with more features over time, so be sure to bookmark this page and check back often for updates.
Windows Server 2012 R2: Storage Improvements
The sheer number of new features being introduced that focus on storage improvements in Windows Server 2012 R2 is impressive, with enhancements in just about every area in the Windows Server storage subsystem. Here are a few highlights:
Automated storage tiering: Storage in Windows Server 2012 can be configured to allocate workloads to the most appropriate storage types. For example, you can configure SSD drives to be prioritized for applications and workloads were speed and latency are vitally important, and to rely on slower types of storage for less important workloads.
Live migration with compression: Virtual machines can be migrated with Live Migration in Windows Server 2012, but Windows Server 2012 R2 brings vast speed improvements in this area, thanks to the liberal and intelligent application of compression technology. Microsoft's Jeff Woolsey demonstrated Live Migration between Windows Server to Windows Server 2012, Windows Server 2012 R2 to Windows Server 2012 R2, and then with RDMA enabled (see image below). Storage in Windows Server 2012 R2 is getting lots of attention, so we'll have much more to add on this topic in the near future.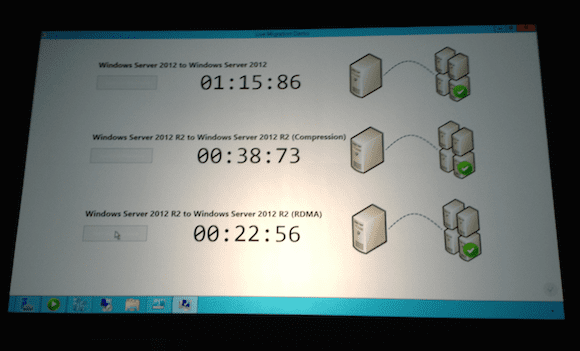 From the Teched 2013 keynote: Windows Server 2012/R2 Live Migration file compression demo. Note the time to completion using RDMA at the bottom.
Windows Server 2012 R2: Virtualization Improvements
"Generation 2" virtual machines: Windows Server 2012 R2 Hyper-V introduces what Microsoft is calling "Generation 2" virtual machines. Gen 2 VMs only support the 64-bit versions of Windows 8 and Windows Server 2012 R2 as guest OSes. Gen 2 VMs remove all of the legacy, BIOS-based functionality of traditional VMs. These VMs are UEFI-based, have no emulated devices, can boot off virtual iSCSI and network adapters, and support secure boot. The benefits to using Gen 2 VMs could be numerous, including the potential of vastly reduced VM sizes by eliminating support for legacy, BIOS-based overhead. Traditional "generation 1" virtual machines will still be enabled by default.
Microsoft's Jeff Woolsey said at a Microsoft event in May 2013 that the company is trying to advance the state of the art when it comes to virtualization technology. He also stressed that Gen 2 VMs — at this point — aren't about performance enhancements. "Gen 2 VMs aren't about performance," Woolsey said. "They're about flexibility now… not so much performance, although gen 2 VMs do boot a little faster."
Hyper-V Recovery Manager: According to Woolsey, Hyper-V Replica has proven to be one of the most popular features of Windows Server 2012, so Windows Server 2012 R2 introduces the Hyper-V Recovery Manager, a new centralized management console that allows you to manage site replication.