VMware Horizon Suite Licensing Explained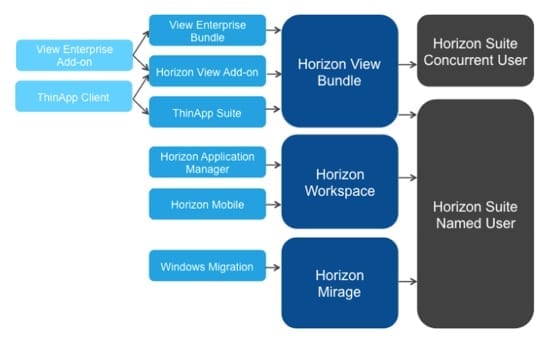 Earlier this year VMware formally announced the release of the VMware Horizon Suite as its End User Computing (EUC) offering. Horizon is a mix of new and existing products, along with some licensing changes that impact how some of the products can be used and licensed. I'll break down the options for licensing Horizon Suite and cover the recent changes.
VMware Horizon Suite Licensing: What's Involved
Horizon Suite is made up of the following products: Horizon View for virtual desktops, Horizon Mirage for physical desktop management, and Horizon Workspace that now includes application management and a data service similar to Dropbox. In the near future Horizon Workspace will be expanded with the release of Horizon Mobile that will bring mobile device management to the suite.
Currently there are two licensing options for Horizon Suite: Named user licensing and concurrent user licensing. The individual products have various methods of licensing, so I'll break down the options for the suite first then the individual products.
Named User Licensing
The named user license was the only available option for purchasing Horizon Suite at the launch. This meant that a license for anyone accessing the solution would need to be purchased. This was not an issue for all customers but for ones that run shifts of people (such as hospitals or call centers) were not excited about the limited licensing options. The named user license had a retail cost of $300 per user and would result in additional expense to designs that did not mesh with this method.
Concurrent User Licensing
The concurrent user license model was just added as an option for Horizon Suite. It was not immediately available when the suite was released, there was some grumbling by customers that caused VMware to update its offering. In the past customers where used to consuming VMware View on a concurrent user model. In VMware licensing terms a concurrent user count is considered to be the maximum number of active connections to the solution at any given point. This change offers greater flexibility to customers that have workers that run in shifts that might use the same endpoints but their usage is spread over multiple shifts during a day. So while the maximum number might be the same it results in a lower amount of licenses required. The retail published pricing for Horizon Suite concurrent licenses is $500 per concurrent connection.
Individual Product Licensing
If you purchase any of the three products (View, Mirage or Workspace) separately the licensing options are listed below.
Horizon View – Only one version is now available and it runs $250 per concurrent user
Horizon Mirage – $150 per named user
Horizon Workspace – $150 per named user