How to Use Cortana in Windows 10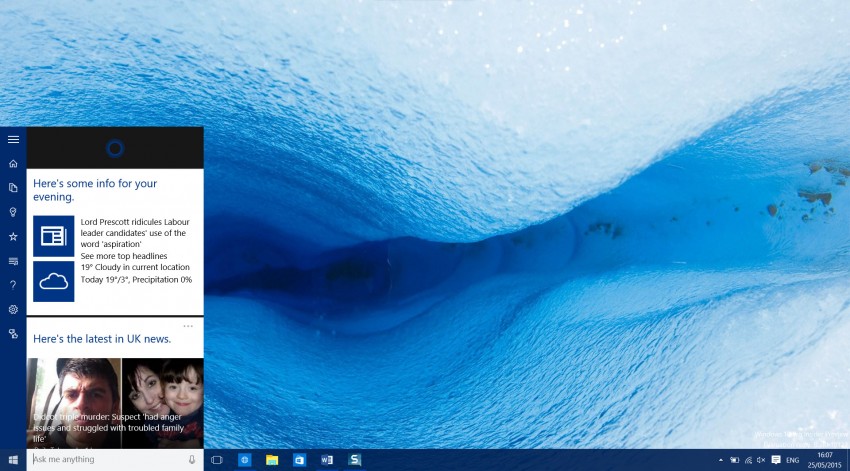 With Windows 10, Microsoft introduced Cortana as its answer to Apple's Siri voice recognition software. The new technology breathed new life into Windows Phone and has been part of Windows Phone 8.1 in beta form since spring 2014. In this article, I'll walk you through Cortana's features in the Windows 10 Technical Preview, which can be downloaded as part of the Windows Insiders program.
Hey Cortana
Cortana replaces the Search box that Windows 7 users see at the bottom of the Start menu. Not only that, but Cortana also sits to the right of the Windows button on the taskbar. Cortana functions much like search in Windows 7, where you can start applications or search for documents. One immediate difference is the presence of a microphone icon that activates voice recognition, which lets you ask Cortana questions or instruct her to perform actions, such as to open Microsoft Word.
Voice recognition can be activated by saying Hey Cortana, but you'll need to explicitly enable this feature in settings. In the current build, I found that Hey Cortana stops responding after some time. In addition, Cortana has several irritating and unnecessary announcements, such as "Word is now opening." A simple visual indicator that Cortana received and is carrying out the instruction would suffice.
Settings
To enable Hey Cortana, click the Cortana icon on the taskbar, then the Settings icon on the left, and set Let Cortana respond when you say "Hey Cortana" to On. Now when you say Hey Cortana, a mini-version of the digital assistant appears ready to take your commands. Several different options can be toggled on and off from the Settings screen, such as your name and whether Cortana can search emails for flight and package tracking details.
I'm not entirely convinced that voice recognition is going to see a big uptake because the environments in which it can be used are quite limited. With that said, it's certainly a worthwhile addition.
Beyond the Basics
Past typing in commands or search queries into the Ask me anything box, Cortana offers up news and items of interest on the home screen, and can connect to Facebook to learn about your likes to provide more relevant information. And just like in Windows Phone, you also get a handy weather report.
The following features are accessed by clicking the Cortana icon in the desktop taskbar. The following options are represented by icons in the left-hand menu bar:
1. Notebook
The notebook, which isn't a notebook at all, is where you tell Cortana your interests, so she can provide useful information. Windows Phone more sensibly calls this Interests, and hopefully this will be changed before RTM. There are some interests already set, but you can modify the defaults and add your own categories.
2. Reminders
One of the most useful aspects of Cortana on Windows Phone is reminders. Similar to Outlook reminders, the concept gets extended in Cortana to include the ability to use geo-fencing to remind you about something when you arrive to a particular place or when someone calls. On larger devices, such as notebooks, I don't think Cortana's reminders are nearly as useful, but assuming that by RTM reminders will be synced between devices, it's important that I can access my reminders from any device.
3. Places
Geo-fencing relies on you defining favorite places using Maps, and Places is the interface that allows you to do that. Interestingly, my favorite places synced across from Windows Phone 8.1, but reminders and interests haven't. For more information on working with location-based reminders, see How to Set Location-Based Reminders in Windows Phone 8.1 on the Petri IT Knowledgebase.
4. Music
If you're familiar with Shazam, the service that identifies music playing around you, then what you get with Cortana music searches is a cut-down version of that service. Again, this is more about adding feature parity with Windows Phone because the microphone in my notebook wasn't sensitive enough to detect the music playing in the background.
The Lumia 640 was able to detect quiet background music in a café and distinguish it from the hubbub of a shopping mall to identify the Red Hot Chilli Peppers She's Only 18. Clicking on the results takes you to the Music app, assumedly because Microsoft hopes you're going to purchase the track; I'd have preferred to be taken to a Bing search. Nevertheless, while this isn't going to replace Shazam for serious music aficionados, it's handy to have.
Microsoft Edge
At the time of writing, full integration with Edge, Microsoft's replacement for Internet Explorer and default browser in Windows 10, is limited to users in the US. However, there are some signs of Cortana integration for the rest of us, such as the ability to select text, right click and have Cortana offer information about a word or a dictionary definition. In the US, Cortana is integrated right into the address bar and extra information about words or websites you type is offered, such as directions to a local business etc.
Integration with Third-Party Apps
Microsoft is betting on Cortana to help set Windows 10 apart from Apple iOS and Android. In Windows 10 Technical Preview build 10122, Cortana has some bugs that need to be worked out. But with just two months to go until the rumored RTM date, what we see now is likely to more or less resemble the final release.
The Windows 10 Technical Preview for desktop PCs and mobile devices is just the beginning for Microsoft's personal assistant technology. Integration with other apps through APIs is already a feature well liked in Windows Phone 8.1, and with other capabilities, such as partnering with Uber to offer taxi tides, and transit information to help get users from A to B, Cortana and its ability to integrate with third-party apps and services, puts it ahead of the competition.