Top 5 Free Tools for Hyper-V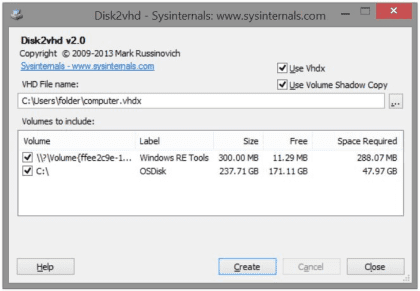 Everyone loves a free lunch, so I thought I'd write a post to let you know about some free tools and add-ons for Hyper-V that you can download and use right now. And the best part about all of these utilities? Like I said, they're all free, so you can download and install without getting the accounting department involved.

1. Hyper-V Backup
I have two options in this space for you. Altaro is a small European company that has been making friends in the Hyper-V community. I've been dealing with them for several years, and some of my customers have bought their commercial product. Quite honestly, I and others have found them to be a great bunch of people to work with. Altaro has a free version of their Hyper-V Backup tool. This tool will provide backup to disk for small businesses or limited labs, supporting up to two virtual machines.
If you've worked in virtualization and still have never heard of Veeam, then you must have hidden under a rock. Their backup and replication products are widely liked in the VMware and Hyper-V worlds alike. Veeam also has a free Hyper-V backup solution that you can download and use. Veeam Backup Free has a subset of features of the paid-for Enterprise Plus version, but it will protect an unlimited number of virtual machines and will give you a chance to test out what this product can do before paying for it.
I have a great deal of respect for both Altaro and Veeam. They are quick to support new versions of Hyper-V and they love adding new functionality. I think they get virtualization backup better than anyone, and they are great contributors to the community.
2. Physical to Virtual (P2V) Tools
Many of us agree that Microsoft screwed up by dropping physical-to-virtual computer conversion functionality when they released System Center 2012 R2 Virtual Machine Manager (SCVMM). We know we will get an officially supported P2V tool from Microsoft in the fall of 2014, but that's quite a long wait if you have physical machines to decommission now.
There is a solution, albeit unsupported. Disk2VHD is a free SysInternals that will allow you to run a P2V conversion of machines, creating virtual hard disks from physical volumes. Even when we had SCVMM, many of us used Disk2VHD either because SCVMM was too cumbersome for one-off conversions or because the SCVMM conversion job was failing and too difficult to troubleshoot. Disk2VHD, well… it just works.

Select physical volumes to convert in Disk2VHD [Source: Microsoft]
Note that Disk2VHD added support for VHDX in version 2.0.

3. Virtual to Virtual (V2V) Tools
Now that you have five reasons to choose Microsoft over VMware, it's time to start migrating your virtual machines from VMware vSphere to Hyper-V. You'll need a virtual-to-virtual conversion tool. The best solution for that is the Microsoft Virtual Machine Converter (MVMC). Version 2.0 of this utility was recently released, adding support for Windows Server 2012 R2, Hyper-V Server 2012 R2, System Center 2012 R2, vSphere 5.5, and Microsoft Azure. Now you can convert vSphere virtual machines into Hyper-V virtual machines, or even upload them into Azure!
A Migration Automation Toolkit (MAT4MVMC 2.0) was also released to help with very large conversion jobs.
Note that Microsoft will add P2V functionality to MVMC 3.0 in the fall of 2014.
4. Hyper-V Management Tools
Those who are unfamiliar with the Microsoft "cloud OS" will assume that SCVMM is Microsoft's answer to vCenter. Honestly, vCenter has just a subset of the functionality that you'll find in SCVMM 2012 R2; SCVMM is more than just a "virtual machine" manager – it's a cloud fabric or data center manager. With SCVMM 2012 R2 you can configure top-of-rack switches, deploy Scale-Out File Servers and Hyper-V hosts to bare metal servers and JBODs (just a bunch of disk trays), and orchestrate Microsoft's software-defined networking (Hyper-V Network Virtualization). You can pool hosts into clouds, manage/provision block storage, patch the servers, design/deploy multi-tier services, and more. You can even deploy virtual machines using SCVMM!
Unfortunately, the per-host Server Management License required for System Center is too expensive for small businesses and many mid-size businesses. Those organizations don't build clouds but they do want a centralized console for doing some of the clever things that SCVMM did pre-2012.
5nine Manager is available as a free edition. Using this tool you can centrally manage Windows Server Hyper-V (with or without GUI) and Hyper-V Server, from 2008 R2 up to 2012 R2. The free edition will prove useful for smaller businesses, but it is really a taster for the fully featured paid-for product versions, one of which also includes host-based anti-virus.

5. Hyper-V Virtual Switch Management
One of the strategic features of Windows Server 2012 Hyper-V was the addition of the extensible virtual switch. This extensibility allows third-party software vendors to add their expertise into the heart of Microsoft's virtual networking. Note that Windows Server 2012 R2 Hyper-V supports software-defined networking with third-party extensions.
The biggest name in network added their support to Hyper-V. Cisco has made the Nexus 1000V available to download (it requires that you register for a Cisco ID) and use with your Hyper-V hosts and SCVMM. The extension that is inserted into the Hyper-V virtual switch is referred to as a Virtual Ethernet Module (VEM) – consider it to be like a blade in a Nexus switch. A Virtual Supervisor Module (VSM) is either a virtual or physical appliance that manages the VEMs. With the Nexus 1000V solution you can inject Cisco management into Hyper-V, thus preserving your investment in skills and utilities in Cisco networking.

NEC also has an extension based on OpenFlow software-defined networking called
ProgrammableFlow 1000
(
PF1000
). This extension adds centralized management to the virtual switch, just as the Cisco Nexus 1000V does. You can
register
for this free download, but it will require a ProgrammableFlow Controller, the PF6800, Version 4.0 or later for full functionality and technical support.
Note that you cannot use both the NEC and Cisco products in the same hosts because the virtual switch only supports a single extension in the Forwarding layer.
Honorable Mentions
Veeam One is a monitoring, reporting, and capacity planning solution. Veeam One Free Edition product supports both Hyper-V and VMware, and once again, it is a teaser for a paid for version. I have not used this tool, but judging by the screenshots on the site it appears to be biased towards VMware's virtualization.
5nine has a number of free products for you to investigate. Cloud Security provides agentless antivirus and a virtual firewall (operating as a virtual switch extension). A free version is available, giving you the chance to try out this solution without making an investment.
If MVMC is not working for you, then try out the free edition of V2V Easy Converter from 5nine. It never hurts to have alternatives, and conversions are far from a simple operation.
You cannot work with more than just a few servers without feeling the need for SysInternals BgInfo. This tool will superimpose a configurable set of text on your wallpaper. With BgInfo added to your virtual machine templates, you can have VM sprawl but you'll always know what you're working on when you remote into a Windows virtual machine.
The Microsoft Assessment and Planning (MAP) toolkit should be the first thing you run when you start any kind of Microsoft virtualization or cloud project. In fact, MAP gives you planning and sizing intelligence for many kinds of Microsoft deployment projects. This utility is an incredibly valuable resource. Many times I've been asked to help out with projects, and I've found that they got off to a bad start because the engineers guessed and assumed. MAP removes the guesswork. Consultants should have a virtual machine template with MAP ready and powered up on their laptop or a customer's server when they start an engagement. MAP is constantly being updated to support new versions of products that you will deploy, and new business scenarios (such as migration to Microsoft Azure).