PowerShell Summit North America 2015 Is Under Way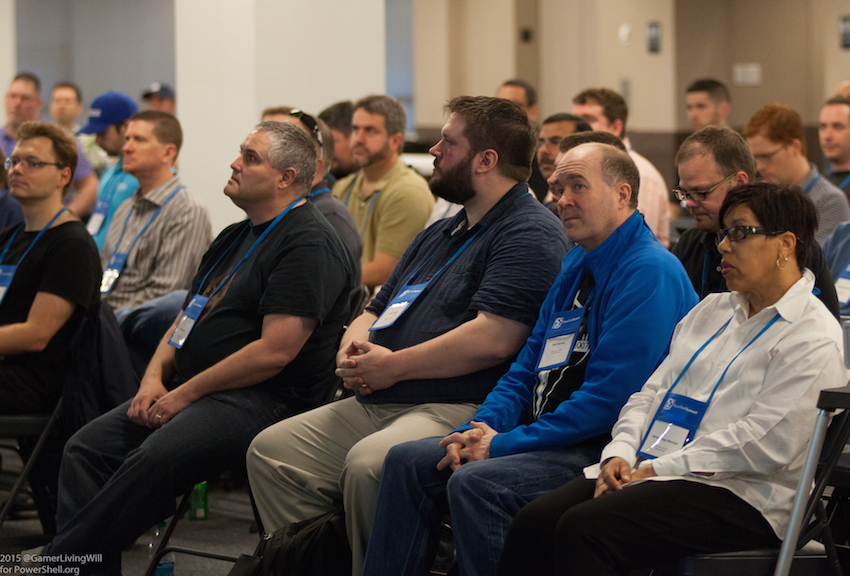 Yesterday morning Don Jones, PowerShell MVP and President of PowerShell.org welcomed about 140 IT pros and developers to the
5th annual PowerShell Summit
. The first two events were labeled as PowerShell Deep Dives, but the concept is the same. The event is three days of hard-core and intense coverage on a variety of PowerShell content. According to
PowerShell.org
, a community run organization that operates the
PowerShell Summit
, this is not your typical conference.
There's no expo hall, no marketing fluff, just intense 400-level sessions aimed at educating attendees on how to get the most out of PowerShell. These sessions are led by PowerShell MVPs, leaders in the PowerShell community and members of the Microsoft PowerShell team. In the spirit of disclosure, I am presenting two sessions during the conference. The session content is hard-core but not necessarily threatening. To paraphrase something an attendee tweeted today, "You come into the conference thinking you know a lot then you realize you're just a cave man and you have so much further to evolve." The great thing about the conference is that everyone wants everyone else to evolve.
The conference is intentionally small in scale with an emphasis on speaker interaction as well as other attendees. There is a very open and sharing spirit at this conference unlike most other conferences you may have attended. This truly is a community run and motivated event. And even though the topics may be 400 level, there are plenty of people attending who know they aren't at that level yet, but are eager to at least get a taste of what they should be working on, as well as the opportunity to network with other PowerShell professionals, including engineers, developers and product managers from Microsoft.
If you've been following PowerShell at all, then it probably comes as no surprise that a lot of content on the first day centered on Desired State Configuration (DSC). There were sessions today on building DSC resources, using DSC to deploy and configure PowerShell Web Access, using DSC to configure Active Directory and automating Azure. In addition there was plenty of content aimed at developer audiences looking to get more out of PowerShell. Even though I'm not a developer, I sat in on a great session on building a simple PowerShell provider. There were also sessions on PowerShell integration with Visual Studio, working with OData and unit testing with Pester.
Members of the Microsoft PowerShell team always have a major presence at this conference, primarily because they are actively engaged with the community. I asked Jeffrey Snover, the father of PowerShell, about what is so great about the Summit and why Microsoft comes. Snover told me the community-aspect is of tremendous value, and Microsoft wants to know how people are really using PowerShell. According to Snover, "It's a bunch of people geeking out to PowerShell!"
The product team took advantage of their presence to make some exciting public announcements:
The next preview release of the Windows Management Framework 5.0 will be available April 30. It will also be available for Windows 7 and Windows Server 2008 R2.
The very popular Pester test suite will be integrated into the next version of PowerShell.
The package manager in v5, formerly known as OneGet, is now officially known as PowerShell Package Manager.
Microsoft is open sourcing the DSC Resource Kit, The PowerShell Script Analyzer and the Visual Studio PowerShell plugin

This is all very exciting news and Summit attendees heard it first. And while attending the summit is a great experience, because the emphasis is on education, all sessions are recorded and will be released to YouTube on the PowerShell.org channel. Some sessions went online within a few hours of the presentation! Next year's PowerShell Summit will be held in April and back in Bellevue, Washington. Exact dates and locations will be announced later with registration this fall. If you are thinking about attending, you'll need to keep an eye out for registration and not delay because attendance is limited. PowerShell.org also runs a European version of the Summit as well. This year's summit will be held in Stockholm, Sweden September 14-16. Some seats are still available if you are interested.