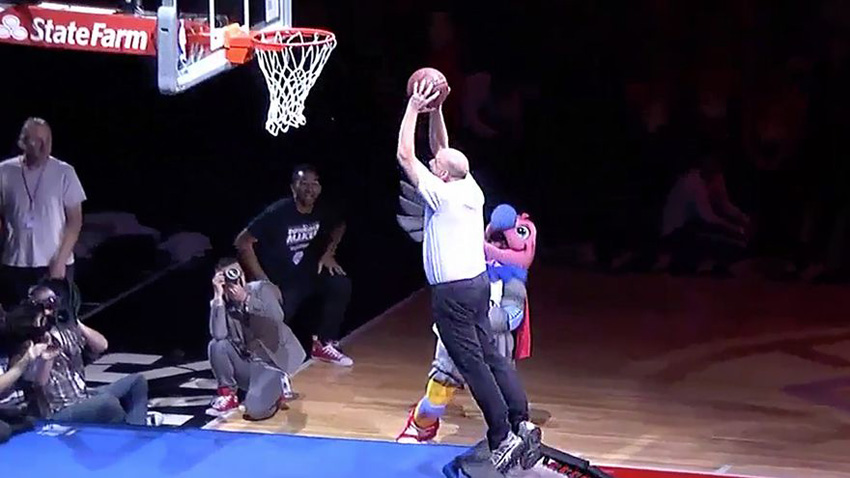 Because years of Call of Duty are finally paying off, this edition of Short Takes focuses on IDC's comeuppance on Windows phone, misunderstandings about Microsoft's Xbox strategy, HPE beats estimates, Oculus Rift CEO mocks high-end Macs, and more hand-wringing about the Apple iPhone case.
IDC finally gives up on Windows phone
In a report about smart phone growth in 2016, IDC dropped some more bad news for Windows phone: Unit shipments were down 18 percent in 2015 to just 11.1 million units, with about 95 percent of that volume coming from Microsoft/Nokia-branded phones. That's a bigger fall than expected, and IDC now expects Windows phone to account for 1.6 percent of the overall smart phone market in 2016 and … wait for it … less than 1 percent by 2020. The good news? There is no good news. Despite some recent device announcements, most notably the HP Elite x3, "it remains unclear how serious the Windows Phone offerings will be from [third party device makers]," IDC noted. Please note that IDC once predicted that Windows phone would surpass iPhone by 2017.
"Surface Book Review: 24 Hours With Microsoft's Ultimate Laptop"
Plenty of time to formulate an accurate review.
Lots of misunderstandings over Microsoft's Xbox strategy
As part of an announcement about Microsoft "spring lineup" of games for both Xbox One and Windows 10 earlier this week, Phil Spencer kind-of-sort-of hinted that the firm was considering midstream hardware updates for the Xbox One, touching off a litany of complaints from the insular gaming community. But I think Microsoft's plan for extending the Xbox ecosystem to Windows 10 is a good one, and that the upgrade stuff is being misunderstood. Microsoft added things like 1080p support and Kinect to Xbox 360, for example.
"How to buy a cheap Windows 10 tablet"
I assume the usual payment methods work just fine.
HPE beats estimates
While HP Inc., the part of the split-up HP that makes PCs and printers, under-performed in some ways in the most recent quarter, HP Enterprise (HPE), it's better half, seems to be doing pretty well, thank you very much. The fledgling enterprise services firm beat estimates and reported that revenues rose 4 percent YOY, assuming you exclude the effects of the strong U.S. dollar, which seems to dragging on earnings across the industry. "We had a strong quarter," HPE CEO Meg Whitman said. "As I look back, I see separating this company was so much the right thing to do." But then she would say that.
"Microsoft goes all in with Android apps for business"
Weird. It's almost like that happened a long time ago.
Oculus Rift rips Apple's Mac, says no soup for you!
This one is just priceless. Oculus Rift CEO Palmer Luckey told a game enthusiast web site this week that his firm would ship a VR headset for Apple's expensive Mac computers if Apple would just "ever release a good computer." Flamebait? No. Luckey also explained the comment. "It just boils down to the fact that Apple doesn't prioritize high-end GPUs. You can buy a $6,000 Mac Pro with the top of the line AMD FirePro D700, and it still doesn't match our recommended specs. So if they prioritize higher-end GPUs like they used to for a while back in the day, we'd love to support Mac. But right now, there's just not a single machine out there that supports it." $6000. For a Mac that cannot run Oculus Rift effectively. Hilarious.
"Apple makes rapid progress on new Campus 2 Visitor Center, Phase 2 R&D buildings"
Weird, I thought a construction company was working on that.
Tech industry (mostly) supports Apple in iPhone case
After some tepid initial support from competitors, Apple has seen most of the tech industry (including Microsoft) rally behind it in its case against the FBI in the now-infamous iPhone "decryption" case. The issue, according to a report in The New York Times, is that many tech firms think Apple's showdown with the FBI is too risky and could have far-reaching implications for the tech industry if Apple lost. Which, of course, it could … and probably will, given Apple's untenable legal position. And that's the problem: Apple, in its own bull-headed way, is simply fighting the wrong battle. "This is the wrong case to fight," a source told the NYT. "There are plenty of other cases with a lot less sympathetic case for the government." It's always hubris with Apple, and in this case—refusing to unlock a terrorist's phone—the firm might have made its biggest mistake since the Power Mac G4 Cube.
"Apple has launched a Twitter account dedicated to providing customer support"
Hey, it's 2016 and Apple just discovered Twitter. Maybe their employees will be able to blog too. In 2025.
Apple gains an unlikely supporter in iPhone case
Speaking of Apple—and, as I noted a few weeks ago, we're never going to stop discussing this iPhone case—the firm has found an unlikely supporter: U.S. Secretary of Defense Ash Carter, who said this week that, "data security is an absolute necessity. We're foursquare behind strong data security and encryption. I an not a believer in back doors or a single technical approach to what is a complex problem." Ash stopped short of explicitly supporting Apple per se—"that's a law enforcement matter," he said—but that's pretty interesting given his position.
"Windows 10 RT shows signs of existence"
No it doesn't.
… And the FBI gains some compelling backers in iPhone case too
And here's the problem for Apple. The families of the San Bernardino terrorist attack victims have publicly asked Apple to help the FBI discover whether those victims were targeted by their former co-worker, the iPhone-toting terrorist. "No one knows with certainty that unique data resides on the phone," an attorney representing the families wrote in a legal filing. "It may, if nothing else, give some measure of closure to the survivors and families of loved ones who have suffered every day since this terrible crime. [The families] are eager that no stone be left unturned in investigating this horrible act." The filing also includes a personal letter to Apple CEO Tim Cook. "What if there is evidence pointing to a third shooter? What if it leads to an unknown terrorist cell? What if others are attacked and you did nothing to prevent it?" These are great questions, and proof that there is nothing black and white about this case. It's just full of nuance.
"Yahoo exploring sale of $1 billion-$3 billion in 'non-core assets': CFO"
You know. Like that thing we call "Yahoo."