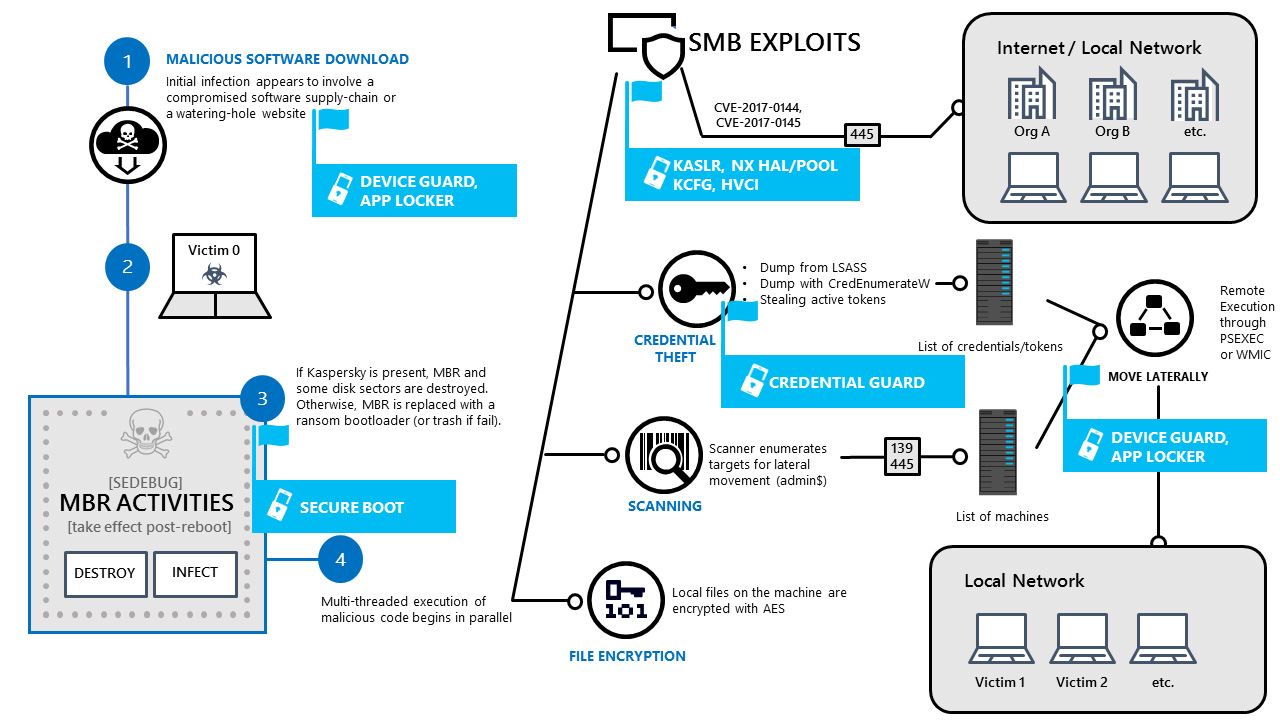 Because this Russian hacker is asking for Bitcoin, this edition of Short Takes looks at Petya, a Microsoft reorg rumor, the DOJ v. Microsoft, and much, much more.
Microsoft reorg coming?
Today is June 30, which is the literal end of Microsoft's fiscal year, and that means next week could be interesting: The software giant typically announces major organizational changes each year in early August. And according to the Puget Sound Business Journal, that's exactly what's happening this year. The publication claims that Microsoft will unveil a major reorg on July 5, and that it will better align the company on what it calls Microsoft's "cloud first" strategy. Which is interesting, because Microsoft has a "mobile first, cloud first strategy." Are things changing? We're about to find out.
"5 Reasons To Buy Microsoft's Surface Laptop"
Followed by 100 reasons to choose something more affordable.
Is this a clue about the Microsoft reorg?
While I've been claiming for years now that Microsoft's future is all-cloud, I do find the timing of this interesting. Why would Microsoft align itself around the cloud now, at this point in time? A report about where Microsoft's revenues come from in Motley Fool may provide an important clue: The parts of the company related to cloud and productivity deliver over three and a half times as many profits as Microsoft's once-core Windows business. Looked at from a revenues perspective, just Microsoft Office is three times the size of Windows. This is a company in transition. The past was Windows, and other on-premises software. But the future is all in the cloud. But we knew that.
"7 ways to multitask better with Windows 10"
To be followed by 10 ways to multitask better with Windows 7.
Microsoft acquires Cloudyn
As Brad reported yesterday, Microsoft this week announced that it will purchase Cloudyn, "an innovative company that helps enterprises and managed service providers optimize their investments in cloud services." It's been a great year to be a smaller cloud services company, since it seems that Microsoft, Google, or Amazon announce an acquisition just about every week these days. And it's only a matter of time before those three major players are basically all that's left standing. I expect a lot more purchases like this throughout the remainder of the year.
"8 quick ways to clear up drive space in Windows 10"
To be followed by 10 quick ways to clear up drive space in Windows 8.
**Petya ransomware now found in over 60 countries **
As you may have heard, the Petya ransomware attack has been making the rounds, starting—as all such attacks seem to—in Europe and spreading like cancer from there. The issue with this sort of attack, of course, is that it relies in inaction: The software vulnerability it exploits was actually patched by Microsoft back in March. And even though the Wannacry ransomware attack previously proved how important it was that we deploy this patch, many—especially slow-moving corporations—still have not. So congratulations, idiots. All you're doing is proving that Microsoft's disruptive "Windows as a service" strategy is correct and confining us to a lifetime of patching and rebooting. In other words, the terrorists have won.
"Microsoft partners with Token on biometric ring for logging into Windows 10"
It's a token effort at best.
Petya is just more of the same, Microsoft says
Speaking of Microsoft, the software giant isn't yet crowing about the validation of its strategy, but it did release some information about how "resilient" Windows 10 has been against this attack. Which, when you think about it, is the same thing. "Windows 10 has defenses that can mitigate ransomware attacks like Petya," the software giant explains. "Windows Defender Antivirus and Windows Defender Advanced Threat Protection allows customers to detect, investigate, and respond to ransomware attacks. For enterprises, Device Guard locks down devices and provide kernel-level virtualization-based security. Credential Guard protects domain credentials stored in the Windows Credential Store." What me worry!
"Apple macOS High Sierra preview: the biggest Mac update you'll never see"
Exactly. Who would want to use a Mac?
India wants a Windows 10 discount to handle ransomware attacks
Microsoft's campaign to promote Windows 10 as the solution to ransomware is apparently already working … sort of. India said this week it would like Microsoft to discount Windows 10 so that it can afford to upgrade over 50 million PCs to this newest Windows version. And, go figure, Microsoft has already agreed to do so, with India cyber security coordinator Gulshan Rai telling Reuters that the software giant will give them "throw away" pricing. "It will be a one-time upgrade offer to Windows 10 and it will be a discounted price for the entire country," he said. Well, that is some serious bargaining.
"Pen support in the Surface Laptop makes more sense than you might think"
No. It does not.
DOJ asks Supreme Court to hear Microsoft email case
The US Department of Justice (DOJ) this week asked the US Supreme Court to hear its email-related case against Microsoft. A case that it has lost, fairly consistently, in lower courts to date. As you may recall, the DOJ wants Microsoft to turn over data held in an email server that is in Ireland, a country over which it does not have jurisdiction. But the DOJ argues that Microsoft, an American company, is, in fact, under its jurisdiction. So far, the courts have sided with Microsoft. So we'll see if the Supreme Court opts to take this one on. Frankly, I'm hoping they do not.
"Creator of original Petya ransomware offers help against global cyberattack"
I trust him!