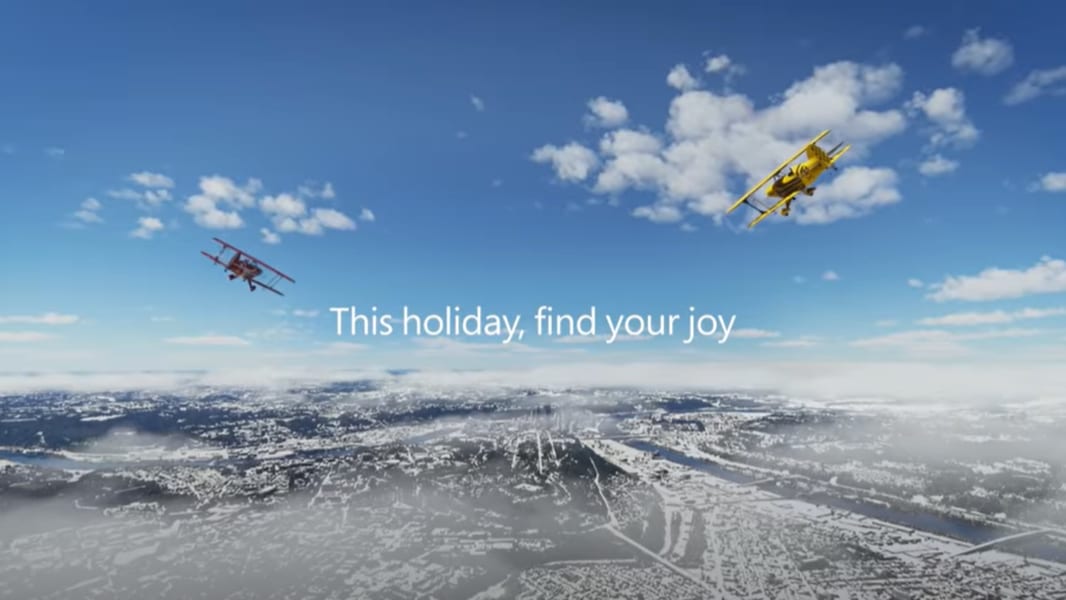 Because it's the most wonderful time of a less than wonderful year, this edition of Short Takes looks at Microsoft's 2020 holiday commercial, Salesforce wastes $27.7 billion, Microsoft's controversy of the week, 1100 new Teams features, yet another way to update Windows 10, and so much more.
Microsoft celebrates the holidays, but only for dog owners
Microsoft released its annual holiday commercial this week, and it's sure to upset cat owners: Dubbed Find Your Joy (A Dog's Dream), the commercial features some dogs dreaming about the three most popular video games that Microsoft makes—Halo, Minecraft, and Flight Simulator—and doing what dogs do: Being overly needy and screwing everything up. The dream sequence is cute, but I have two issues. One, that there's a family anywhere on earth in which every single person in the house is using a Microsoft product (three of which are games). And two, that the commercial heavily features footage of Halo: Infinite, a game that Microsoft postponed to 2021 because of the incredible low-quality of its most recent public demo. Maybe next time they can make a version with cats. Which, let's face it, couldn't care less either way.
"Will there be another PlayStation 5 and Xbox restock at retailers this year?"
Why are you asking us?
Salesforce combines two turkeys into a $27.7 billion eagle
With a pandemic and everyone working from home this year, 2021 should have been a great year for Slack, as it has been for all its rivals. Instead, the firm finds itself being bailed out by Salesforce to the tune of a $27.7 billion acquisition that will help the firms together take on Microsoft. And Slack needs Salesforce's muscle: Teams long ago surpassed Slack usage and this past year it only widened the gap as it piled on new features and many more users. So what will a combined Salesforce and Slack look like? It will look like Salesforce. And in a few years, we'll look back on Slack in the same way we do today with Yahoo, Segway, AOL, and Netscape: Companies that had a great idea and then just disappeared.
"Woman sells husband's PlayStation 5 after she discovers it is not an air purifier"
My wife makes me return things all the time, but it never ends up on the news.
Microsoft suddenly discovers privacy matters after complaints
Microsoft found itself in hot water with privacy advocates when they discovered that the Microsoft 365 Productivity Score feature could literally be used to identify employees who were not working hard or long enough. I do give the software giant some credit for stepping back from the cliff and announcing that Productivity Score will no longer identify individual users and will now focus on what Microsoft calls "organizational adoption of technology" as opposed to the behavior of individual users. That said, it's somewhat disingenuous to retroactively claim that that's what Productivity Score was all about from the beginning: It was literally designed to be used to hone-in on how much time individuals spent each day using Microsoft and third-party software and services. This is the type of telemetry data on which Microsoft is betting much of its future, and it should never have surprised the firm that customers found this activity to be invasive.
"Microsoft patents new software that can detect when employees are lazy"
Someone didn't get the memo.
Teams gets 1100 new features this month
It's a day that ends in "y," and so Teams users are getting another 1100 new features—I'm spit-balling here—to look forward to. And many are related to the application's calling experience, since more and more users are turning to Teams as a replacement for both phone calls and text messaging, in addition to its many other features. On that note, some of the new features we can expect soon include Apple CarPlay support, the ability to save meeting recordings to OneDrive for Business or SharePoint (instead of Microsoft Stream), spam identical, digital attestation for outgoing calls, the ability to transfer calls between mobile and desktop Teams clients, reverse number lookup, and so much more. Teams improves so fast, and so often, that I have no idea how anyone can keep up with it. Even Microsoft.
"European iPhone 6 owners should get $72 each for slowdowns"
I'd rather get $72 for each slowdown.
Microsoft has figured out yet another way to ship updates to Windows 10
Windows 10 users are, if anything, used to constantly updating their PCs. Microsoft delivers two feature updates, which are full version upgrades, twice per year. It delivers 3-4 sets of quality updates every month, and can do so at any time. It updates apps through the Microsoft Store. And of course, many PC makers provide their own software for delivering firmware and driver updates too. But don't worry, folks, Microsoft has figured out yet another way to keep you updating all the time. It's introducing a new update mechanism called Windows Feature Experience Packs by which it will deliver smaller new features between feature updates. How do Windows Feature Experience Packs differ from the quality updates we're already swimming in each month, you ask? Well, it's subtle. But I think part of the point of this change is to provide new features to consumers while giving businesses a way to opt-out of them. Or something.
"Microsoft's CEO says the company is 'very, very much focused on gaming'"
Weird. I could have sworn it was very, very much focused on productivity.
And this year's new app model for Windows 10 is … Android?
Several years ago, Microsoft was working on an initiative called Project Astoria that would help developers bring their Android apps to Windows 10. But when the firm found it out it worked too well, and could undermine the adoption of its Universal Windows Platform (UWP) apps model, it killed Astoria and scattered the team. Flash forward to 2020 and UWP is now acknowledged as a failure, and Microsoft is doing everything it can to let customers run whatever apps they want. Including, it turns out, Android apps. The firm has a new initiative, called Project Latte, which is based on the Windows Subsystem for Linux (WSL) and will let users run Android apps directly in Windows 10. It's not clear how this will work, exactly, and how users will acquire and install Android apps. But based on what I'm seeing here, I assume the final name will Windows Subsystem for Android. And I don't know. I'm not sure this will make much of a difference, honestly.
"Microsoft's low-code tools: Now everyone can be a developer"
YOU'RE a developer! And YOU'RE a developer!