Nokia Lumia 1020 Windows Phone Review
Although I purchased the excellent HTC One (running Android) in the summer, I purchased the Nokia Lumia 1020 on a recent trip to the USA and I have been using it as my primary phone since. I've openly criticized Windows Phone after trying to adopt it in the past – will my experience change? Will I like the camera that is disguised as a phone? Read on to find out.

What Possessed Me To Buy Another Phone?
I love the HTC One. When I bought it, I thought it was the best phone on the market. I liked the Android experience. In fact, I liked the phone so much that I even recommended it to friends. So why did I buy a Lumia 1020?
I wanted to get a compact camera, something that would be useful for those memory snaps and wouldn't require my usual heavy DSLR kit. This presented another question: Do I want to carry a compact camera and a smartphone? The promise of the Nokia Lumia 1020 is that you only need one device – it's a compact camera that is also a Windows Phone 8 smartphone.

Note the Nokia Lumia 1020's camera bulge on the back.
Windows Phone 8 Setup
Setting up Windows Phone 8 is easy, especially if you are using Office 365 like I do. My contacts were synchronized, my calendar was configured, and my mail downloaded without any issues. Using a cloud service such as Office 365 makes switching to a new device (even Android and iOS) really easy.
Most of the apps I use regularly are there in the Windows Phone store. That includes work stuff, useful utilities such as LastPass, and apps that I use for photography (sunrise and sunset calculators, tides timers, and so on), and essential (to me) travel apps such as Tripit and airline travel ticketing.
I generally keep two phones – one for personal use that I use all of the time and one for work that I only use during the work day. I find that shutting down and leaving behind the work phone helps me unwind at home and while on vacation. It's nice not to be available all of the time! But I do like to know what's coming up in my work schedule, and I want to check on my work mail from time to time. This is no problem with Windows Phone. I simply added an account and my second calendar appears as merged (but not actually) in the phone. And a second tile is created on the start screen for my work email account (hidden way down at the bottom).
Apps that I use all of the time are pinned to the start screen, the more regular ones that feature updates are half sized (square with updates visible), and the less common ones are small squares taking up less real estate. This layout works for me, but this is a personal taste thing (something at which Windows Phone excels).

Nokia Lumia 1020: Strengths
I bought this phone to be my compact camera. It features a 41 megapixel camera. I normally tell people to avoid "megapixies" because for most people, camera capabilities have gone way beyond requirements. The Lumia 1020 features something called PureView. A Carl Zeiss lens (that's a good thing) is used to capture 41 MP on a camera sensor that is larger than you'll normally find in a phone. This is why the phone has a bulge on the back. The sensor captures great detail and uses this to create a 5 MP image – perfect for A3 prints and easy sharing.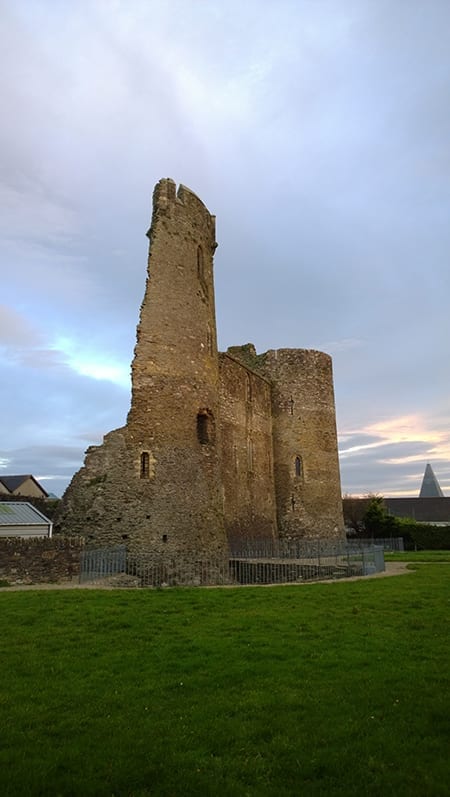 A photo of Ferns Castle in Ireland taken with the Nokia Lumia 1020 (resized from original 41 MP JPEG; photo by Aidan Finn).
Another option is to use the high MP count as a form of digital zoom. Photographers normally hate digital zoom, but the 41 MPs combined with built in image stabilization (to counter camera shake) makes for a usable solution.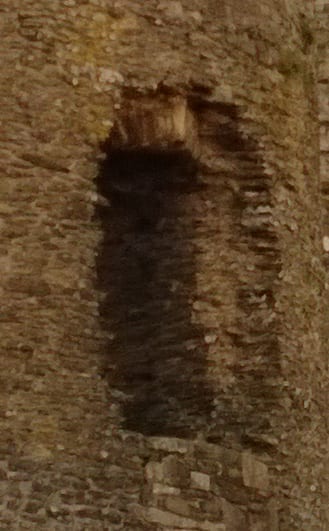 A crop of the original full-size image of Ferns Castle.
My camera package came with a camera grip. The idea is that the phone can be slotted into this grip to make it more camera-like. It features a 3/8-inch screw for attaching the "camera" to a tripod for stability. The grip adds battery capacity and a traditional shutter button. It might seem like a needless gadget, but if you're in "photography mode" this will make the phone easier to grip and produce better results.

The camera grip.
The Nokia camera app will shoot in full auto mode for you, but with a few touches, it reveals common photography controls for flash, ISO, exposure compensation, and more, all extremely configurable through an impressively intuitive UI.
In my limited testing so far, the camera competes with a compact camera. I wouldn't put it up against a bridge camera, and certainly not a DSLR, but in my opinion, it's exactly what a person wants in pocket-friendly camera without the need for a second device (in addition to a phone). Colors and contrast are good, and the Nokia camera app is easy to pick up and use, while offering more advanced concepts for experienced photographers.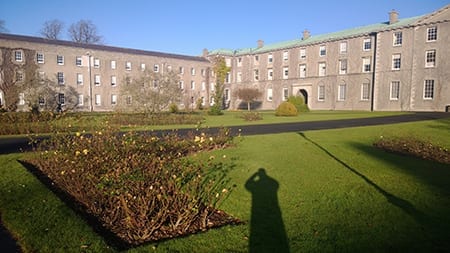 The old campus at Maynooth University, Ireland. (Photo by Aidan Finn.)

Windows Phone does two things better than any other mobile OS:
Social Media: All of my various social media accounts are configured, and the People hub features a merged list of the various accounts. I love being able to go into the People hub and select a way to contact someone.
Sharing: There's a reason that Microsoft ran a series of adverts where they bet that they could share a new photo faster than on rival mobile OSs. Windows Phone was designed from the ground up for this kind of common operation. It just works, and it's simple. You take the photo, edit it easily, and share by a number of means including social media and email.
Nokia's map apps are fantastic. If you have a Nokia phone then you don't need to own a GPS device in your car (just make sure you have a charger). I was easily navigating around the Seattle suburbs offline with a previously downloaded map. My worry that this would be a United States-only feature was quashed, because I've been using the phone to navigate around the back roads of my home county in Ireland – and I've even found some new shortcuts!
Speaking of which, the battery lasts more than a day for me, with mail syncing constantly, and with my usual reading in the morning and evening. It easily beats the wimpy battery of the 820 in my experience.


Nokia Lumia 1020: Weaknesses
I'm disappointed with myself here; I'm usually able to find more faults. The phone is a little bigger than most will like, but I find it fits in my pocket and is nondistracting. The 1020 is lighter than the previous generation of Lumias, albeit with the same solid build and pretty display that we now expect from Nokia. The bulge won't be to some people's tastes, but to me, the phone is a camera and I can live with it.
Windows Phone has one problem still, but it is improving. The breadth of apps that you get on Android and iOS is just not there yet. Some of the missing big names have either recently appeared or were announced as coming. But there's still a lot of little stuff that is missing.
I'm using a podcasting app called iPodCast. It's the best that I've found on Windows Phone but it's not as good as the management experience on other platforms. All of the other Podcasting apps on WP are pretty terrible in my opinion. I wish that Microsoft would get over their international licensing excuse and fix this.
I'm liking the Lumia 1020 quite a bit. With the 820 I was itching to switch back to my old iPhone 4, but my fantastic HTC One is still sitting at home unused. The phone feels good in the hand, the camera is impressive, and most of the apps that I want are there. Social media is a central feature of mobile devices, and Windows Phone does this better than anyone (Windows 8.1 could learn from it). I have no concerns about recommending this phone – just make sure the apps you need are on the growing Windows Phone store.
Nokia Lumia 1020 Windows Phone Wrap-Up:

Pros: The hype is deserved. The camera is an excellent alternative to a compact camera, and beats every other camera phone out there.  In this package you're getting a smartphone, a compact camera, and a GPS, all of which are easy to use. You also get the easy-to-share and social media features of Windows Phone.
Cons: The breadth of apps is not as strong as iOS or Android, but things have improved quite a bit over the past year. The phone's appearance won't be to everyone's tastes, but I accept the bulge for the superior camera.
Bottom Line: If you want a phone to conveniently capture family memories, take holiday snaps, or pose for selfies in the nightclub, then you should consider the Lumia 1020. You get the ability to take good photos, edit them, and share them with friends and family. Not to mention the deep SkyDrive and Office integration if you want to do some work on the go!