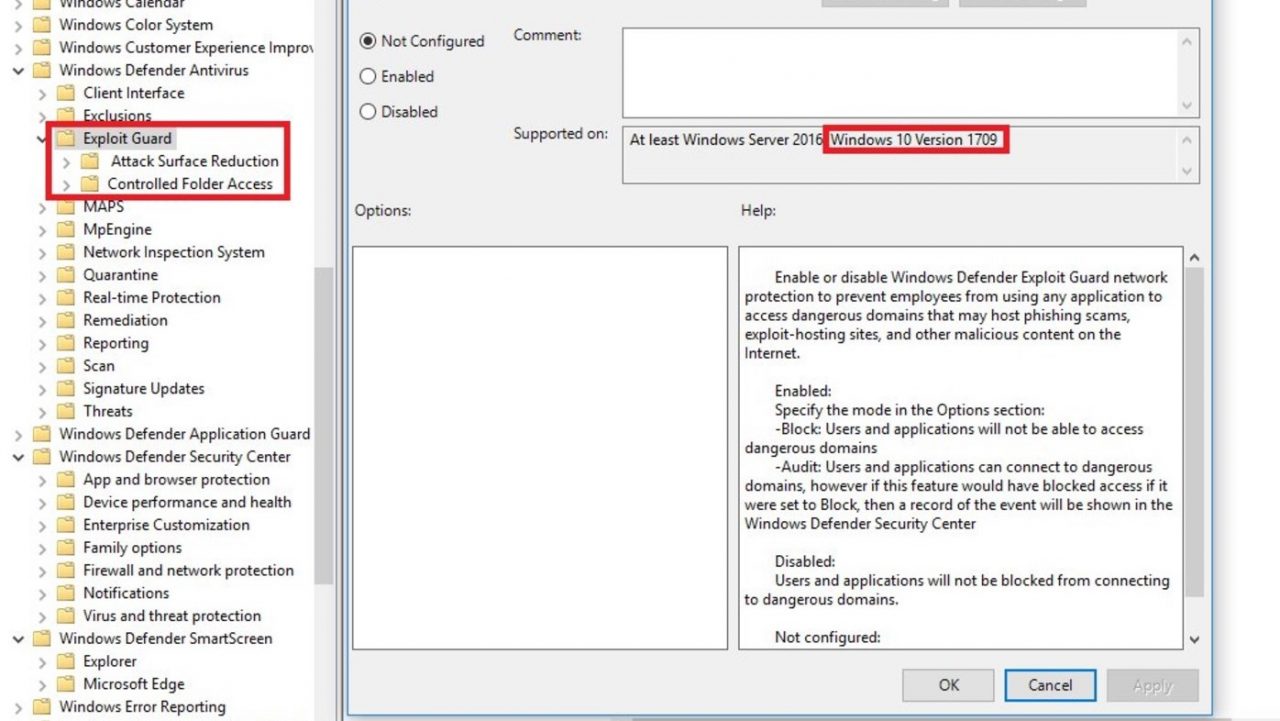 Microsoft has been working diligently to build advanced security features into Windows 10. The reason the company is doing this is to not only protect their users but to provide a serious incentive for enterprise users to upgrade from Windows 7 and they know that better security is the best carrot to dangle.
In the latest build of Windows 10 that has been released to Insiders, it looks like the company is set to announce a new feature in the near future called Exploit Guard. This new security feature allows administrators to block any application from accessing a dangerous domain.
This feature sounds somewhat similar to Application Guard which protects browsers from attacks by using isolated virtualized environments for Edge but looks to protect across the entire OS. According to the group policy editor feature, uncovered by Tero Alhonen, by enabling this feature you can block users and applications from accessing dangerous domains and you can also audit attempts to access these domains as well.
Blocking domains in the corporate world is nothing new and there have been several third party services that enable similar functionality. What may be different here is that by running this type of block at the OS level, it can block applications that are quietly trying to access dangerous domains without the users' knowledge but I'll need to see how Microsoft pitches this option to know how it differentiates from other security offerings.
Security, it's one of the many differentiators Microsoft pitches as a reason to use one of its services and the company has built up a marketing movement around its 'Advanced Threat Detection' branding. The company is betting big on security and is offering hardening services on nearly all of its products for the enterprise.
Seeing as Microsoft has not announced this feature, we don't know all the details yet but the feature seems straight forward and will be the next component of their security offering for Windows 10. The company also announced their intention to purchase Hexadite this week which will also eventually be integrated into the company's Advanced Threat Protection suite of services.