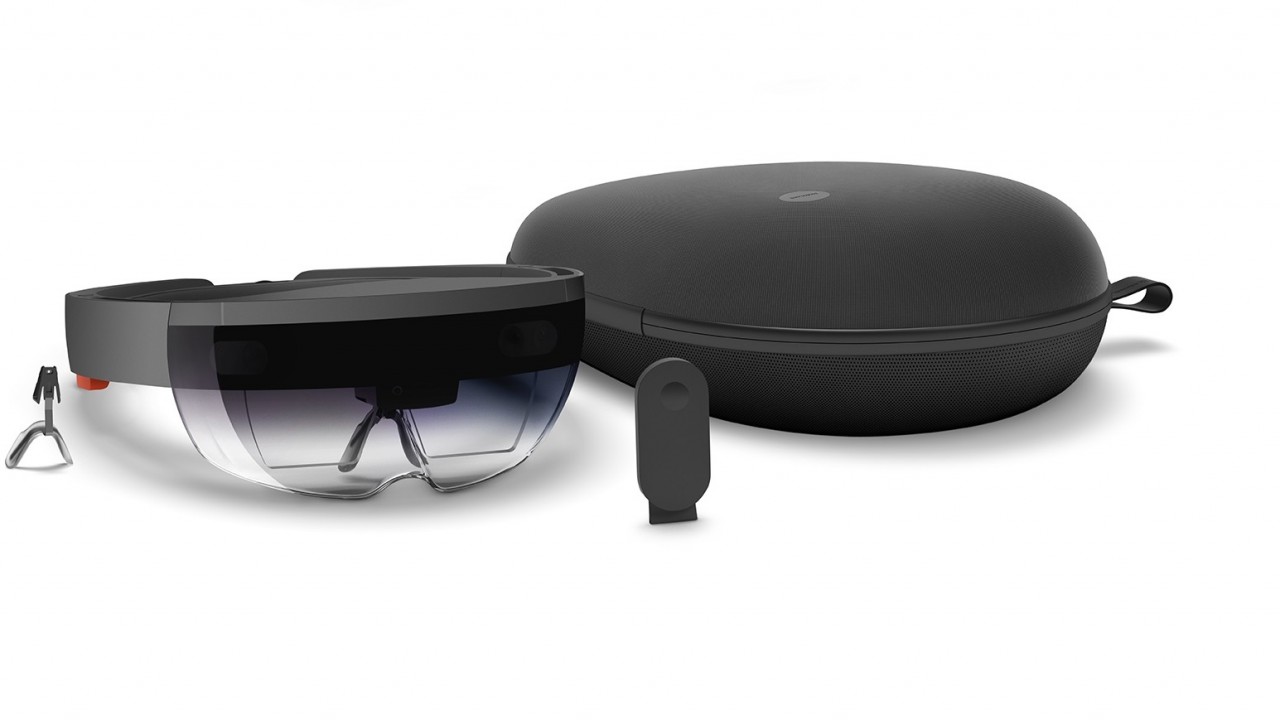 Ever since Microsoft announced Hololens, everyone has been wanting to know what the hardware was driving the experience. While a previous leak did unveil some basics about the device, Microsoft is finally ready to talk about the hardware in the headset as well as announcing new apps and when the device will ship to developers.
Microsoft has announced today that they have begun sending out invitations to purchase a development kit to individuals whose applications were accepted to be part of the early development program. If you do plan on buying a kit, they will begin shipping on March 30 and will cost $3,000.
In addition to unveiling the new hardware details, there are new apps that can be used with Hololens including Skype, HoloStudio, HoloTour and three games: Young Conker, RoboRaid and Fragments. The previously uncovered Actiongram is also one of the new apps that will be used to highlight the devices capabilities and to create original content.
Below are the specs of the device:
Optics

·        See-through holographic lenses (waveguides)
·        2 HD 16:9 light engines
·        Automatic pupillary distance calibration
·        Holographic Resolution: 2.3M total light points
·        Holographic Density: >2.5k radiants

Sensors

·        1 IMU
·        4 environment understanding cameras
·        1 depth camera
·        1 2MP photo / HD video camera
·        Mixed reality capture (link to blog)
·        4 microphones
·        1 ambient light sensor

Human Understanding

·        Spatial sound
·        Gaze tracking
·        Gesture input
·        Voice support

Input / Output / Connectivity

·        Built-in speakers
·        Audio 3.5mm jack
·        Volume up/down
·        Brightness up/down
·        Power button
·        Battery status LEDs
·        Wi-Fi 802.11ac
·        Micro USB 2.0
·        Bluetooth 4.1 LE

Power

·        Battery Life – 2-3 hours of active use, 2 week standby
·        Passively cooled (no fans)

Processors

·        Intel 32 bit architecture
·        Custom-built Microsoft Holographic Processing Unit

Weight

·        579g

Memory

·        64GB Flash
·        2GB RAM

OS and Apps

·        Windows 10
·        Windows Store

What you need to develop

·        Windows 10 PC able to run Visual Studio 2015 and Unity 5.4
In the development kit box, Microsoft is including the HoloLens Development Edition, the Bluetooth clicker we uncovered last week, carrying case, charger, microfiber cloth, nose pads and an overhead strap.
The one stat that is most likely to make the headlines is the battery life. Considering this is a development kit and it is a completely untethered experience from a PC, 2-3 hours is not all that bad. The crucial stat, which the company does not state, is how long it takes to charge the Hololens. If it is only a few minutes (via quick charging capabilities), then the battery life is not that big of a deal, but if it is several hours, the 2-3 hour limitation does have a greater impact on the device.
Of course, to extend the battery life, the company would need larger batteries in the headset, which adds weight, that may make the device less comfortable. Considering this is a dev kit, expect the company to be able to refine and improve the battery life as this product matures.
When these devices do ship later this month, it will be the first time these products are placed into the hands of third-party developers who will be free to create whatever they want. As long as these groups are not required to sign an NDA, we will begin to hear more detailed accounts of the device working outside the tightly controlled environments Hololens has been confined to so far.
While some of the new apps that Microsoft announced do appear to be more consumer-centric, they serve as functional demonstrations to show off how the product works and what types of scenarios are possible with the HoloLens. Microsoft is still pushing towards the corporate markets first with this new product and has not announced when the consumer device will be released.
If you are interested in purchasing a HoloLens dev kit, they cost $3000 and can buy them here.